Hey there! This post may contain affiliate links. As an Amazon Associate, I earn a teensy commission from qualifying purchases when you buy through these links (at no additional cost to you). For more info, please check the full disclaimer.
Diabetes is one of the most dangerous chronic diseases that can cause major health complications. Here are some trending best budget blood glucose monitors in 2021 to test your sugar levels at home and avoid the worst.
Every year, millions of women in the US are affected by diabetes!
According to American Heart Association, by 2010, almost 10 million women in the US were diagnosed with diabetes while 2.9 million women were never tested.
Scary stuff, isn't it?
So the ideal way you can manage diabetes early on is by regularly testing your blood sugar.
This way, you can keep a check on what's working and make healthier lifestyle choices.
Why Do You Need A Blood Glucose Meter?
Monitoring your glucose levels every day can help you successfully manage this chronic disease. You can keep an eye on the worst foods for your health and avoid habits that trigger a rise.
Of course, you can't visit a doctor daily to get your blood sugar levels tested.
Plus, if you're at risk, you might need to regularly monitor the changes so you can get a diabetes diagnosis on time.
So the ideal option is to buy a cheap blood sugar tester for home.
This way you can easily test the fluctuations before and after a meal, or per your doctor's recommendations.
And for that, you need easy-to-use blood glucose monitors that won't cost a fortune!
How to Buy Blood Sugar Tester?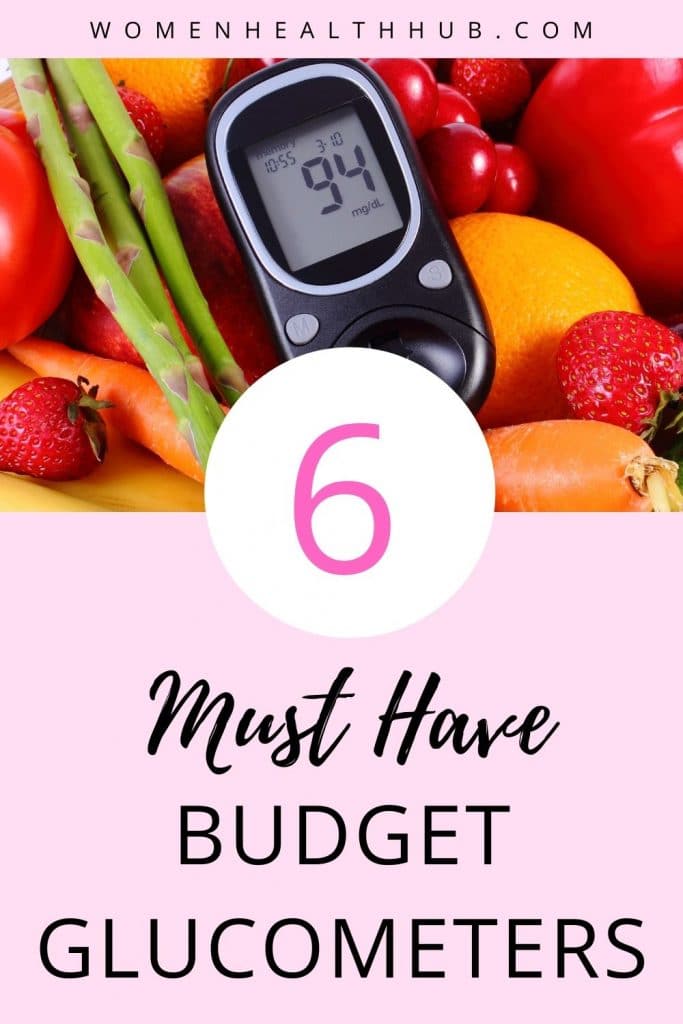 Another important thing to know is what features to look for in a new blood glucose meter.
You'll find a variety of glucose monitoring systems in the market. Depending on your need, you may select a basic or a multifunctional glucometer.
Here are some factors you might want to consider while buying a new glucose meter:
1. Accuracy:
Your blood sugar testing device needs to be accurate. Too much discrepancy in readings will leave you confused. Look for diabetes diagnosis kits that are verified and known for their accurate readings.
2. Cost:
Your budget comes next. Keep in mind that this is a long-term investment into your health. So look for affordable blood glucose monitors that offer necessary features within your range.
Also, be mindful of the associated occasional costs of new lancets and glucose test strips.
3. Ease of use:
Some blood sugar monitors are super easy to use while others can be slightly technical. If you are not a tech-savvy person, go for user-friendly devices with straightforward operations.
4. Insurance coverage:
Certain glucose meters are covered by healthcare providers. You might want to check if your health insurance policy covers a specific model of the glucose monitoring system or not.
5. Screen readability:
Before buying a new sugar testing kit, also consider the visibility feature. Choose glucometers with a large display if you often have trouble reading small digits.
6. Durability:
If gripping is an issue, you might want to choose durable blood glucose meters that won't break after a few drops.
7. Additional features:
Nowadays, many sugar testing monitors can be linked to smartphones and computers. Some come with Bluetooth or audio features which can be useful for people with impaired eyesight or hearing.
8. Glucose test strips type:
Not all glucose testing strips work with every device. Some have customized or special strips. So make sure you'd have easy access to them.
Read More: Everything You Need to Know About Diabetes in Women
Top 6 Best Blood Glucose Monitors in 2021
| Name | Best Features | Buy Now |
| --- | --- | --- |
| One-Touch Ultra2 Blood Glucose Meter | Big screen for visibility and ideal for beginners | Check Price |
| EasyTouch Sugar Testing Kit | Most affordable blood sugar tester for regular check | Check Price |
| Accu-Chek Instant Blood Sugar Tester | Excellent value for money | Check Price |
| CVS A1C Blood Glucose Monitor | Ideal for testing sugar levels every 3 months | Check Price |
| Lysun Glucose 2-in-1 Blood Sugar Tester | Multipurpose uric acid and glucose test machine | Check Price |
| MyLab Box Diabetes Testing Kit | Highly accurate A1C results from MyLab Box | Check Price |
One-Touch Ultra2 diabetes testing kit is manufactured by LifeSpan. They have been producing quality glucose monitoring systems for over three decades.
Here's something interesting: To date, the company has sold over 20 million devices to healthcare givers and patients! So you can rest assured you'll be getting your money's worth.
One-Touch Ultra2 is one of the simplest versions of their One-Touch diabetes testing series with basic functions. They have other models with advanced features but they may be complex.
Features:
One-Touch Ultra2 is an easy-to-use blood sugar tester with a simple one-touch operation.
Here's what you'll receive in the package:
Glucose meter
Carrying case
Lancing device
10 sterile lancets
User manual
If you're not tech-savvy and would prefer a straightforward machine, One-Touch Ultra 2 is among the best cheap blood glucose monitors you'll find.
The backlight makes it easy to read numbers off the screen even in a dark ambiance. If you're watching your food choices and how it's affecting your blood sugar levels, this beginner glucose testing system can give you before and after meal readings.
Just a little amount of blood sample will give you accurate results within 5 seconds. Simply prick your finger, take the blood sample, and place it in the device to get the sugar tested.
Want to keep a record? You can store up to 500 blood glucose test results! Can't get it to your computers though, so you might need to store it manually elsewhere.
Pros
Has remarkable accuracy
The large display makes it easy to read the numbers
Gives results within 5 seconds
Excellent for beginners and elderly
Simple features
Gives weekly and monthly averages
Cons
Not ideal for multiple testing because of high strip prices
Requires special lancets
Summary: I'd recommend One-Touch Ultra2 blood glucose monitors for women seeking a user-friendly, conventional device with simple features. But make sure your insurance covers One-Touch lancets and testing strips.
EasyTouch sugar testing kit is one of the best cheap blood glucose monitors available online. This device lives up to its name — it's incredibly easy to use even for the elderly!
The company sells a wide range of diabetes testing accessories as well, such as special lancets, alcohol prep pads, needles, and glucose strips.
You may want to check out their other relevant products here.
Features:
The best thing about EasyTouch blood sugar monitor is its autocoded feature. You won't need to manually calibrate it before first-time use.
Next, I particularly like that it's affordable for regular testing. Unlike OneTouch glucometers, if you need to check sugar levels multiple times throughout the day, EasyTouch is a good option.
The EasyTouch blood sugar tester kit comes with the following products:
One glucose monitoring system
1 lancing device
10 twist lancets
Some sellers also have a carry pouch
You can instantly get results within 5 seconds. The functions are pretty simple. You only need to add a small amount of blood to the strip and stick it in the device.
Here's an interesting feature: You can use the lancing device to draw blood from different positions such as the finger, arm, or forearm.
If you wish to monitor the averages, it can store up to 300 recent results for weeks or a month.
Another striking feature is its 4 unique alarms to alert when to test the sugar levels throughout the day. This is particularly helpful for busy women with diabetes or if you're kind of forgetful.
The only flaw is that some users complain about inaccurate readings several times in a row. At times the results could vary by 10+ points. So make sure you keep this in mind while buying EasyTouch blood sugar monitoring machine.
Pros
Strips require no manual coding
5 second testing time
Can record 7 to 30 days averages
4 different alarm reminders
Handling the device is easy
Affordable lancets and glucose test strips
Cons
Summary: Overlooking the minor problems with accurate results, I'd recommend EasyTouch if you need cheap blood glucose monitors to test sugar levels multiple times throughout the day. You can easily buy lancets or strips for an affordable price.
Read More: 14 Early Warning Signs of Diabetes in Women
Accu-Chek Instant diabetes testing kit is among the most popular devices among diabetics. If you're looking for a flawless machine that offers value for money Accu-Chek Instant is perfect for you!
Manufactured by Roche Diabetes Care, Accu-Chek has been their top-selling blood sugar device brand for over four decades.
Most of their accessories are quite affordable and can be purchased repeatedly. Check out their other products here.
Features:
Accu-Chek Instant is autocoded and requires no manual calibration. Pretty handy, right?
All you gotta do is prick the finger and insert it in the device to get results INSTANTLY within 4 seconds.
Accu-Chek Instant blood glucose monitors are easy to use and have a straightforward mechanism. Here's what you'll get in this package:
Blood glucose monitor device
50 test strips
The device has 3 daily reminders to alert when to test your glucose levels. You can also get reminders 2 hours after each meal.
One of its best features is a visual color check that gives you an overview of whether your results are good or bad. Blue color indicates that your glucose level is too high, green means normal glucose range and red indicates too low sugar levels.
You can store 14-day averages with up to 250 readings. This device can upload your data online securely to the Accu-Chek online portal and app.
Pros
No manual calibration needed
Durable and high-quality device
3 daily reminders for testing
Color-check to confirm whether results are okay or not
Glucose test strips and lancets are easily available
Results can be stored online
Cons
Glucometer may be slightly expensive for some people
Summary: All in all, Accu-Chek Instant blood sugar tester is an ideal option if you're looking for advanced features in a reasonable price glucometer.
Looking for the best cheap glucometers? Here are the 6 best blood sugar meters in 2021! 🤑🤩

#diabetes #glucose #sugar
The A1C sugar tester by CVS Pharmacy is among the best cheap blood glucose meters for checking sugar levels over the last 2 to 3 months. CVS Pharmacy is an FDA approved brand.
If you don't need a daily diabetes testing kit, this one's worth every penny spent!
A1C, also known as hemoglobin A1C or HbA1C measures your blood glucose levels over the past 3 months. A1C is used to diagnose prediabetes and diabetes type 2. Plus, healthcare professionals might ask you to monitor the sugar levels to effectively manage diabetes.
Features:
Making appointments and visiting doctors for a simple diabetes test can be a hassle at times.
That's why the CVS blood glucose monitors offer you the chance to self-test for A1C at the comfort of your home.
The CVS A1C kit comes with products for two tests, including:
1 A1C glucometer
2 cartridge pouches
2 shaker pouches
1 quick reference guide
1 user guide
CVS blood sugar meter gives instant results within 5 seconds. The mechanism is pretty simple even for people who aren't tech-savvy.
Usually, this device offers incredibly accurate results. But your A1C results might vary if you are anemic, or have kidney or liver disease.
If you've poor eyesight, you might have difficulty reading the screen digits. Other than that, it's a durable and reliable device.
Pros
Specifically designed for A1C diabetes tests at home
High accuracy
Easy to use and simple features
Each box contains 2 tests
Cons
Small screen can be difficult to read
Might need to buy new kits after 2 results
Summary: If you're looking for a cheap blood glucose meter to get the "big picture" results of your diabetes, I'd recommend you go for CVS A1C without a second thought.
Read More: 7 Super Useful Tips to Naturally Stop Diabetes Hair Loss
Lysun dual-tester is manufactured by Hangzhou Kanlong Ltd. Yes, a Chinese company! But don't worry, it's still a great product for many reasons.
With the Lysun 2-in-1 multi-testing device you can monitor both uric acid and glucose levels. It's one of the best cheap blood glucose monitors you'll find under $100!
Features:
This affordable 2-in-1 glucometer is ergonomically designed to help you manage your diabetes at home. This package comes with the following accessories:
25 uric acid strips
25 glucose testing strips
50 lancets
Lancing device
User manual
Carry pouch
Lysun glucose monitoring kit has simple functions. The device needs 1 microliter blood sample for testing and will give you results within 5 seconds.
One of the best things about Lysun is its long-lasting battery. You can carry out 1000 uric/glucose tests with just one battery!
If you struggle with eyesight problems, the large screen will give you clear readings. You can store up to 100 weekly and monthly averages along with the date and time of testing.
The most common issue with Lysun is its super-sensitive test strips. When exposed to extreme heat or cold temperatures, the testing strips will get damaged. As a result, you may get inaccurate readings. Make sure you keep them in a dry, dark place.
Pros
Dual checking machine for uric acid and glucose levels
Fast results within 5 seconds
Exceptional value for money
Ergonomic design for convenience
You can take 1000 tests with one battery
Cons
Test strips are sensitive to extreme temperatures
Needs at least 1 microliter blood sample
Inaccurate results indicate destroyed strips
Summary: I'd recommend Lysun multifunctional uric acid and blood sugar level device for anyone looking for a budget-friendly glucometer for easy self-testing.
MyLab Box A1C blood glucose monitors are not only affordable and reliable but also offer excellent value for your money.
MyLab Box is a California-based company that specializes in making at-home STD self-testers. Besides, they have this amazing A1C blood sugar kit, Vitamin D kit, and even fitness tests! All products are FDA approved.
They may be relatively new but their one-of-a-kind products and remarkable customer service give them an edge over others.
Features:
Just like CVS, MyLab Box A1C blood sugar testing kit can help you evaluate your diabetes by measuring the sugar levels over the last 2-3 months.
All you have to do is take a bit of blood sample and mail it over to MyLab. They'll send you accurate results within 2 to 5 days, as percentages.
MyLab Box is very convenient and has a pain-free mechanism. The kit contains one finger stick to take the blood sample.
The best part is that this cheap A1C glucometer will be shipped for free to your doorstep within 2 days!
They also offer consultation services in case you want to discuss the diabetes test results with a healthcare professional.
Pros
Free shipping within 2 days
Simple and easy to use
Receive 100% accurate results in 2-5 days
Free on-call instructions from MyLab Box
Cons
Not available in New York
Slightly expensive
Summary: MyLab Box is a great option if you are unsure about getting results from a glucometer. You can send it over to professionals and get accurate results in a few days. I'd recommend this affordable blood glucose testing kit to anyone living outside of NY.
I hope you liked this list of the best cheap blood glucose monitors currently trending in 2021!
If you've previously used any of these products, let me know your reviews in comments.
If you haven't tried one yet, let me know which of these diabetes glucose meters you plan on buying.
Have any questions? Drop them in the comments below. 🙂