Hey there! This post may contain affiliate links. As an Amazon Associate, I earn a teensy commission from qualifying purchases when you buy through these links (at no additional cost to you). For more info, please check the full disclaimer.
Amidst hectic routines, tight deadlines, and long to-do lists, it's no surprise that many of you have trouble falling asleep. Turning off the brain seems like a chore. That's when different herbal teas for sleep can help you enjoy a restful night.
Let's review the best teas to drink before bedtime and how they promote restful sleep.
How to Enjoy a Better Night's Sleep Naturally?
Health experts recommend at least 7 to 8 hours of sleep for good health. Not getting sufficient snooze can lead to severe illnesses such as symptoms of heart attacks, diabetes, anxiety, and even cause sleep disorders.
In such cases, home remedies for falling asleep come in handy. Various nighttime herbal teas for sleep work like magic in helping your mind relax and calm down before bedtime.
Additionally, it's important to pay attention to your room's ambiance.
Is your room dark enough?
Is the temperature cool or do you have proper ventilation?
Is your mattress comfy?
The National Sleep Foundation also recommends avoiding coffee or caffeinated products before bed. Ideal alternatives include various calming teas for sleep to tackle insomnia.
Drinking herbal teas🍵 before bedtime is a more holistic alternative to popping pills every night. 

#herbal #healthylifestyle
How Can Herbal Teas for Sleep Help You?
Herbs have been used for medicinal purposes for years. The earliest use of herbal teas dates back to 2737 BC. The trend of using herbal teas for sleep began in China and quickly spread to Africa, Japan, and India because of its tremendous health benefits.
The biggest difference between teas and herbal teas lies in the concoction source.
Teas are made purely from the leaves of camellia sinensis while herbal teas are a mixture of plant parts such as fruits, spices, flowers, roots, seeds, barks, or leaves. Some are even created using extractions.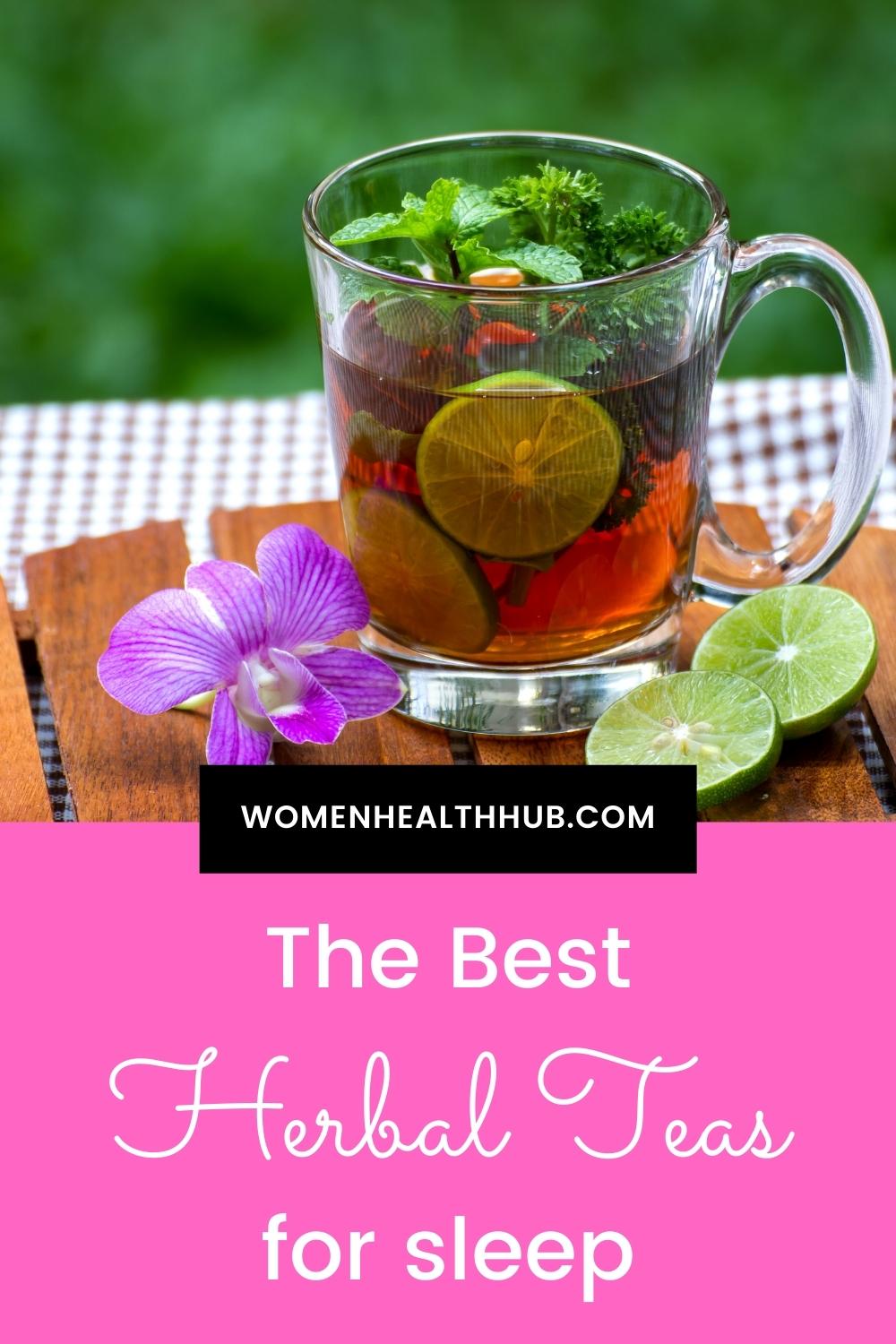 Herbal teas are non-addictive and free of caffeine, making them a healthier choice for you.
Numerous herbal teas for fertility are even recommended by midwives to get pregnant, induce labor, help with severe delivery pain, and even enjoy better sex.
Read More: 15 Best Herbal Teas to Boost Fertility
In the past, they were used for relieving menstrual cramps and headaches. Some boost estrogen naturally and relieve menopausal or perimenopause symptoms.
In addition, drinking some herbal teas at night induces sleep, balances the sleep cycle, and enhances overall sleep quality.
Studies have also found that certain teas improve mood and promote relaxation. It's primarily because of L-theanine, an amino acid in nighttime herbal teas that influences neurotransmitters and helps you calm down.
Is it Safe to Drink Calming Herbal Teas at Night?
Herbal teas for sleep are becoming increasingly popular, and many prefer them over chemical sleep aids.
But is it safe to drink herbal teas before bed?
The short answer is yes!
Various researches have confirmed the significance of drinking herbal teas at night.
According to a 2014 study, besides being an excellent remedy for viral or bacterial infections, they offer deep relaxation.
Another 2019 study discusses the powerful impact of drinking herbal teas on reducing the risk of thyroid diseases such as cancer. 
Strong sleep herbal teas contain naturally occurring compounds to improve your mood and enjoy relaxation.
Many teas have been consumed for thousands of years, and scientists have only recently studied how they affect your brain. 
A 2013 study published in the Journal of Alternative and Complementary Medicine found the use of Valerian hops and lemon balm teas helps establish a healthy circadian rhythm and relieves insomnia symptoms.
Scientists have also revealed that many East Asian nighttime herbal teas offer plenty of benefits against fighting insomnia.
However, you should always follow the instructions on the packaging or consult a professional before drinking herbal teas at night.
We recommend talking to your doctor before you have them – especially if you're pregnant, breastfeeding, or have a previous health condition.
Some varieties may contain compounds that interact with other snooze medications and cause serious complications.
Can You Drink Herbal Teas for Sleep While Pregnant?
A good night's sleep is a luxury, whether it's the first trimester of pregnancy or the third. 
But thanks to calming herbal teas, you too, can enjoy a healthy snooze while pregnant.
Herbal teas during pregnancy offer remarkable soothing effects. They help you relax during particularly irritating symptoms of heartburn, pain, and even insomnia.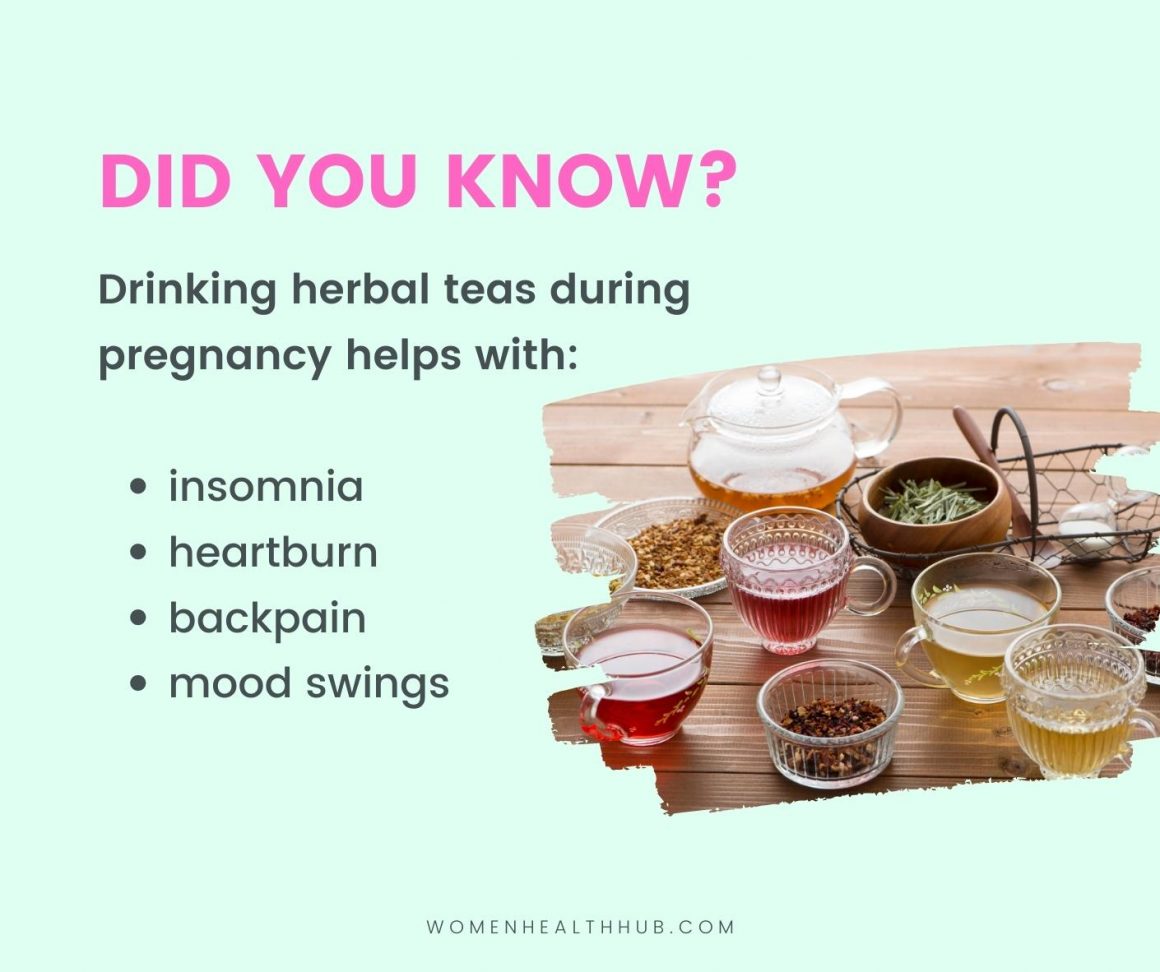 They're generally safe to drink. You can safely consume up to 2 cups of herbal tea for sleep during the day or night. But it's always best to discuss this with a doctor before indulging in this home remedy.
If you feel some have an intense taste, you can add a few drops of lemon juice or honey to enhance the flavor.
Best Herbs for Sleep to Drink as Tea
You may find numerous herbal teas to help you sleep on the market. But which ones are the most effective?
The best thing to do is focus on the ingredients. Some herbal teas for sleep have an incredible sedative result, which brings about the early onset of sleep. Others help you relax during stressful times.
Let's go through the strongest nighttime herbal teas you can drink up every evening before bed:
Lavender Tea:
The smell of lavender is quite relaxing. This herb is mild, and you can take it in the form of tea or even apply it as an essential oil. Some people use it as an aromatherapy fragrance. Lavender tea contains mild sedative properties that help calm the mind before bedtime. 
Chamomile Tea:
It's one of the most well-known herbal teas for sleep. Chamomile has several benefits to help relax the mind and body. Naturopaths often recommend it before bed to cure insomnia thanks to the sedative agents and shallow caffeine content.
3 best herbal teas for falling asleep fast:

🌿 Chamomile
🌿 Lavender
🌿 Valerian root

#herbalteas
Valerian Root Tea:
Valerian root is also a popular potent nighttime herbal tea. Inside the valerian root are several biologically active compounds that promote relaxation. It contains tranquilizing properties but can also cause initial grogginess.
Nevertheless, Valerian root is a strong sleepy herbal tea offering instant relief from insomnia and reducing anxiety.
Valerian root concoction isn't easy to make at home. You can purchase it as a tincture and add it to your tea.
Melatonin Tea:
Melatonin is a hormone released by the pituitary gland that induces sleep and regulates sleep-wake cycles. Melatonin tea is perfect if you travel and experience jet lag or want a deep sleep tea. You may drink this concoction for a short while, but it isn't safe to use for a long-term insomnia cure. 
Read More: 11 Best Natural Home Remedies for Bacterial Vaginosis
Raspberry Leaf Tea:
While raspberry leaf tea is one of the most popular drinks for pregnancy and to prepare you for labor, it also contains sedative properties that promote sleep. In addition, it has a fruity and earthy taste, making it a delicious nighttime herbal tea for relaxation.
Passionflower Tea:
Passionflower tea is also one of the underrated herbal teas for sleep. It helps calm the body down before bed and manages anxiety symptoms and stress disorders. Several studies have confirmed the benefits of passionflower tea in reducing insomnia.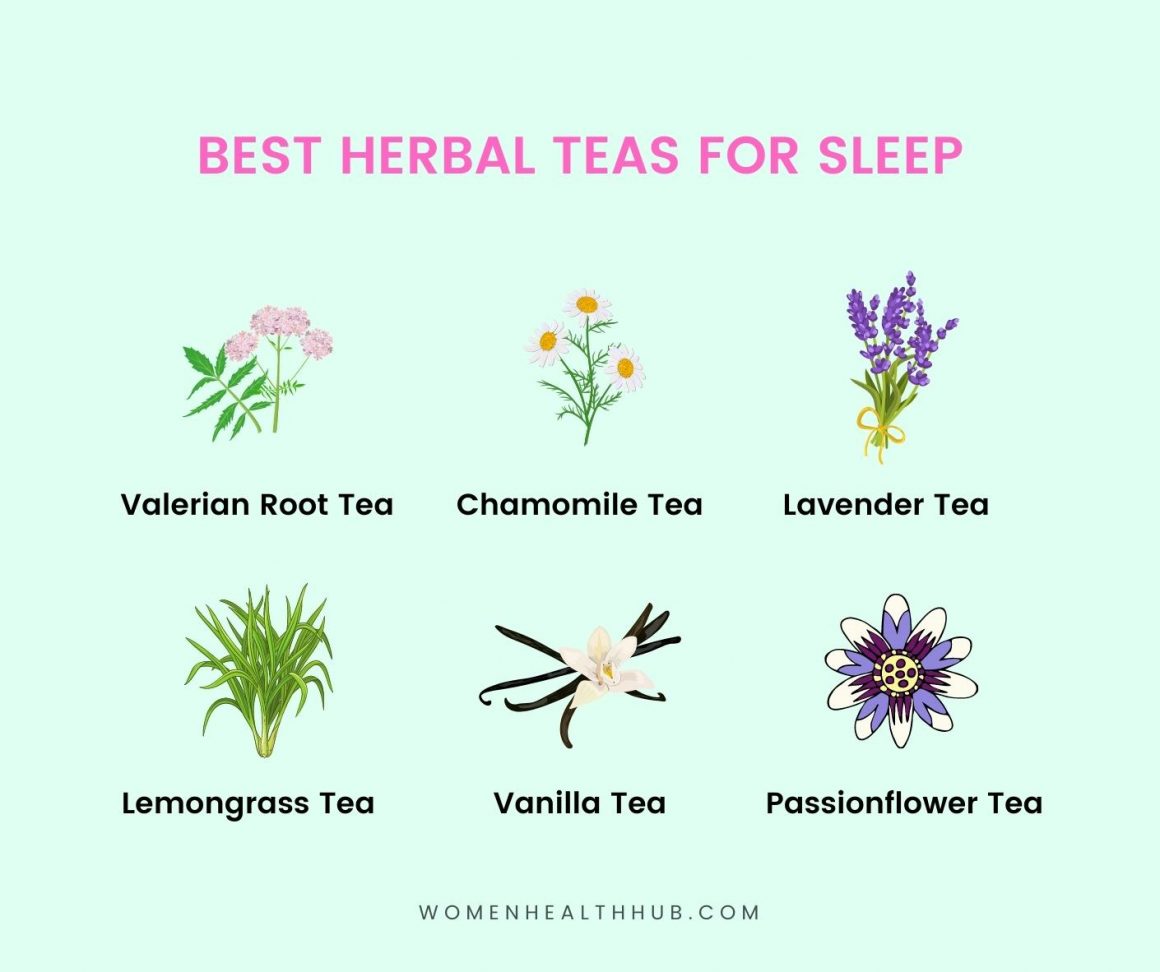 Lemon Balm Tea:
Even though it's usually known for its antiviral properties, lemon balm tea is yet another strong bedtime herbal tea. Thanks to its mild sedative effect, you can enjoy a restful night's sleep without any interruptions.
Hops Tea:
When mixed with Valerian root, wild hops herbal tea for sleep is an effective solution to treat insomnia symptoms and prevent anxiety. Historically, it has proven remarkable for tackling sleep disorders.
Fast-Acting Best Herbal Teas for Sleep
Now that you know why you should drink herbal teas before bedtime, you might want to know about the best brands of sleep herbal teas.
Here are some popular and effective nighttime herbal teas that most people drink to fall asleep and enjoy a good night's rest.
| Name | Ingredients | Links |
| --- | --- | --- |
| Bigelow Sleep Herbal Tea | Chamomile and hibiscus | Check Price |
| Traditional Medicinals Nighty Night | Valerian root | Check Price |
| Celestial Seasonings Sleepytime | Lemongrass, spearmint, and chamomile | Check Price |
| Tiesta Tea | Lavender and chamomile | Check Price |
| Organic India Tulsi Sleep Herbal Tea | Tulsi (Holy Basil) | Check Price |
| Twinings of London Unwind Tea | Vanilla and spiced apple | Check Price |
Bigelow is a well-known herbal tea brand established in 1975 in the US. This family-owned business is not only passionate about giving you a tasty cup of tea but also guarantees amazing health benefits with each sip.
Did you know Bigelow plays a huge part in creating a sustainable environment? Almost 95% of their waste is diverted from landfills and since 2007, they have conserved over 2,000,000 kWh energy.
Bigelow Sweet Dreams is one of their flagship herbal teas for sleep. It's a balanced blend of chamomile, hibiscus, peppermint, spices, and orange extracts that helps you feel relaxed and ready to fly off to the dreamworld in a few seconds.
Why should you buy Bigelow Sweet Dreams herbal tea:
Besides offering aroma, hibiscus is vital for a calming night's rest.
The tea leaves are packed in special pouches that don't allow air to enter and mess up the flavor or freshness.
Thanks to chamomile and hibiscus, you can taste a sweet and tangy flavor and enjoy a minty undertone while sipping.
Bigelow Sweet Dreams is free of caffeine.
Best of all – you get 20 bags in 3 boxes when you buy through my link!
Summary:
A warm cup of Bigelow Sweet Dreams herbal tea for sleep is a great alternative to sleeping pills and may help you fall asleep faster and snooze longer.
Located in the US and Canada and making waves since the 1970s, Traditional Medicinals is a popular name in the herbal tea industry.
The company was formed by Rosemary Gladstar, also known as the godmother of modern herbalism, and Drake Stadler, an environmentalist and community activist.
Needless to say, serving quality products while maintaining the standards of sustainability is infused in their mission.
Traditional Herbals Nighty Night is created using organic Valerian root that helps you drift off to slumberland as soon as you take a few sips. It's one of their best herbal teas for sleep with high potency to treat mild insomnia symptoms naturally.
Why should you buy Traditional Herbals Nighty Night herbal tea:
This tea contains leaves from organically sourced Valerian plants while adhering to environmental integrity.
It is caffeine-free and does not cause daytime drowsiness.
You'll enjoy the benefits of passionflower, peppermint, and lemon balm to help relax the mind.
The intoxicating earthy aroma also helps you fall asleep faster.
You will receive 16 tea bags in one box.
Summary:
If you want to make the most of medically proven Valerian root, Traditional Medicinals Nighty Night is the perfect strong herbal tea in a cup you need before bedtime.
Celestial Seasonings has had a long interesting history of brewing delicious herbal teas for people who appreciate a hearty drink. Mo Segal first began blending herbs in 1969, forming the foundations of this Colorado-based company.
In 1972, they introduced their flagship product called Sleepytime. It was instantly loved by everyone because of its potent sleep-inducing benefits.
Celestial Seasonings Sleepytime is among the best herbal teas for sleep if you want an aromatic and strong drink for a deep snooze.
Why should you buy Celestial Seasonings Sleepytime herbal tea:
Celestial Seasonings Sleepytime contains hints of lemongrass, spearmint, and chamomile, perfect for a good night's rest.
You receive 20 stringless and recyclable tea bags in 6 boxes.
This calming sleep tea is free of caffeine and non-addictive.
It's also suitable for people with gluten allergies.
Summary:
Celestial Seasonings Sleepytime herbal tea is the perfect choice if you're looking for a highly aromatic tea to drink at night. Add a few drops of honey to sweeten the drink and dream away all night!
Tiesta Tea is one of the most popular nighttime herbal teas for sleep, anxiety relief, and getting rid of negative thoughts before bedtime.
The company was formed with a mission to revolutionize the way people drink teas – and fall asleep! Every product is thoughtfully-created, focusing on quality, flavor, and performance.
The Tiesta Tea Foundation is yet another one of their impeccable projects that help socially or physically disabled people, provide clean water to communities, and strengthen those who need economic assistance.
You know that feeling you get after doing yoga? A sense of calm and utter sereness – if that's what you're looking for before bedtime, Tiesta tea would be a magical cuppa for you!
Why should you buy Tiesta Tea herbal tea:
Tiesta Tea herbal tea leaves are an ideal choice for a warm late-night snooze during the wintery chill of the Christmas season. And also makes for a perfect holiday gift!
It is a perfect aromatic blend of chamomile, blue mallow blossoms, lavender, and lemongrass, all crucial for helping you sleep better.
This super-strong sleep tea is free of caffeine, calories, and sugar, making it a non-addictive drink if you have signs of diabetes.
Tiesta Tea arrives in loose leaf form and lasts for at least 25 – 40 cups, depending on the amount you order.
This mixture contains soft yet potent relaxing herbal tea agents that allow you to fall asleep quickly.
Summary:
If you would rather buy loose tea leaves than tea bags, get a pack of Tiesta Tea and enjoy a relaxing night's sleep with an incredible infusion of lavender and chamomile.
Built on the promise of supporting True Wellness and a healthy, conscious, and sustainable lifestyle, Organic India is committed to delivering quality organic herbal teas to its consumers.
Searching for the best sleep tea to drink at night and make all the stress disappear in seconds?
The Organic India Tulsi Sleep Herbal Tea is revered because it promotes restful sleep, maintains calmness, and possesses anti-aging qualities. All thanks to the addition of a rejuvenating and refreshing herb – Tulsi.
Why should you buy Organic India Tulsi sleep herbal tea:
This soothing bedtime herbal tea contains holy basil, ashwagandha, cardamom, peppermint, and chamomile to help you enjoy a restorative night's rest.
Organic India Tulsi is completely free of caffeine and is ideal for vegans.
This infusion doesn't only induce sleep and relieve stress but is also beneficial for boosting the immune system, thanks to the potent antioxidants in holy basil.
You will receive 18 tea bags in 6 packs to last for weeks!
Summary:
Make the most of the amazing holistic healing benefits of Organic India Tulsi sleep herbal tea. This is the perfect concoction for you if you're looking for a South Asian herbal fix to fall asleep faster and enjoy deep sleep.
Twinings of London is among the most popular producers of herbal teas for sleep, located in the United Kingdom.
Over the years, they have created multiple blends to promote wellbeing one sip at a time.
The company is particular about sourcing herbal tea leaves from only the best gardens in strict hygienic environments. They also pay attention to women's empowerment and minimize the carbon footprint at every step.
Ready to enjoy the rich flavor of vanilla and spiced apple along with the aromatic chamomile and passionflower?
Twinings of London Unwind nighttime herbal tea brings together powerful herbs to help you relax after a tiring day and fly off to dreamland as soon as you hit the pillow.
Why should you buy Twinings of London Unwind sleep herbal tea:
Twinings of London Unwind Tea is an infusion of chamomile, vanilla, passionflower, and spiced apple, all necessary ingredients for a perfect deep sleep tea cup.
Every herb is hand-selected from tea gardens and works together to help you calm down, relieve stress, and relax your body and mind for a restorative snooze.
This tea is free of artificial flavors and caffeine.
You get 18 tea bags in 1 pack at an affordable price.
After steeping for 4 minutes, you'll first enjoy the sweet fragrances of vanilla and cardamom, followed by a creamy flavor from chamomile and vanilla.
Summary:
Once you take a few sips of a warm Twinings of London Unwind sleep herbal tea, you'll instantly make this enriching and nutritious blend of beneficial herbs a part of your daily bedtime ritual.
I hope you have found your next best herbal teas for sleep through this list. If you still haven't made up your mind, no worries. Simply try any of these nighttime herbal teas before bed and let the magic unfold!
If you're on sleep meds, it's best to discuss with your doctor whether or not you can drink calming sleep herbal teas daily. This way, your doc can adjust the doses accordingly and ensure further safety.
References: 
https://www.researchgate.net/publication/287478165_Review_on_herbal_teas
https://www.sciencedirect.com/science/article/abs/pii/S108707929990093X
https://www.ncbi.nlm.nih.gov/pmc/articles/PMC3612440/
https://www.sciencedaily.com/releases/2005/01/050104112140.htm
https://www.ncbi.nlm.nih.gov/pmc/articles/PMC6174262/