Hey there! This post may contain affiliate links. As an Amazon Associate, I earn a teensy commission from qualifying purchases when you buy through these links (at no additional cost to you). For more info, please check the full disclaimer.
Alarmingly, almost 40% of the people in the US are Vitamin B12 deficient, a wide majority being women. Although eating B12 rich foods certainly helps, nutritionists also encourage taking some of the best Vitamin B12 supplements daily to meet the body's required dose.
In this article, I'll share the most powerful Vitamin B12 supplements on sale that you can buy online on Amazon.
What is Vitamin B12?
Also known as cobalamin, Vitamin B12 is a water-soluble nutrient crucial for making DNA, proper brain health, and red blood cell production. Pregnant women also need this vitamin to prevent complications during baby development.
Your body doesn't produce B12 on its own. Rather you get it from different food sources. It's essentially present in animal-derived foods such as dairy products or meat, and rarely in plants.
Some rich Vitamin B12 food sources include;
Tuna
Lobsters
Crabs
Lamb's liver
Beef
Turkey meat
Swiss cheese
Mozzarella cheese
Eggs
Milk
Read More: 27 Amazing Vitamin B12 Rich Foods You Should Add to Your Diet
What Are The Signs of Vitamin B12 Deficiency?
Besides eating foods naturally loaded with this nutrient, Vitamin B12 supplements consumption is another reliable way to prevent its shortage.
If you notice any of these symptoms of Vitamin B12 deficiency, take some B12 supplements ASAP:
Anemia
Weakness and fatigue
Constipation
Loss of appetite
Mood swings
Irregular heartbeat
Shortness of breath
Read More: 8 Warning Signs of Seriously Low Vitamin B12 Levels in Women
What Causes Vitamin B12 Deficiency?
Certain factors can put you at high risk of low Vitamin B12 levels. So it's important to stay alert and enrich your diet with the best Vitamin B12 supplements available.
Here are a few reasons why you might have low B12:
Plant-based diet: Vitamin B12 isn't found in fruits and vegetables. If you're a vegan or vegetarian, you may be at risk of being B12 deficient.
Old age: As you get older, your stomach produces less acid to absorb Vitamin B12. Ultimately, you'll have severely low Vitamin B12. This need can only be fixed through powerful Vitamin B12 supplements.
Pregnancy: When you're pregnant, your body has a higher than usual demand for Vitamin B12 for brain and spinal cord development. Decreased B12 could cause serious pregnancy complications or affect your baby's proper growth.
Digestive disorders: Certain digestive problems like heartburn and Crohn's disease mess up Vitamin B12 absorption. You might need B12 supplements to prevent its deficiency.
What are the Benefits of Vitamin B12 supplements?
Because of its important role in your body's wellbeing, there are numerous benefits of taking Vitamin B12 supplements daily.
Here are a handful of Vitamin B12 supplements benefits for women of all ages:
Taking Vitamin B12 supplements daily improves your mood and gives you instant energy boost. ⚡️

#FACTS
Good bone health: Sufficient B12 can boost your bone mineral density and reduce the chances of bone diseases such as osteoporosis.
Mood improvement: This vitamin produces "the happy hormone" or serotonin, responsible for regulating mood and helping with depression.
Energy boost: Some of the best Vitamin B12 supplements also energize your body and reduce fatigue.
Memory enhancement: Vitamin B12 pills prevent loss of neurons and decrease the risk of dementia or memory loss.
Anemia prevention: As B12 is essential for red blood cell development, these supplements can boost your red blood cell count to avoid anemia naturally, particularly during pregnancy.
Proper heart health: If you're at risk of heart diseases like heart attack, cholesterol etc, taking Vitamin B12 supplements daily can help regulate your cardiovascular health.
Do Vitamin B12 Supplements Really Work?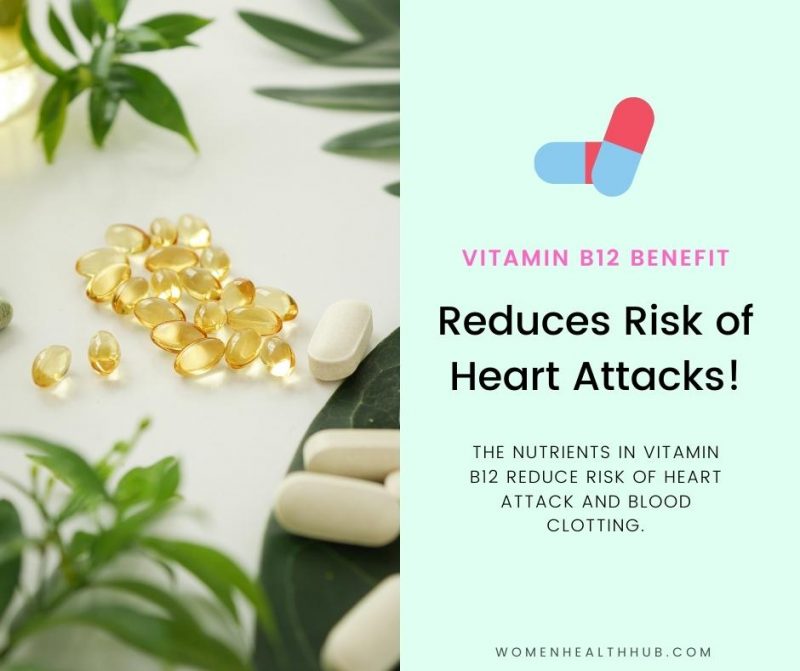 The main question is whether or not these supplements actually work and if there are any side effects of Vitamin B12 pills.
Research shows that taking Vitamin B12 supplements along with other nutrients such as folic acid can reduce the chance of heart attack and blood clot issues. 
Some scientists believe that certain pills prescribed with Vitamin B12 can treat diabetic neuropathy — a condition that wrecks blood circulation in feet because of high blood sugar.
So many medicinal combinations with Vitamin B12 supplements are beneficial for your health. But in case of severe deficiencies or serious diseases, there's little B12 can do to help.
If you're on a special no-meat diet, I'd recommend consulting a nutritionist to find the right dose of B12 for your daily requirement.
Do Vitamin B12 Tablets Have Side Effects?
Most health experts agree that there are no serious life-threatening side effects of taking Vitamin B12. When taken in high doses, there are a few risks such as;
Rashes
Dizziness
Headaches
Itching
Swelling
Breathing problems
One study links super high amounts of Vitamin B12 in blood to the risk of lung cancer. Although it needs further proof, this can only happen if one indulges in a reckless B12 overdose.
Needless to say, you can safely start some of these best Vitamin B12 supplements to enjoy their ample metabolic benefits.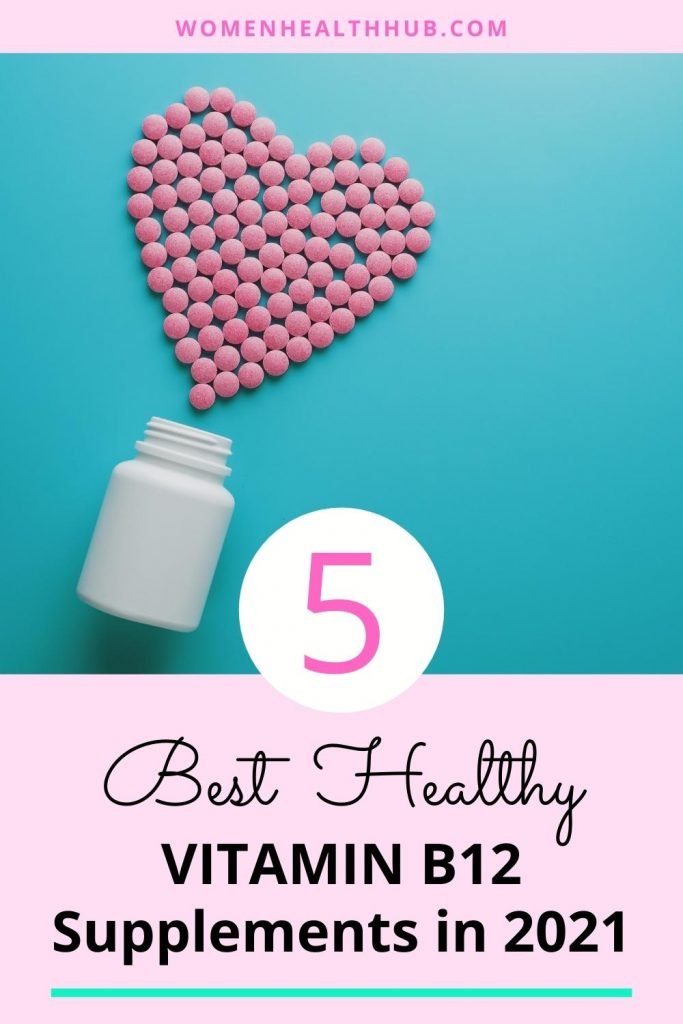 5 Best Vitamin B12 Supplements in 2021
Name
Best features
Vitafusion Extra Strength Vitamin B12 Gummies
– Juicy cherry flavor
– Soft chewy texture
– All-natural color extracted from fruits
Check price
Nature Made Vitamin B12 Tablets
– More pills for less price
– Gluten-free
– Top-rated pharmacists' choice
Check price
Jarrow Methyl B12 Dietary Supplement
– Well-researched bioactive formula
– Tropical flavor
– Exceptional metabolism boost
Check price
Nature's Bounty Vitamin B12 Supplements
– Finest quality supplements
– Great value for money
– Instant effect in a few days
Check price
Solgar Sublingual Vitamin B12 Nuggets
– Halal, kosher, and vegan friendly
– Improves red blood cell production to fight anemia
– Chewables can easily melt in the mouth
Check price
These delicious gummies are one of my favorite Vitamin B12 supplements posing no side effects. Affordably priced and packed with nutrients, they're among the top sources for your daily Vitamin B12 requirement.
Vitafusion is a popular US brand obsessed with fruits; hence, their signature #wedigfruittrees!
Most of their pills are created using natural fruit compounds, giving them not only an enriched color but also a pleasant taste.
Because of their commitment to avoid synthetic dyes and unhealthy flavors, I've added Vitafusion B12 Gummies to my list of the best Vitamin B12 supplements of 2021 on Amazon.
Features:
The most striking benefit of Vitafusion Vitamin B12 supplements is their remarkable metabolism properties. They're known to give you an instant energy boost, and facilitate proper food to energy conversion.
Each bottle contains 90 high potency Vitamin B12 gummies (3000 mcg per serving). They are soft, juicy, and have a natural cherry flavor.
With every bottle, you can enjoy a 45-day supply of Vitamin B12-rich pills. So you can safely take two tablets per day.
These gummies are free of artificial flavors and sweeteners, and instead, use healthy alternatives to fructose corn syrup. They are also gluten and dairy-free, making them perfect for those who're intolerant.
Pros
Excellent source of instant energy
Natural cherry flavor 
Free of artificial flavors, colors, and sweeteners
Gluten and dairy-free
Free of high fructose corn syrup 
Soft texture that's easy to chew
Metabolizes fat and proteins
Cons
Higher sugar content than other supplements 
You may need to brush your teeth after consuming them
Super sweet flavor can cause addiction and overdose
This list of the best Vitamin B12 supplements would be incomplete without Nature Made Vitamin B12 value size packs!
If you've been buying OTC supplements for some time, you might already be familiar with the Nature Made brand. They offer a wide range of affordable pills for women's health and wellbeing guaranteeing a good night's rest, bone strengthening, and immunity boost.
Additionally, Nature Made products are now made of sustainable elements, living up to their Climate Friendly pledge to preserve the natural environment.
Features:
Nature Made pills are backed by real science and in-depth biological research to ensure you get sufficient energy and a metabolic boost with each tablet. These supplements are completely safe, packed with nutritious ingredients, and combining various nutrients for a healthy lifestyle.
Nature Made B12 contains 500 mcg of gluten-free tablets that are slightly red. They are proud producers of all-natural B12 pills with no artificial flavors or preservatives.
With each value size bottle, you'll receive 200 tablets, with a recommended dosage of 1 tablet per day. Nature Made Vitamin B12 supplements are super cheap, lasting for 200 days!
Pros
Top choice of pharmacists
Made in the US (South California and Alabama)
Popular supplement used by many
Gluten-free
Great value for money
Tablets last for more than a month
No added color
No artificial flavors or preservatives
Cons
Not an enriching flavor
Should not be taken with other pills
Take it with water and a meal
Jarrow is an emerging name in the field of nutritional supplements based in Los Angeles, California. Their state-of-the-art laboratories furnished with top-notch tools for deep analysis are used to develop the perfect Jarrow Formula nutritional supplements for women's health and wellbeing.
Their Methyl Vitamin B12 dietary supplement includes a special bioactive B12 formula that power-ups your brain, improves your sleep quality, and ensures you're fueled with a fresh jolt of energy every morning.
Read More: 11 Inspiring Healthy Morning Routine Ideas + Free Weekly Routine Tracker!
Features:
Jarrow Methyl is among the best Vitamin B12 supplements for metabolizing homocysteine — a compound crucial for generating proteins to produce energy. These supplements consistently break down homocysteine in your bloodstream so you've ample energy supply throughout the day!
Each bottle carries 100 tropical flavor lozenges worth 2500 mcg. These pinkish tablets are free of allergens including shellfish, dairy, wheat, soybeans, and gluten.
Because it's so powerful, we recommend consuming this Vitamin B12 supplement after consulting with your doctor. Especially if you're trying to conceive, are already pregnant, or lactating.
This high potency and affordable Vitamin B12 supplementation is great for vegans and vegetarians looking for an effective pill to meet their daily required dose.
Pros
Unique tropical flavor 
Pink colored lozenges
Instant energy & brain-function boost
Bioactive formula for remarkable metabolism
Optimal choice for vegans and vegetarians
Free of gluten, soybeans and other allergens
Cons
May not be suitable for pregnant or breastfeeding women
Super powerful formula that should be taken after consultation
Nature's Bounty is among the best Vitamin B12 supplements manufacturing companies in the US.
The brand produces nutritional vitamins by carefully selecting natural, high-quality ingredients. Their commitment to unparalleled innovativeness, purity, and efficacy makes them women's favorite and Amazon's top-rated vitamin supplements.
If you're looking for fast-acting Vitamin B12 supplements for sale with no side-effects risk, I'd definitely recommend Nature's Bounty B12 pills for guaranteed results.
Features:
Each 1000 mcg bottle contains 200 coated lozenges, with the recommended dose of 1 tablet per day. One pack would easily last for half a year, giving you exceptional value for money.
These chewable tablets are packed with high amounts of Vitamin B12, necessary for a long-lasting jolt of energy, improved heart health, and memory enhancement. Start eating one Nature's Bounty tablet per day and say goodbye to unproductive lazy noons!
The lozenges are easy to swallow and free of toxic artificial compounds. They undergo vigorous tests to ensure the final product you receive is 100% safe, powerful, and beneficial in tackling your Vitamin B12 deficiency problem.
Pros
Remarkable improvement in memory and metabolic activities 
More quantity for a reasonable price
Bioactive compounds for boosting cardiovascular health
No lingering aftertaste 
Non-GMO
Free of sodium
Cons
For some, the lozenge could be tricky to swallow
Contains dye that could trigger an allergic reaction
With its headquarters in New Jersey, Solgar is among the best Vitamin B12 supplements companies that take pride in their raw-only finest quality ingredients.
The brand has been supplying top-notch women's health supplements for 70 years. So you can rest assured you're getting all your strength from a trustworthy source!
In short, Solgar is living up to its promise of being the Gold Standard in vitamins production.
Features:
Solgar Vitamin B12 1000 mcg bottle contains 250 nuggets that are non-GMO, kosher, halal, and safe for vegans and vegetarians. There's no gluten, dairy, soy, or artificial colors or flavors.
The company is also thoughtful of the environment and packages the supplements in recyclable amber bottles made of 50% broken glass.
These B12-rich nuggets can be taken sublingually, i.e. by placing under the tongue or chewed. When taken sublingually the absorption in the blood is faster and provides an immediate boost to your wellbeing.
These tablets are made of natural cherry flavor along with some choice healthy artificial alternatives. Every nugget is easy to swallow and has no lingering aftertaste.
Pros
Sublingual consumption
Fast absorption
Boosts fresh blood production
Fruity aroma and no aftertaste
Non-GMO and gluten free
Vegan-friendly
Kosher and halal ingredients
No sugar or sodium
Cons
In summers the product could have a melty feel so it must be refrigerated
Contains traces of artificial flavor
Vitamin B12 deficiency can have devastating consequences for your overall wellbeing. If you have low nutritional levels, these best Vitamin B12 supplementation can help fulfil your daily dietary requirements.
Let us know which are your favorite safe Vitamin B12 pills for sale in the US or outside. Also, what do you look for while buying new B12 supplements with no risk of side effects?