Hey there! This post may contain affiliate links. As an Amazon Associate, I earn a teensy commission from qualifying purchases when you buy through these links (at no additional cost to you). For more info, please check the full disclaimer.
Want to get rid of killer sore muscles in the neck, shoulders, and upper back? After a long workday, practice these simple yoga poses for neck pain to find instant relief.
Surprisingly, neck diseases are more common in women than men. More than 30% of US adults suffer from neck pain.
Chronic or acute neck pain can be awfully disturbing and affect the quality of your life.
With time, it gets worse and causes serious aches in the shoulders and upper back. If not treated properly, you might not be able to turn your head or even sleep well at night.
Various unhealthy habits, injuries, and maintaining an improper posture can lead to sore neck muscles.
Luckily, there's a quick and easy holistic solution for this problem.
Start with a daily routine to practice the best yoga poses for neck pain relief!
Daily yoga stretches for neck pain can help you get rid of shoulder or upper backaches – or at least offer temporary ease.
Yoga benefits the stiff muscles and releases tension from your body. It's the perfect way to relax and alleviate physical stress.
In this blog, I've highlighted 8 simple exercises of yoga for neck pain that you can practice daily in the morning or before bedtime.
Let's dive right in.
What Are The Causes of Neck Pain?
Neck pain is caused by several reasons.
Sitting or sleeping in an improper position for a long time is one of the most common causes of neck pain without injury. It can tense your upper back muscles and make them stiff.
It may also be because of an injury or a musculoskeletal/neurological illness.
Soft tissue injury in the neck muscles can cause serious aches. You might have an accident, physical stress, arthritis, or inflammation that aggravates the muscular tension in the neck.
In some cases, tumors can also cause neck pain. Such as breast cancer tumors, which lead to pain in the collarbone and above.
Luckily, muscular sprains often heal within a few weeks. Yoga for neck pain and the upper body can certainly help alleviate the symptoms.
What Are The Types of Neck Pain?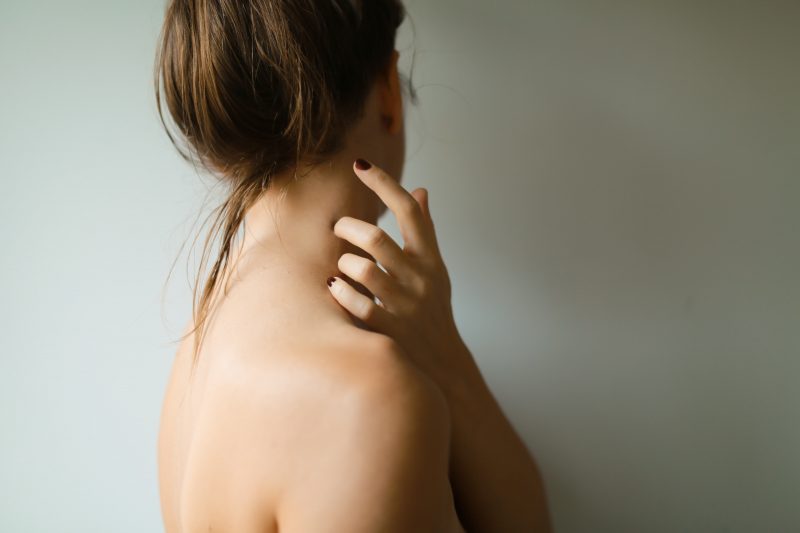 Most yoga poses for neck pain relief can only work for certain situations. Knowing what kind of neck pain you have, makes it easier to find the right treatment.
Neck sprain: Caused by physical stress from hardcore laborious activities. This type of neck pain comes with weakness, vertigo, and a feeling of stiffness in the upper back region.
Cervicalgia: Painful bouts of stabbing aches in the cervical region because of poor posture at the time of sitting or sleeping. Yoga stretches for neck pain can easily heal this issue.
Cervicogenic headaches: A chronic headache disease that causes stabbing headaches, accompanied by stiffness in the neck and facial muscles.
Torticollis: Targets muscles in one side of your neck that make the head tilted to one side. It may be because of a temporary injury such as sleeping in an awkward position or a permanent condition from the time of birth. Neck pain yoga exercises can reduce painful episodes.
Cervical radiculopathy: Also known as pinched nerve condition, it's serious nerve damage leading to pain in upper back muscles. You might experience numbness in your arms or shoulders. Yoga, massage, and acupuncture are often helpful.
Referred pain: An underlying illness could also lead to muscle pain in the neck. For example, breast cancer tumors or an early symptom of a heart attack. This is only diagnosed by a healthcare professional.
Neck muscle spasm: If your neck muscles tighten on their own without warning, it's called a neck spasm. Strange positions trigger spasms and can affect your head movements. Neck and shoulder yoga stretches offer instant relief.
Cervical spondylosis: An age-related neck pain condition caused by general wear and tear in the spinal discs. With time, it can lead to osteoarthritis and might cause serious osteoporosis fractures.
Read More: 12 Tips to Prevent Osteoporosis Fractures
How to Know If Your Neck Pain Is Serious?
Using yoga poses for neck pain relief is an appropriate treatment only if the condition is non-serious.
So when exactly do you need to see a doctor?
Yoga for neck pain relieves sprains and tense upper back muscles. 

Check out these 8 best #yoga neck pain exercises! 🧘‍♀️
Normal neck soreness is caused by improper posture. It'll go away in a few days. The upper back muscles would seem stiff and you might have difficulty moving or tilting your head.
On the other hand, the symptoms of serious neck pain could be much severe.
If you feel numbness or tingling in the upper back, shoulders, and arms along with neck pain, it could be because of an underlying issue. Numbness is usually caused by nerve damage. You might be unable to perform small tasks and lose arm strength as well.
Read More: 3-minute Morning Yoga Routine for Beginners
Can Neck Pain Also Cause Shoulder/Back Pain?
Yes! That's because the nerves in your neck are connected to the shoulder muscles as well. So if you have neck aches, you'll likely suffer pain in the shoulder and upper back.
Sometimes, you might have a pinched nerve in your neck. The stabbing pain will then radiate along your spine to your shoulder, back, and arms. In some cases, it can also lead to numbness in the hands.
Does Yoga Help Neck and Shoulder Pain?
Practicing yoga poses for neck pain relief is the perfect way to get rid of stiff muscles.
Various modifications of neck and shoulder yoga stretches can help ease the tightened and stressed muscles in the region. It's quite an effortless and holistic method with no side effects.
If you spend a lot of time sitting on a chair, you're likely to have spine alignment issues. Yoga benefits the upper back by developing posture and reducing the chances of neck aches.
Additionally, with daily neck and back yoga exercises, you'll also improve your body balance.
This practice will benefit any severe painful muscular symptoms and also prevent future backache issues.
Now without further wait, let's dive into the 8 best yoga poses for neck pain relief that you can fit in your everyday fitness routine.
Read More: Top 10 Affordable Yoga Bootcut Pants Outfits Under $30
Best Yoga Poses For Neck Pain
Let's check out some of the best yoga stretches for neck pain, backaches, and shoulders.
1. Neck Rolls
Neck rolling is one of the most effective yoga exercises to relieve neck pain. This yoga stretch for sore neck targets the muscles on each side as you roll your neck alternating between the shoulders.
I especially recommend this perfect yoga pose for upper back and neck pain to anyone who has intense migraine episodes with stabbing headaches and facial pain.
Repetitions: 10 reps
How to do the Neck Rolls:
Sit on a chair or on a yoga mat.
Keep your back straight, relax your shoulders and hold your chin parallel to the floor.
Drop your right ear towards your right shoulder.
Slowly roll your head backward and then towards the left shoulder.
Then roll your head to the front, back to the right shoulder.
Repeat for the other side.
You can also use your hands to pull down your head towards each shoulder in each roll.
2. Standing Forward Bend Pose
One of the easiest yoga poses for neck pain relief that beginners can practice daily.
This yoga stretches the neck and shoulder muscles and releases the tension. Also, it can help relieve aches in the leg and hip muscles.
I'd suggest this yoga exercise for upper back or neck aches and to work on your flexibility. You'll also notice its benefits for insomnia and headaches.
Repetitions: 10 reps
How to do the Standing Forward Bend pose:
Stand straight with your feet facing forward.
Pull the belly in, bend down, but avoid bending the knees.
Reach down to the floor and touch it with your hands.
Hold the stretch for 30 seconds and exhale gently.
Stand back up, rest for a second, and repeat.
Try these best beginner yoga poses for neck pain to ease shoulder, neck, and upper back muscles. 💆‍♀️🧘‍♀️
3. Extended Triangle Pose
This modified version of the Triangle pose is an excellent yoga exercise for neck pain relief. It increases your upper body flexibility by aligning your spine and strengthening the core.
Although the Extended Triangle pose yoga exercise mainly targets sore necks, you can also use it for opening up your lower abdomen, hips, groins, and leg muscles.
Oh, and are you tired of stressful perimenopause symptoms? Triangle pose is also a perfect yoga exercise to improve your physical and mental health during menopause changes.
In short, it's among the best yoga poses for neck pain that improves your overall wellbeing and is a great addition to your daily workout routine.
Repetitions: 10 reps (5 on each side)
How to do the Extended Triangle Pose:
Stand with your legs at least one to two feet apart.
Stretch your arms out to the sides parallel to the ground with palms facing down.
Turn your right foot 90 degrees to the right.
Bending at the hips, lower the torso to the right.
Place your right hand on the mat in front of your right foot.
Stretch your left arm towards the ceiling. Make sure both hands are in a straight line.
Turn the neck up to look at it.
Stay in this position for a few seconds.
Stand straight and repeat the same for the other side.
Read More: 10 Best Beginner Exercises for Weight Loss
4. Child's Pose
Child's pose is a popular yoga pose for neck pain and relieving headaches. It also stretches the muscles in the lower body, making it a remarkable yoga exercise for upper backaches.
End any workout session with this yoga stretch for sore necks and see its magical benefits for pain relief.
Repetitions: 30 seconds
How to do the Child's Pose:
Get on the mat with all your limbs on the floor.
Bring your hands just below your shoulders and your knees below your hips.
Slowly sit back towards your heels while pushing back with your arms.
Keep your head down and make sure you leave sufficient space between the ears and shoulders.
Stay in this position for 30 seconds while inhaling and exhaling steadily.
Repeat.
5. Cat Cow Pose
Among other brilliant yoga poses for neck pain relief is the Cat Cow exercise. It directly affects the neck muscles and removes tension knots.
If you have persistent upper backaches and stiffness, try the Cat Cow yoga stretches for sore neck and back muscles. You'll find instant relaxation within a few weeks.
Additionally, using this yoga pose, you can target the core and abdominal muscles and enhance your body's inner strength.
Repetitions: 10 reps
How to do the Cat Cow pose:
Start with all four limbs on the mat.
Ensure your shoulder and wrist are inline.
Your knees must be at 90° to your hips.
Push your belly outward while tilting the neck up to the ceiling/sky.
Inhale slowly.
Next, pull your belly in and lower the head downward looking at the hands.
Exhale slowly and repeat.
Read More: 7 Best At-home Abs Exercises for Beginners
6. Thread-the-Needle
The Thread-the-Needle exercise is also one of the best yoga poses for neck pain relief without medications. It's the perfect form to relax the tensed shoulder, arms, neck, and upper back muscles.
This yoga stretch for sore necks also targets the spine and chest muscles, opening them up. You'll instantly notice increased flexibility in the upper body.
After a long laborious day, a few reps of this incredible yoga exercise can reduce neck and backaches simultaneously.
Repetitions: 14 reps (7 each side)
How to do the Thread-the-Needle pose:
Bend down with both your arms and legs placed on a mat. Keep the knees under hips, and arms under shoulders.
While twisting the body to the right side, bring the right arm through the left like a thread across a needle head.
The right palm would be facing up.
Move your neck to the right side simultaneously. The right shoulder and cheek must touch the mat.
Hold for a few seconds.
Come back up, maintain the original position, and repeat for the other side.
7. Seated Side Stretch Bend (Left & Right)
The Seated Side Stretch Bend is also among the best yoga poses for neck pain, shoulder, and backaches. This yoga exercise treats tense muscles in the neck, hip flexors, and obliques.
It's also one of the most amazing yoga stretches for spine flexibility, posture improvement, and relieving stress.
Repetitions: 10 reps (5 on each side)
How to do the Seated Side Stretch Bend:
Sit cross-legged on the floor and keep your back straight.
Put your right hand on the right side of the floor.
Lean the left arm over your head, twist your torso, and bring the arm parallel to the right hand.
Simultaneously, bend your face to the right side while looking straight.
You'll feel the oblique muscles of your left side stretching.
Hold for a few seconds then return to the original position.
Repeat for the other side.
8. Puppy Pose
The last yoga exercise for your aching neck, back, and shoulders is the Puppy Pose. It's somewhat similar to the child's pose but focuses more on the upper back and neck muscles.
If you have a sprained neck or feel knots below the nape, add this incredible yoga stretch to get rid of neck pain within a few days.
Repetitions: 10 reps
How to do the Puppy Pose:
Maintain a tabletop position with both arms and knees on the floor.
Your wrists should be just below the shoulders, while the hips should be aligned with the knees.
Spread the hands out in front of you, palms facing down at shoulder-width distance.
Lower your head and touch the forehead to the ground.
Keep your lower belly tucked inside. Hold for some seconds.
Bring the arms back to the tabletop position.
Repeat.
I hope you've found the best yoga poses for neck pain relief in this post. Try these yoga exercises for sore neck, back pain, and shoulder aches every day to maintain a healthy posture.
New to workouts? No worries! You can easily add most of these beginner yoga stretches for sprained neck muscles in your daily fitness routine.
Whether you practice them in the morning or evening, these yoga poses will offer you instant relief from neck pain without any medications.
Do let me know which yoga exercises for neck and shoulder aches you follow at home in the comments below. 🙂
References:
https://www.sciencedaily.com/releases/2012/11/121127093857.htm
https://www.ncbi.nlm.nih.gov/pmc/articles/PMC4971133/
https://academic.oup.com/ptj/article/87/4/408/2742122
https://www.liebertpub.com/doi/10.1089/act.2020.29295.asi