If you have chronic high blood glucose, you must've wondered if diabetes causes hair loss in women or not.
The answer is yes.
Dramatic hair loss is one of the early signs of diabetes in insulin-resistant women.
Let's be honest – as women, we aren't afraid to spend big bucks to keep the hair in the best shape.
Naturally, for us to see a fist full of hair strands in the shower is nothing short of a nightmare!
But it's not all bad news.
In this blog, you'll discover why diabetes causes hair loss in women. Plus, I'll share a few easy tips to help you deal with this traumatic process.
Let's first start with the reasons why high blood sugar leads to hair fall.
Why Diabetes Causes Hair Loss in Women?
Diabetes is a disease that makes your body resistant to insulin action or production. Insulin is a hormone which absorbs excess glucose from our bloodstream.
Consistently high blood sugar level eventually leads to many health complications, including damage to hair follicles.
Increased sugar affects the blood vessels and limits fresh blood supply to your scalp. As a result, the hair strands don't get enough nutrients and thus, start falling out.
But losing your hair is not the only indication of diabetes.
Let's learn about the unusual hair loss signs that you must get checked out straight away.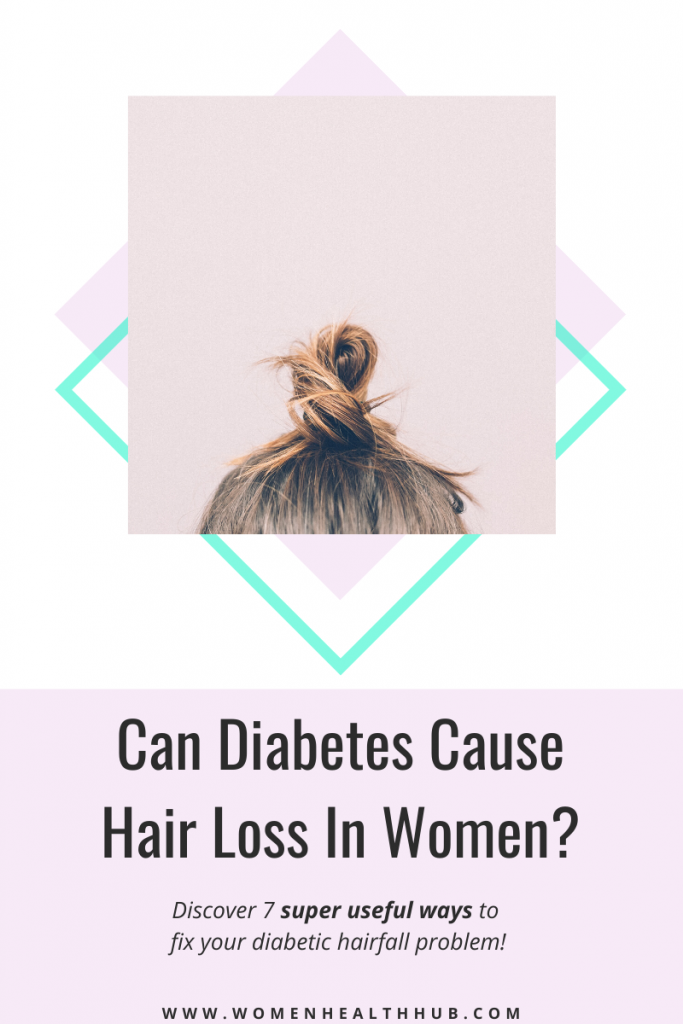 What are the Signs of Abnormal Hair Growth?
All humans have different types of hair follicles on the body. However, the hair growth in males and females is unique.
Following are the three main types of hair follicles found in women:
Head & genitals: These hair cells produce coarse, dark and thick hair in a dense manner.
Limbs: The follicles on arms or legs promote sparse growth of soft, light, and thin hair.
Torso: This type facilitates short hair growth on the chest, abdomen, and back region.
If you suffer from diabetes or are a prediabetic (carrier of diabetes), you'll notice a change in natural hair growth in these areas.
We shed about 100 to 150 hairs every day, which is completely normal.
So don't freak out if the hair loss is negligible.
What you DO need to look out for is sudden dramatic hair loss — we're talking a whole bunch of hair falling out for no apparent reason!
This usually leaves small bald spots or noticeable patches with little to no hair on the top of the head.
You may also observe noticeable thinning in the parting region. Many people may suffer hairless patches on other body parts too, such as legs, arms, and face, including eyelashes and eyebrows.
Bottomline, you might want to note how often and how much hair you've lost to determine whether it's serious or not.
Alopecia – The Hair Loss Disorder
If the hair loss is abnormally high, it's possible you've developed a condition called alopecia areata.
Alopecia is an autoimmune disease in which your immune system attacks the hair follicles. As a result, their usual growth cycle is affected.
This hair loss condition is quite common among people with diabetes –especially in women who are aged 45+ years.
Can the Type of Diabetes Affect Hair Loss?
Now that you know diabetes causes hair loss, you might be wondering…
Is there's a relationship between the type of diabetes and the hair loss process?
Well, most studies show that alopecia affects type 1 diabetics only.
Just like alopecia, type 1 diabetes is an autoimmune blood glucose disorder. It causes your body's immune system to attack the pancreatic cells responsible for producing insulin.
Therefore, it makes sense that type 1 diabetes leads to hair loss.
So what about type 2 diabetes?
Although there's a shortage of data that links natural hair loss to diabetes type 2, I did come across an interesting article in JAMA Dermatology.
In this 2013 study, scientists discovered many deceased diabetic women aged <60 years with mild alopecia. However, this condition was more common and severe in 70+ years old women.
Which Regions Suffer Hair Loss From Diabetes?
As I mentioned before, women with diabetes will notice hair loss in several body regions. Let's take a look at each.
Alopecia affects women by gradual hair thinning from the top and parting region of the head, instead of receding hairline (this happens in men).
The good news here is that women rarely go bald because of diabetic hair loss.
Here is an image showing how alopecia occurs in women.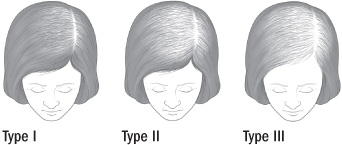 Consistently high blood sugar levels may cause a condition called diabetic neuropathy.
This condition causes damage to your nerves and usually affects feet and legs. As a result, you might feel numbness in your lower limbs.
You may also notice hair loss in legs in moderate to severe diabetic neuropathy cases.
Some diabetic women also experience loss of hair on arms but it's usually more common in men.
Additionally, you might notice facial hair loss from insulin-resistance in eyebrows and eyelashes.
Is Diabetic Hair Loss Permanent?
Luckily, no! Diabetic hair loss is generally reversible.
Although the process may be super slow, depending on the reason why the hair fell out in the first place.
However, it's also possible that diabetic hair loss is permanent.
In fact, the older you are, the more difficult it is for the hair to grow back.
But on the bright side, there are a few easy ways you can minimize hair loss due to high blood glucose, right from the start!
I would suggest making a few changes to your dietary habits and lifestyle to control diabetes symptoms. This way, you can save yourself from irreversible hair damage.

7 Effortless Ways to Fix Your Diabetic Hair Loss Problem
Here are a few practical tips to prevent hair fall from diabetes.

Control your sugar intake
Consistently high blood glucose is the number one enemy of your hair.

Elevated sugar levels destroy your blood vessels and keep the nourishing agents from reaching the follicles. Thus, impairing their growth.

If you don't want to lose your strong beautiful hair to diabetes, then start monitoring your sugar intake right away. 
Reduce stress with proper planning
It goes without saying – one of the biggest reasons why women suffer hair loss from diabetes is stress.

Undoubtedly, living with diabetes is a huge pressure itself. You've to juggle too many things at once; diet, weight, medications, and check-ups, to name a few. 

But worrying will only exacerbate the symptoms and create stress, leading to further health problems.

If you instead have a proper diabetes self-management plan, you can slip in many lifestyle changes into your routine with ease. Having a plan sets clear steps to manage diabetes without you constantly worrying about what to do next.
Begin a healthy self-care routine
While preparing a diabetes self-management plan, I also recommend you to set specific self-care goals. 

Self-care routines help you take charge of your emotional health and let out the negative feelings in a safe, restorative way.

Add any activities that boost your happiness and help you balance your emotional wellbeing. For instance, you could begin journaling and write down the daily struggles you go through while living with diabetes. 

Looking for new therapeutic self-care routine ideas for this year? Check out my free printable self-care health goals checklist! 
Avoid harsh chemical treatments
The last thing you want to do is expose your hair to chemical-filled hair products that could potentially worsen the hair loss process. 

Steer away from serums, shampoos, and self-prescribed medications as they might cause adverse reactions with your diabetic medicines.

Which brings me to my next point – what can you do to regain your lost hair?
Seek professional help for hair regrowth
Most women go for laser therapy or medications prescribed by dermatologists to regrow the hair.

Some professionals recommend hair lotions and topical sprays. Others give vitamin supplements to grow back the lost hair.

You can also go for surgical options such as hair transplant or scalp surgery to initiate hair regrowth.

If nothing else, you can always get a sleek wig and rock a totally new style!
Take nutrient-rich diet
Shortage of essential nutrients in your body such as zinc, biotins, proteins, and even some vitamins can eventually lead to hair fall. 

So make sure you're getting enough natural foods including fruits, veggies, and grains, to avoid deficiencies. 

You can also visit your physician to get prescribed supplements, in case you notice any nutrient deficiency symptoms.
Exercise regularly
The best way to manage diabetes naturally and in turn, save your hair from falling out is to exercise daily.

This helps optimize the blood sugar levels and shed off the extra fat that might be causing harm to your body.

Also, working up a daily sweat improves blood circulation process, necessary for your hair follicles to allow proper hair regrowth.

Don't know where to start? No worries!

My physical fitness health goals checklist includes beginner-level exercises that even busy moms can fit into the routine without any hassle.

(It's free to download and print so don't miss out! Simply fill-up the form below and you'll be redirected to downloadable pdf.)