Hey there! This post may contain affiliate links. As an Amazon Associate, I earn a teensy commission from qualifying purchases when you buy through these links (at no additional cost to you). For more info, please check the full disclaimer.
A healthy morning routine is crucial for kickstarting a successful day. Following consistent rituals brings positivity, boosts the mood, promotes mindful living, and helps you become more organized and in control of your life.
If you're not following a proper morning ritual yet, see if you can relate to any of the following problems.
You are usually overwhelmed when you start your day.
Your mind is constantly processing and you feel anxious each morning.
You spend a lot of time doing things but still manage to accomplish only a few tasks.
You often find yourself irritated throughout the day.
If you answered yes to any or all of the above, then my friend, you need to start a morning ritual ASAP.
So today, I'll share 11 inspirational healthy morning routine ideas for 2021 that you can add to your daily routine.
Oh, and I've also included a free printable weekly routine tracker for you to take it on the go! Awesome, right? 🙂
Morning Routine VS Morning Ritual
Is there a difference between a routine and a ritual? YES!
Routines refer to an activity that you perform regularly and habitually, as a chore. It may or may not have a significant emotional value for you.
Rituals are meaningful practices, often inspired by a significant emotional outcome. You may follow a ritual with a bigger purpose in mind.
However, despite the slight difference, it's easy to turn a routine practice to a ritual.
The trick is to find a purpose for every routine practice.
For example, you brush your teeth every morning. Most of us brush our teeth habitually, without any purpose in mind. But, if you consider its many benefits on your oral health, you can transform it into a mindful and healthy morning routine and give it more attention.
Morning Routine Survey — A Story in Numbers
343 people participated in a survey conducted by My Morning Routine. They discovered that 65% followed their morning routine regularly for a year while the rest only followed it for 3 months.
On average people tend to wake up around 6 am and some even wake up at 3 am to get an early start.
They also discovered that most people eat fruits for breakfast. Eggs, oatmeal, and bread were other popular choices.
Almost 59% of the survey participants selected water as their first drink while 36% drink either tea or coffee.
These results show that a majority of people have become particular about their morning habits as they set the tone for the day ahead.
So, if you've not yet begun a healthy morning routine, now's the time to get started. Here are 11 inspiring morning ritual ideas for you.
11 Inspirational Healthy Morning Routine Ideas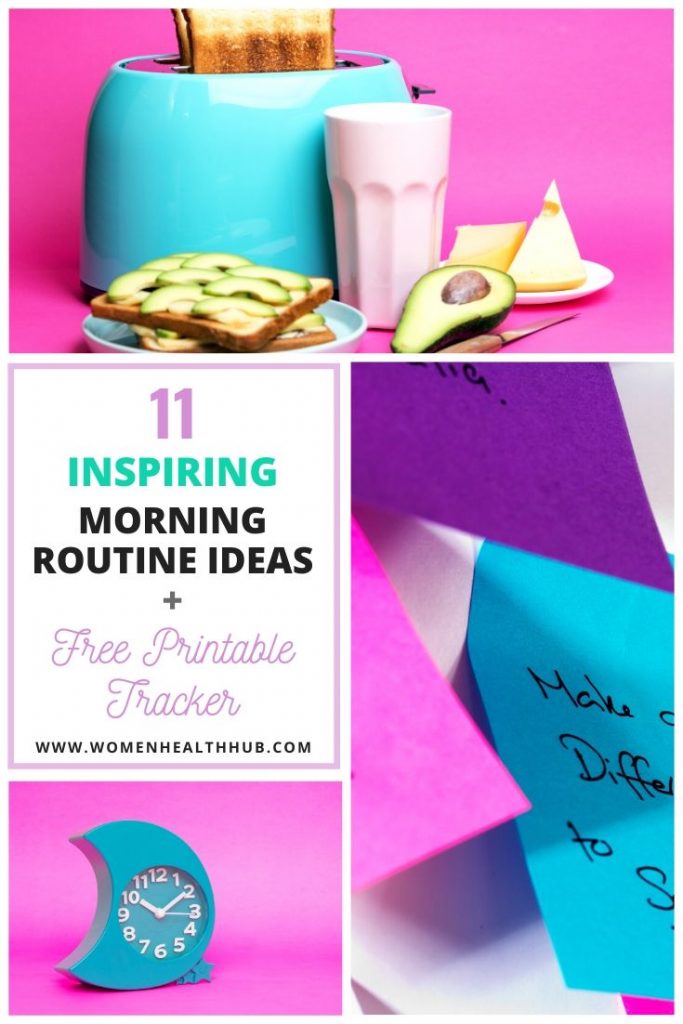 1. Start Your Morning Early
Goes without saying that waking up early is crucial to your wellbeing. If you're in the habit of sleeping at 2 am and waking up at 10 am, it could be ruining not only your heart health but also your cognitive abilities.
Plus, disturbed sleep patterns may result in long term sleep disorders such as insomnia, weight increase, and mood swings.
According to a study by Dr. Andrew Bagshaw, "Having a late sleep pattern puts you at odds with the standard societal days, which can lead to a range of adverse outcomes – from daytime sleepiness to poorer mental wellbeing."
Who wants that, eh?
So, starting next year in 2021, make this one of your regular healthy morning routines. And try snoozing for at least 7 to 8 hours every night, as recommended by health experts.
Benefits:
You'll be more alert and productive throughout the day.
You can get more work done in the morning than the rest of the day.
Your mental and physical health would improve.
Pro-tips:
Create an optimal sleep environment with proper cooling and ambiance free of noises. Also, ensure you have the curtains open so sunlight can reach your room in the morning.
Choose an alarm app that uses a "Smart Rise" feature. My personal favorite is Timely. The app design issues a faded sound in the background 30 minutes before the alarm time. Plus, it has an amazing alarm-sound collection!
2. Drink Water After Waking Up
The next thing you should add to your list of healthy morning routine ideas is to drink water right after you wake up.
During the night, your body becomes dehydrated. As a result, when you wake up, you may feel slightly lethargic, even if you've slept for the recommended hours.
That's why it's vital for you to drink water as soon as you wake up to promote better digestion and internal organ functioning.
I started this practice almost 6 months ago and have followed it strictly as a part of my morning ritual. I feel a lot fresher and healthier and have experienced a natural skin glow over the past months.
If nothing else, I suggest making drinking water on an empty stomach a part of your daily morning routine.
Benefits:
Your immune system would get better at fighting off infections.
You can shed a few kgs by drinking detox water each morning.
You can avoid severe dehydration and freshen up your day.
This practice helps remove toxins from your body.
Pro-tips:
You can fix up detox drinks to start your day with a healthy morning tonic sesh. Address your core health problems such as heart, kidneys, acne, anxiety, or weight and prepare a detox drink for it.
Squeeze lemon juice and a few drops of honey in warm water and drink up before eating breakfast. This is a healthy morning routine practice to ensure better digestion.
Switch morning coffee with a cup of green tea. It has numerous benefits, particularly for skin and weight. 
Avoid drinking lots of water before bedtime. You might find yourself waking up too often to pee and hence, have disturbed sleep.
3. Take a Warm/Cold Shower
To ensure a refreshing day, also add a daily warm shower to your healthy morning routine list.
Studies show that taking a warm shower and finishing it with a few minutes of cool water works wonders for your body. It is a great way of getting alert and energized.
Plus, it helps open up your pores — which is essential for women with oily skin. Speaking from experience!
Taking a shower is also crucial for your mental wellbeing. I guess you'll agree with me that we feel 100 times better and more relaxed after bathtime. Right?
Benefits:
A warm morning shower removes toxins from the body.
A cold shower before work helps awaken your mind and improves productivity.
Morning showers tend to open up an appetite and increase hunger.
Pro-tips:
I personally prefer taking a shower in the morning but many of you are from cultures where an evening bath is more appropriate. In that case, I recommend switching to a morning shower on weekends and see if it suits you or not.
4. Have a Healthy Breakfast
I cannot emphasize enough on the importance of making "eat breakfast" a part of your healthy morning routine.
Even if you have a busy day ahead, do not, I repeat, DO NOT start your mornings without first putting something nutritious in your body.
Like I said earlier, you may notice an increase in appetite after your morning bath. That's because as your mind and body relax, the brain releases hunger chemicals. Use this to your advantage!
Instead of filling up on sugar-filled cereals, go for healthier stuff rich in fiber, protein, and calcium. Consuming a few good carbs can also provide a surge of energy to your body.
Benefits:
Eating a proper breakfast ensures reduced cravings throughout the day.
It helps boost your energy and enhances concentration at work.
You can manage your weight by eating a nutrient-rich breakfast.
Pro-tips:
Add whole-grain and wheat foods to your breakfast to aid in digestion.
Consume lean meat as a protein source.
5. Perform a Morning Yoga Routine
This is my personal favorite — begin your day with a brief morning yoga ritual.
My healthy morning routine includes a 3-minute morning yoga routine with 6 steps. I chose each pose to target common health problems that I'd like to focus on before starting my day.
You can select any kind of yoga sequence that energizes you.
I start with a short visualization exercise which includes visualizing my day ahead. Imagining my emotions, goals, and feelings help me get a clear idea of how my day would look like ideally.
Next, I focus on various physical yoga stretches that benefit body mechanisms and improve flexibility.
By the end of the ritual, I begin my day from a place of mental clarity and physical wellbeing. This is how I can ensure giving my best to daily goals.
Benefits:
Morning yoga routine helps you relax and start your day in a calm and collected way.
This practice helps you prioritize your physical and mental health first.
Yoga poses benefit your body systems and improve metabolic activities.
Daily yoga in the morning reduces muscle stiffness.
Yoga tends to enhance your thinking process and cognitive abilities.
Pro-tips:
Includes yoga poses that treat specific health issues such as diabetes, heart problems, muscular pain, or backaches.
Set up a designated space and arrange your yoga accessories before going to bed. Being prepared is half the motivation you need to practice yoga daily.
Read More: 9 Amazing Yoga Benefits for Women's Health
6. Do a Braindump Exercise
Another one of my favorite daily healthy morning routine practices is a braindump exercise. It's one of the best self-care rituals for your psychological wellbeing.
Simply put, braindump is a writing exercise that allows you to get everything out of your mind and on to paper. It helps you untangle a big mess of thoughts, emotions, and distractions one by one.
The main idea of braindump is to focus on quantity rather than quality.
This means not fussing over grammar, sentences, and spellings. Instead, let your thoughts flow freely in your mind and release them in writing.
So what kind of thoughts are we talking about? Ask yourself questions like…
What stuff do I need to accomplish in the next few weeks?
What have you been worried about lately?
What are some special occasions or events coming up this month?
What pending home chores do you have to finish soon?
What's new on your learning list?
What are some new self-care practices you'd like to begin this month?
What are your health priorities or upcoming medical appointments?
As a general rule, you should at least aim to fill up at least one page during braindump practice. 
Benefits:
This healthy morning routine activity ensures mental clarity at the beginning of your day.
You'll become more in control of your emotions. 
You'll notice a spike in your productivity levels and be less overwhelmed. 
You'll learn to prioritize and organize your goals properly.
Pro-tips:
You can either go with a traditional manually written braindump or choose a digital app for it.
If you're more creative, you can even design a braindump bujo for this daily morning ritual.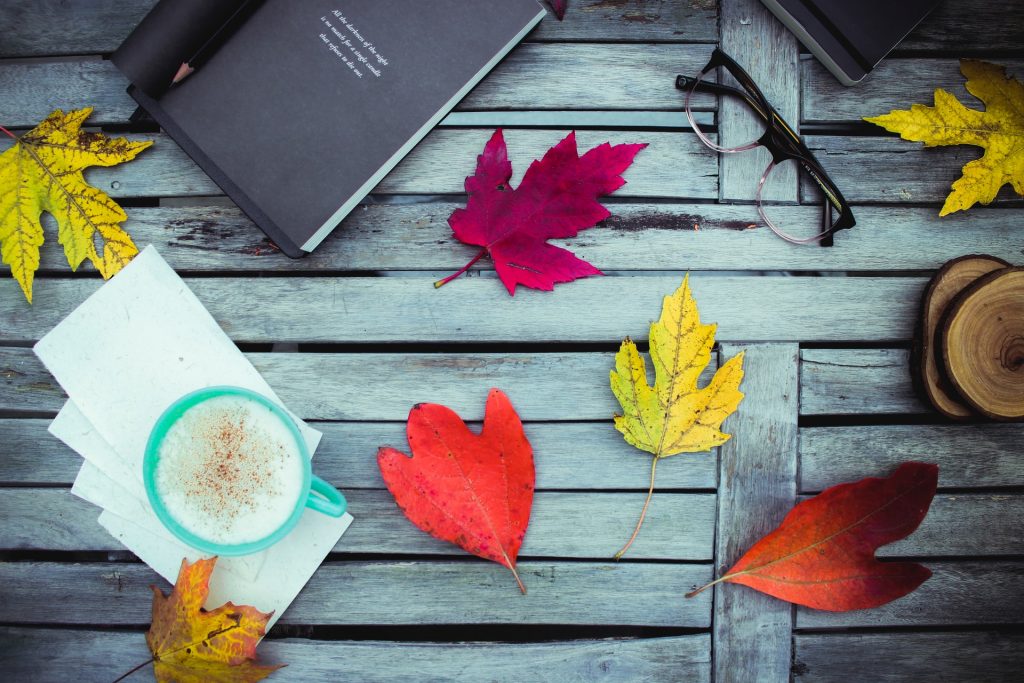 7. Set Your Daily Goals
The next important part of a healthy morning routine is setting your daily goals before beginning your day.
This practice has helped me prioritize what's important and skip or postpone the unimportant goals.
I know many women who find it difficult to stick to their daily goals. Here's what you need to understand about goal-setting:
Tip #1:

A perfect goal not only sketches out the destination but also provides a clear idea about the journey. Meaning, if you intend to reach target A, you should also figure out the steps you'll take to achieve it.
Tip #2:

Vague goals are easily forgotten because they don't offer proper motivation. Make small milestones instead of big, unclear goals.
Tip #3:

Your daily goals should include ONE big goal and several small and easy tasks. That way, you'll keep the pressure balanced and can switch between easy stuff if you feel tired.
In short, long term success — whether in home life or at work — depends on your ability to tackle your goals. Plus, it'll take the overwhelm out of your life!
So make it a morning ritual to write your top goals before starting your day and see how it transforms your wellbeing.
Benefits:
By learning how to set perfect goals, your mind can focus on solutions rather than problems.
Goal-setting is a positive approach to achieving success in every walk of life. It reduces negative emotions.
Setting goals means listening to your heart and mind and synchronizing them.
Pro-tips:
Make sure each goal you make is based on the SMART formula. Your goals should be Specific, Measurable, Achievable, Realistic, and Time-bound to keep you motivated.
Set 3 different types of daily SMART goals:

First should be your homelife goals such as cleaning up your room or fixing dinner.
Second should be your work goals such as writing a new blog post or doing sharing posts on social media.
Third should be health and wellness goals. This entails what you aim to do for your physical and mental wellbeing.
Read More: Fail-proof Tricks to Create The Perfect SMART Health Goals + Free Checklists
8. Clean Up Your Room/Work Desk
Decluttering your room or home and cleaning up your desk before sitting down to work is also an incredibly healthy morning routine that you must add to your checklist.
Yes, it can be exhausting and tiring and I personally hate dusting at the start of the day. But the truth is, a clean space exudes positive vibes and helps me focus on what's important. The messier my surroundings, the more distracted I feel!
Also, with all the coronavirus mess going on, now is the time to get serious about hygiene.
Start by making your bed early in the morning and putting all the stuff in the right places. Throw dirty clothes in the laundry and put dirty dishes in the sink. Arrange your workspace. If you feel energized, clean up a drawer as well.
In the long run, this practice has many benefits. Making hygiene a part of your morning routine is crucial to promote better wellbeing and staying away from diseases, allergies, or infections.
Benefits:
Decluttered workspace increases focus and removes stress.
A clean place brings positive vibes and boosts mood.
Cleaning daily helps you become more organized and saves your time.
It also helps you let go of stuff that has no value.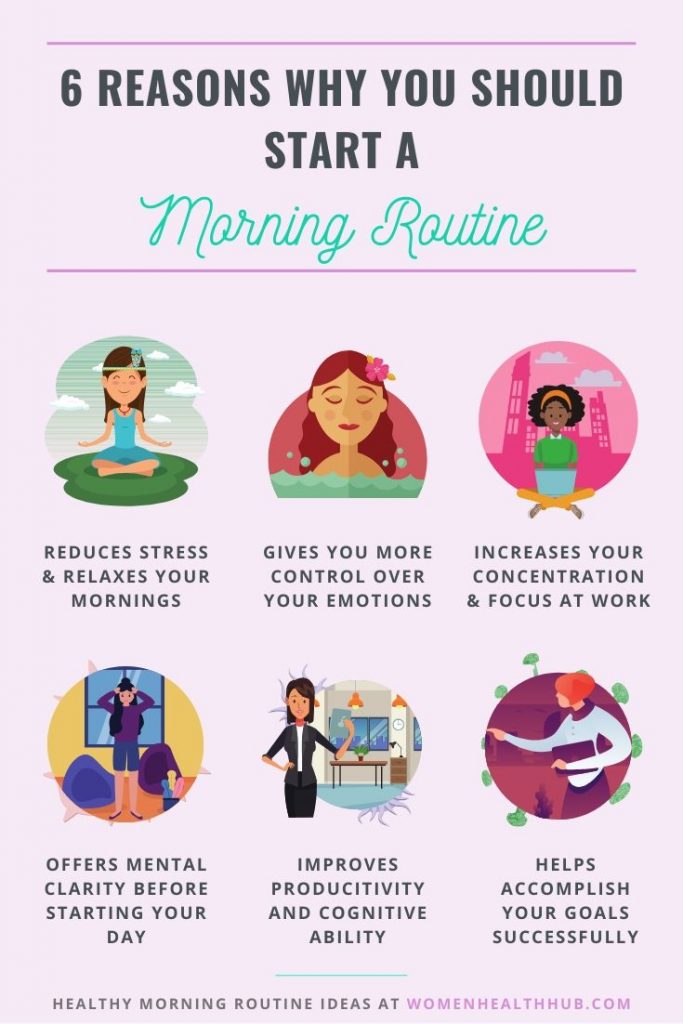 Pro-tips:
Try doing some basic chores the night before. For example, you can clean up your kitchen in the evening so you wake up to a tidy kitchen.
Some chores have to be done daily, such as making lunch or cleaning the bathrooms. Others can wait — for example, doing the laundry. Make a list of priorities that suit your lifestyle.
If you have kids, wake up early in the morning so you can get most of the work done before they wake up.
Stumped on how to enjoy a refreshing day? 🌅😊

Here are ✨ 11 inspirational morning routine habits ✨ to get you started + a free printable weekly morning routine tracker included! 📋

9. Tidy Up Your Kitchen
Am I the only person who finds washing dishes oddly therapeutic? No, I'm not joking!
At my home, we clean up the kitchen and wash dinner dishes the night before. This way, we wake up to a clean kitchen and don't get stressed by a pile of dirty dishes staring at us.
However, if you prefer doing them in the morning, that's fine too. Point is, washing dishes is important. Avoid piling them up because a messy kitchen is extremely unhygienic.
You'd also avoid having breakfast or preparing a healthy lunch if you already have too many dirty dishes in your sink.
So my advice to you is to make washing dishes a part of your healthy morning routine to have a clean eating zone in your home.
Benefits:
Washing dishes instills mindfulness. 
You'll feel relaxed and stress-free.
Pro-tips:
If you have greasy pots and pans, add water and heat them up. The grease will soften and be easier to wash.
10. Sit in Silence for a While
Meditation is also a healthy morning routine practice you should add to your lifestyle.
It's amazing how a simple act of sitting in silence leads to the release of happy hormones in your brain. Who doesn't want to start their day on a happy note?
A lot of people consider meditation tedious because, well, they think it's boring. But the truth is, once you start practicing, you'll feel a lot more collected and better at problem-solving.
Of course, your life won't change overnight. But you'll learn the key to not sweat about the small stuff and instead direct your energy into producing results.
Benefits:
Meditation morning ritual helps combat depression and anxiety.
This practice promotes being present in the moment and letting go of the past.
You can start your day with increased mental clarity and positivity.
Pro-tips:
Don't know how to meditate? No worries. There are plenty of free guided meditation apps and podcasts that you can listen to.
You don't necessarily need an app to meditate. All you have to do is find a calm spot, play the perfect ambiance track, and sit in silence for at least 10 minutes.
11. Read Your Favorite Blog Posts
Last but not the least, I'd recommend you begin a daily reading habit as a healthy morning routine.
You can either read your favorite novel, op-eds from your favorite journalist, blog posts from your favorite writer or grab any magazine in your home for a bit of light reading.
Some women also enjoy reading religious or faith books in the morning. I like going through self-help or self-improvement blog posts to surround myself with happy positive thoughts before drowning in work.
Benefits:
Reading in the morning stimulates your mind and boosts creativity.
You can begin each day by learning something new.
This practice improves concentration and focus.
You can improve your writing skills and vocabulary.
Pro-tips:
If you're already too overworked in the mornings, try starting small. Read just one page or a short blog post.
Follow inspirational people in your favorite industries such as leadership or health and read morning posts on social media.
Do you find these ideas helpful? What are your morning routines? Let me know in the comments below. 🙂