Hey there! This post may contain affiliate links. As an Amazon Associate, I earn a teensy commission from qualifying purchases when you buy through these links (at no additional cost to you). For more info, please check the full disclaimer.
Living with diabetes is undoubtedly daunting. Every day is a new challenge. You're doing your best to achieve a balance between your normal routine and a chronic illness. To help you get through, here are some inspirational diabetes quotes you might enjoy.
I've collected the best diabetes quotes from various celebrities and famous people who've fought or are currently living with diabetes type 1 or type 2.
Let's get started.
24 Best Inspirational Diabetes Quotes for You
You must've heard of Dale Evans — a popular Texan musician. Did you know she was a diabetic too? Dale noticed the early signs of diabetes during the 1960s but she likely had sugar years before.
Here's what she said about living with diabetes mellitus.
"Life is not over because you have diabetes. Make the most of what you have, be grateful." Dale Evans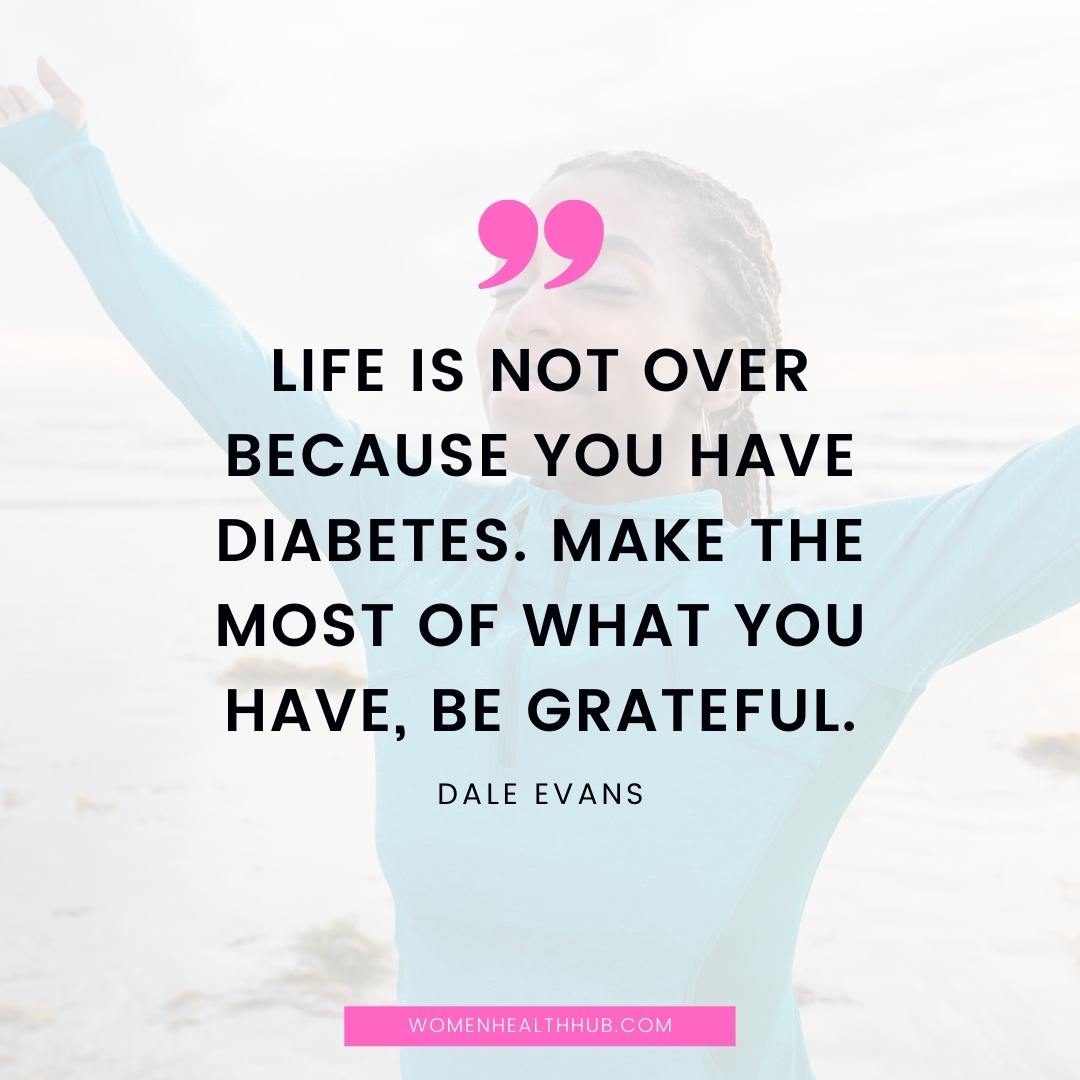 She is so right.
Just because you have diabetes doesn't mean you can't enjoy the ride.
Living with diabetes type 1 and type 2 is a journey. There may be a few bumps here and there. What you can do is minimize the risks as much as you can and leave the rest!
Read More: Everything About Diabetes in Women
Here's another one of my favorite inspirational diabetes quotes.
"Diabetes is like a roller coaster. It has its ups and downs, but it's your choice to scream or enjoy the ride."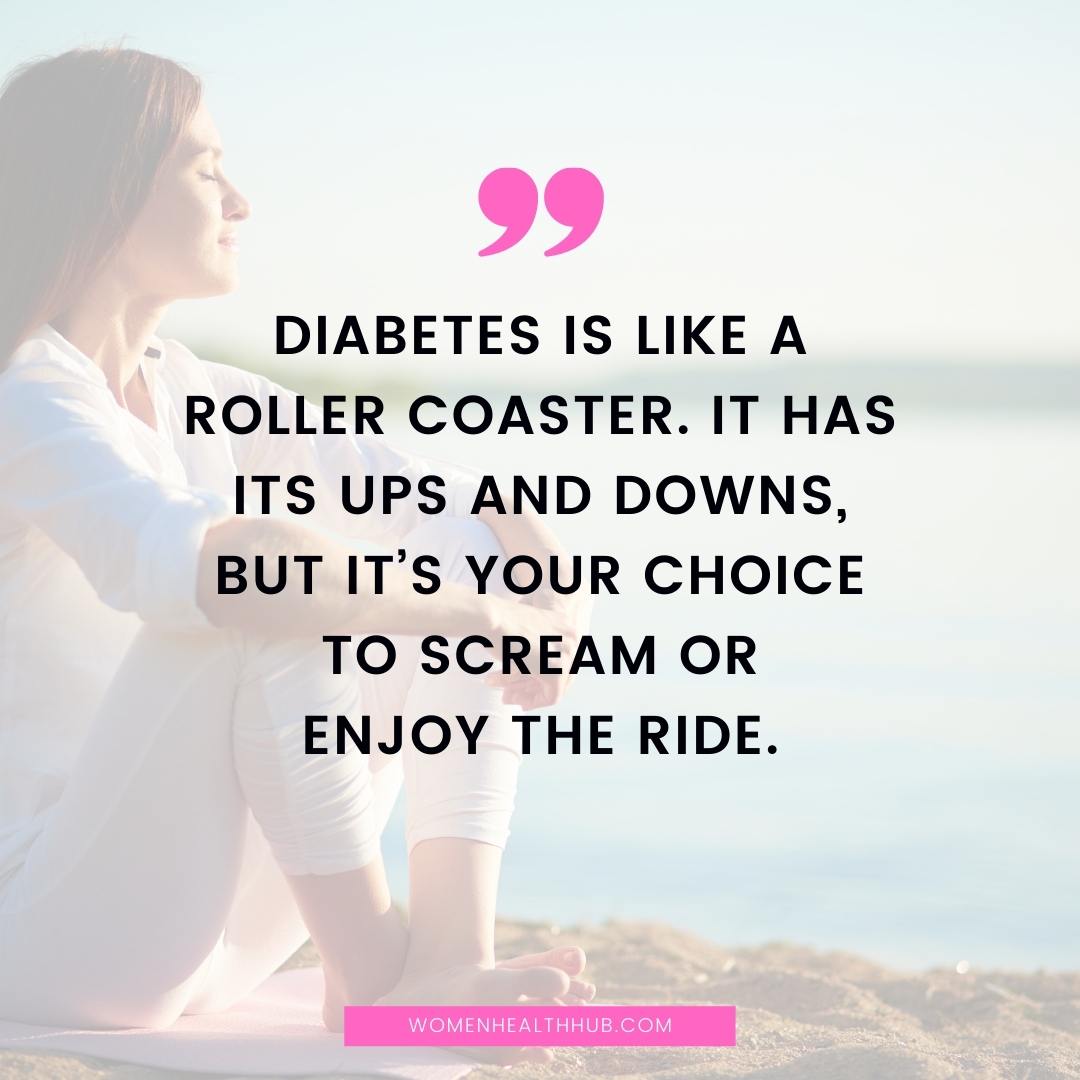 Solid advice.
Diabetes type 1 vs type 2 has a few differences. Type 1 is an autoimmune disease that kills the body's ability to produce insulin naturally and absorb sugar to make energy.
Type 2 diabetes develops over the years because of unhealthy lifestyles and habits. It affects insulin production and function.
Here is a quote about diabetes type 1 to help you get through some dark days.
"I fight a battle against my body every day. One that doesn't end, with no breaks, and no finish line. I keep fighting even when I'm tired, weak, or when I feel I've had enough. I fight for my health in more ways than others understand. Until there is a cure."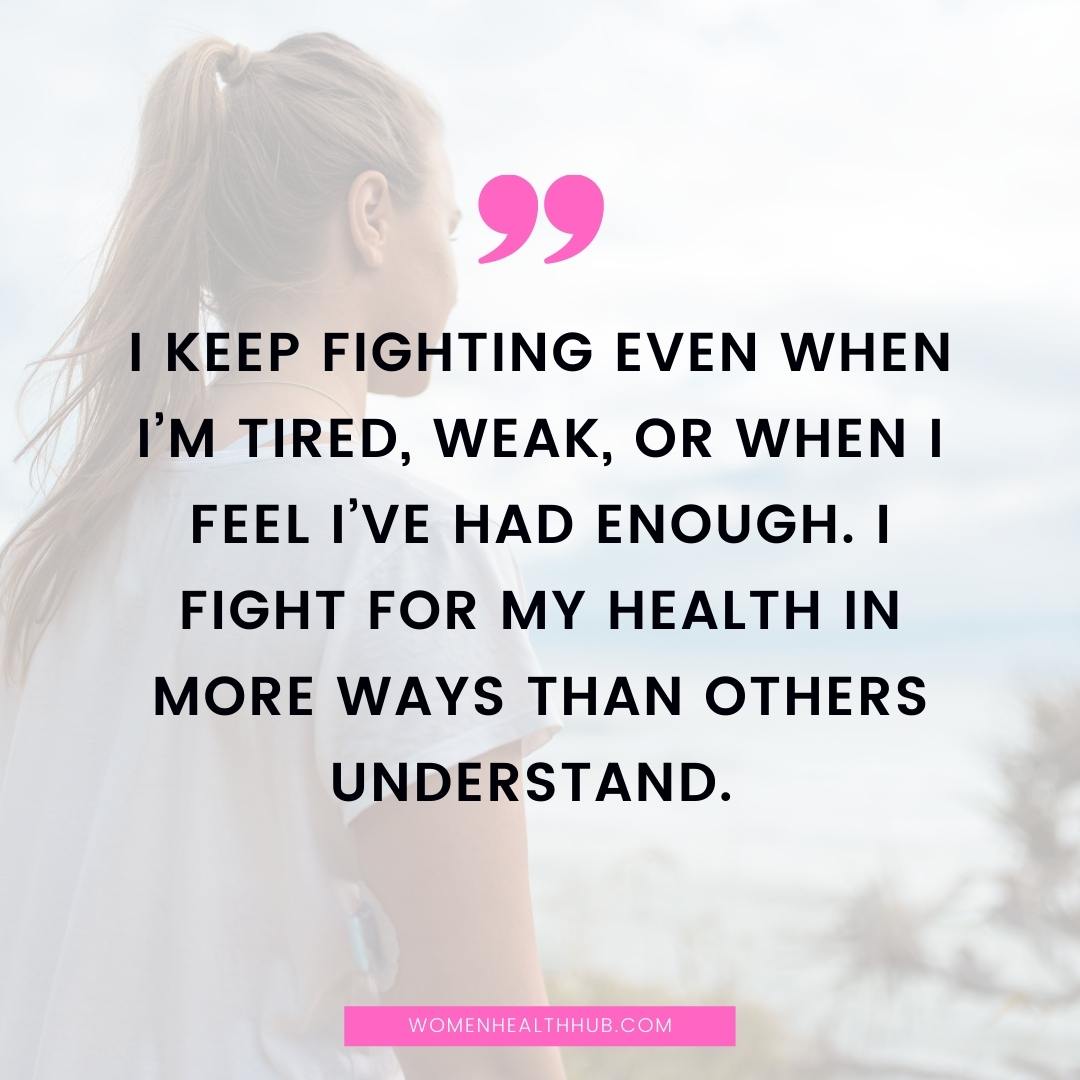 Can you relate?
Living with diabetes is a constant battle, no doubt about it. Every day is a challenge. But thanks to these inspiring diabetes mellitus quotes by people with similar struggles, life gets just a little bit easier.
Not to mention, adding some humor helps too!
"Don't worry, diabetes only complicates my life on days ending in 'Y.'"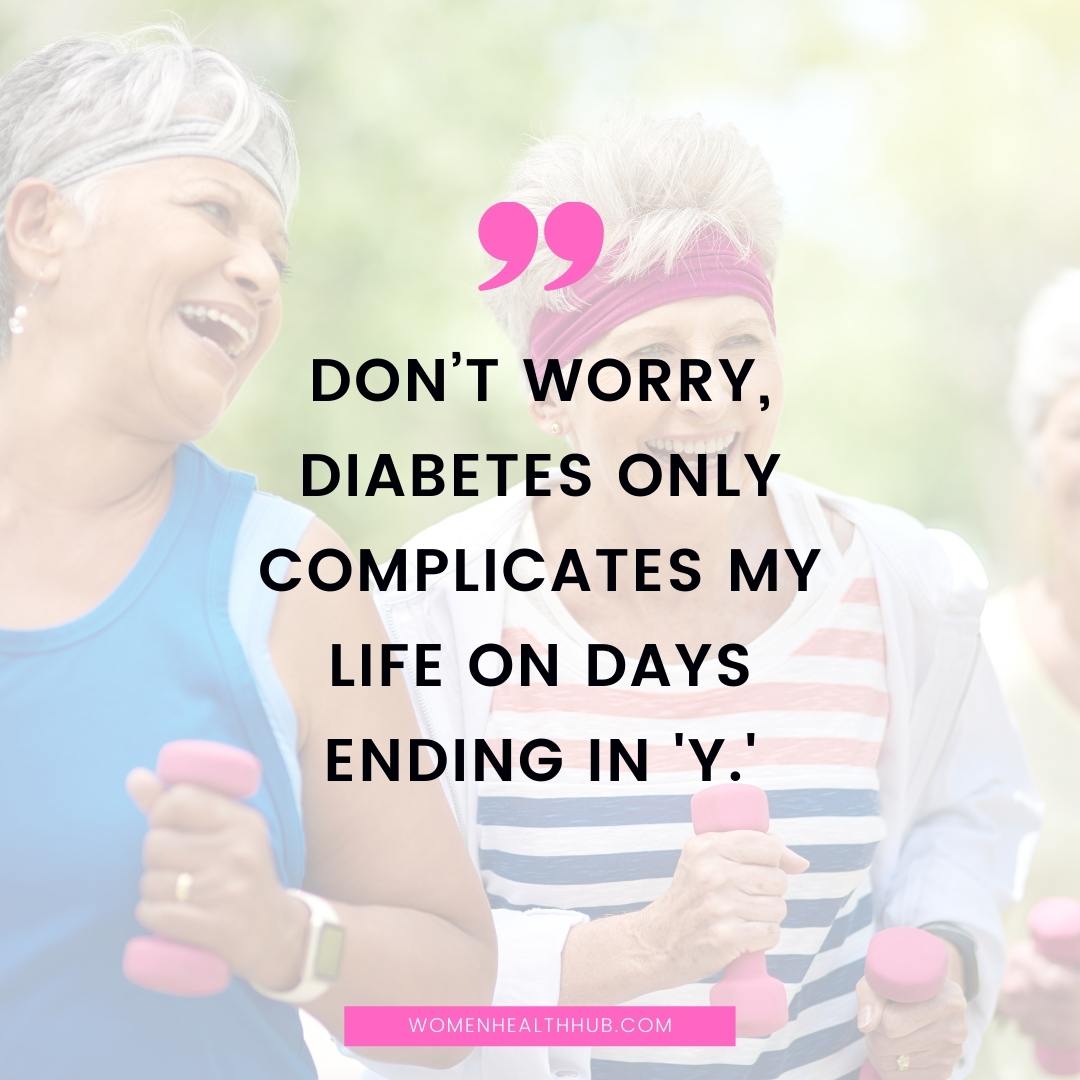 True story, right?
Knowing how to manage your diabetes can reduce the risk of complications daily. As a result, you'll have more good days than bad.
Frankly, one thing that's often overlooked about diabetes awareness is how it impacts every aspect of your life — from eating to moods and from work to personal life.
That's why I thought about sharing one of the most striking inspirational diabetes quotes I came across.
"Some days are easier than others, but every day is a new experience and you just have to remember that wherever you are at your lowest it will always get better." Victor Garber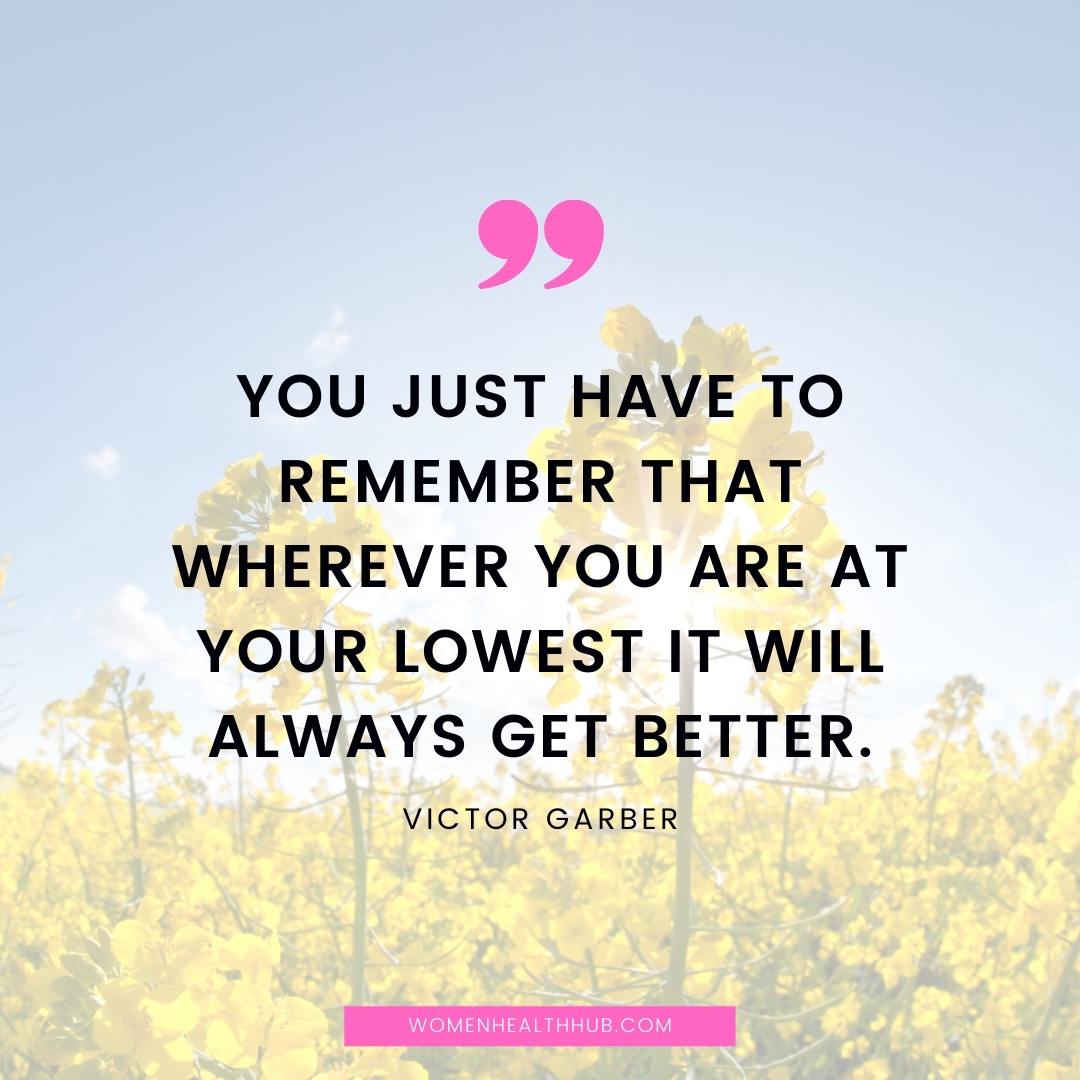 Incredibly motivating! Just don't give up.
"Every day is an absolute battle. I don't care what anyone says. You have to wake up and say to yourself, 'I accept that I have diabetes, and I'm not going to let it run my entire life.'" Bret Michaels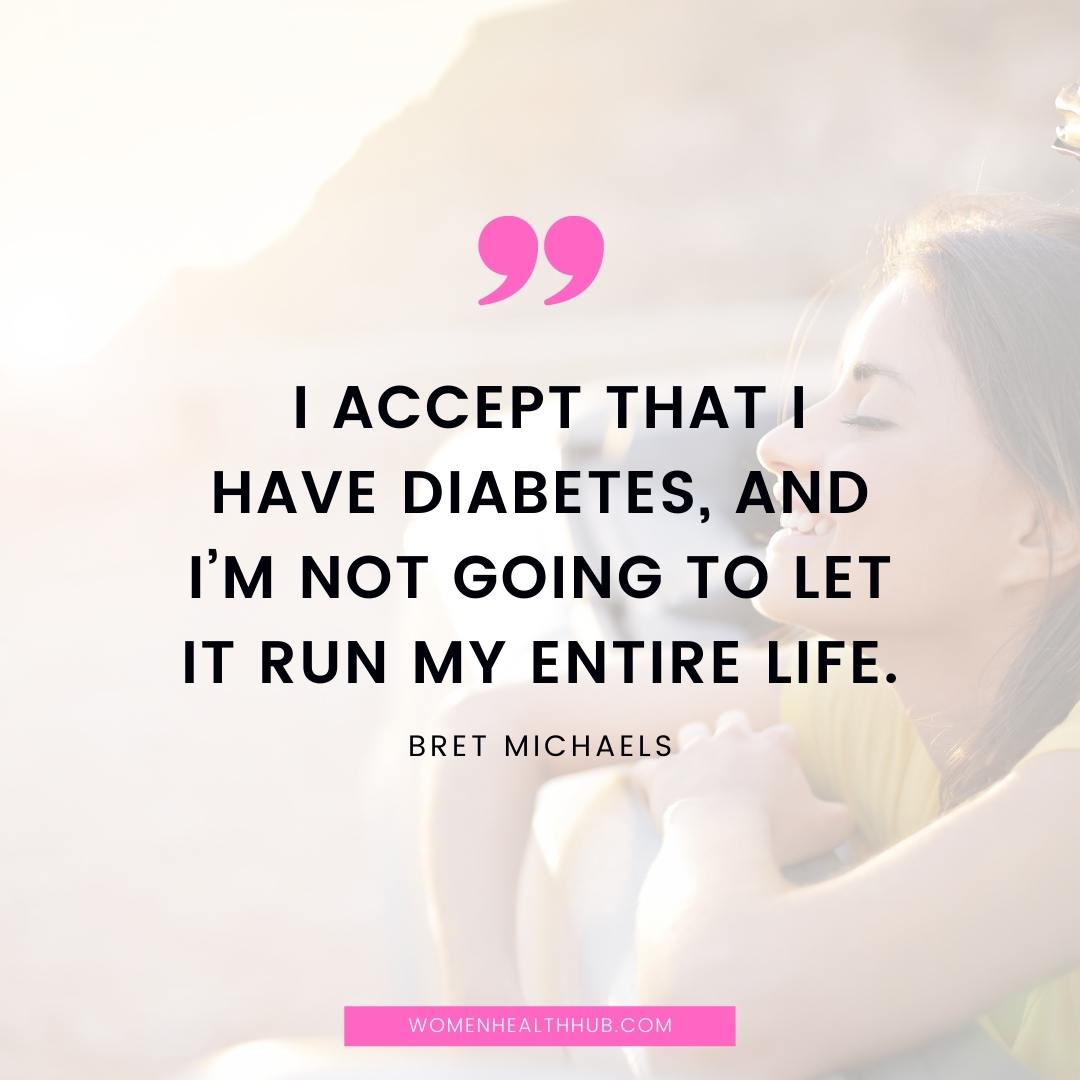 Love it!
Acceptance is the first part of living with a chronic disease. After that, you just learn how to live each day one by one. You eventually learn how to come to terms with the good and the bad days.
"Managing your diabetes is not a science, it's an art."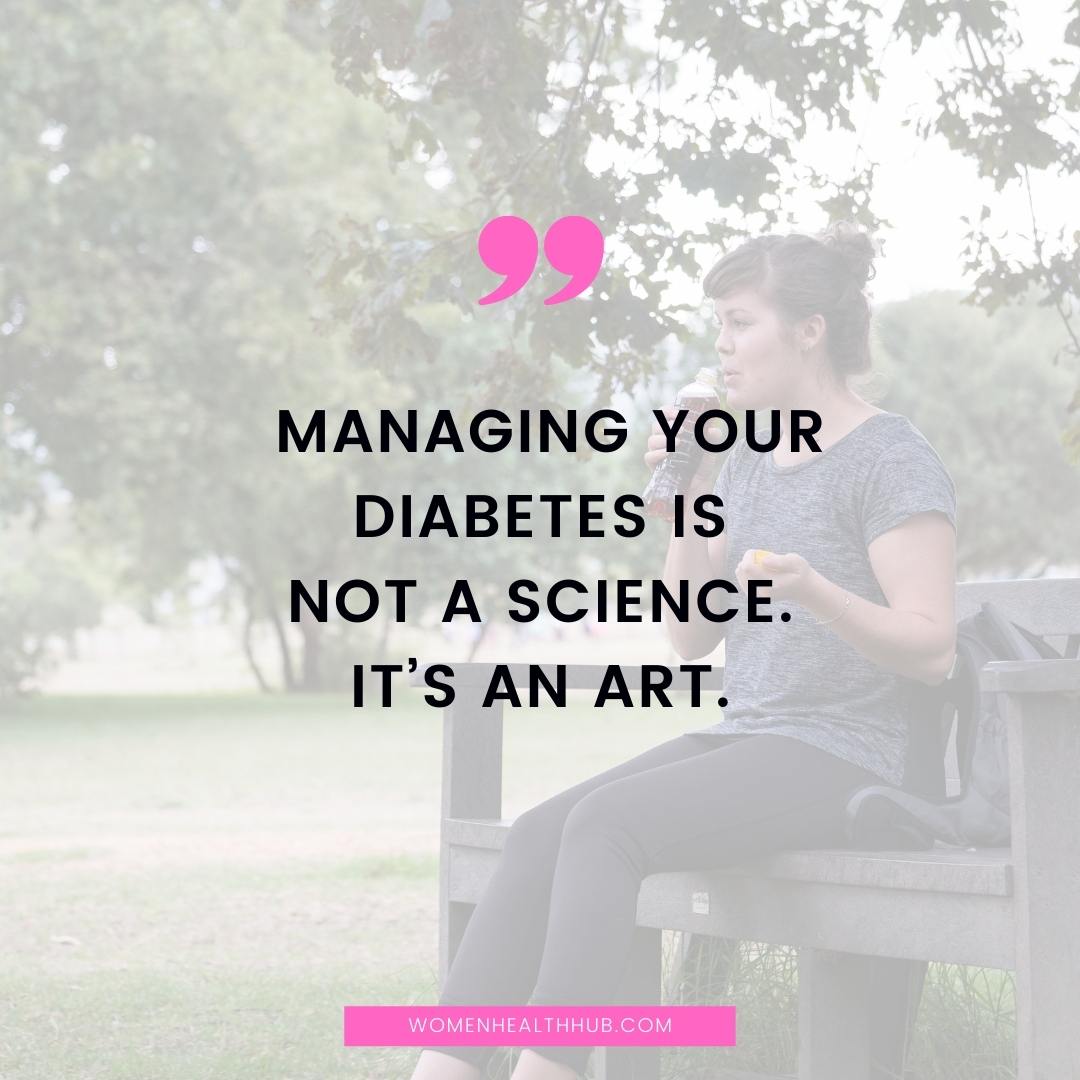 Managing diabetes seems daunting at first. You need a plan, a strategy to stay focused on regulating sugar levels, and hope that you will keep fighting every day.
I especially like inspirational diabetes quotes that teach you to find the inner strength to keep going even on your worst days.
"I am stronger than Diabetes. I am going to be around, till there is a cure."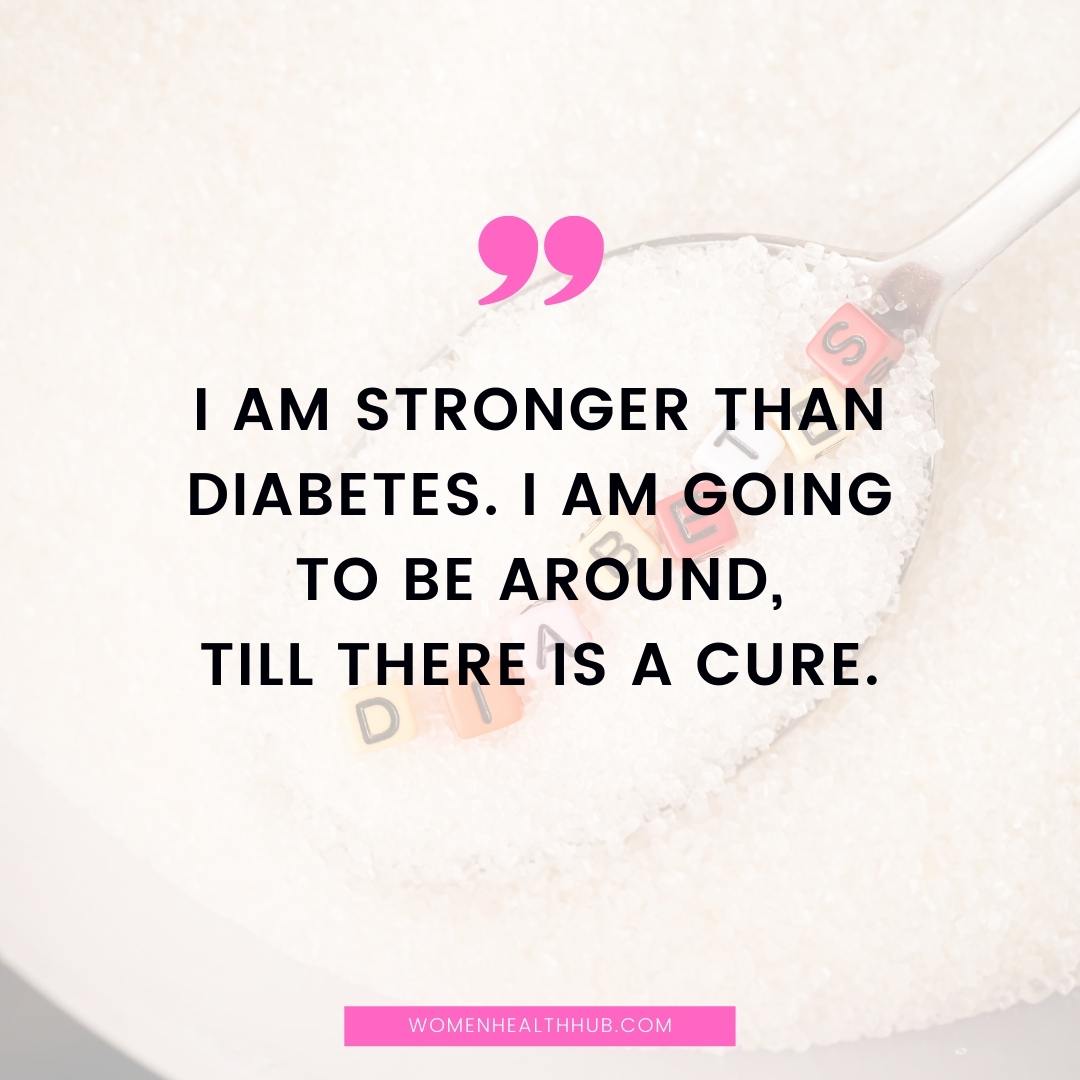 You need to remind yourself that your diabetes doesn't define you, even if it's a part of you. You gotta learn how to do the things you enjoy and not let this disease take away the fun out of your life.
Now let's go over some popular inspiring celebrity quotes about diabetes mellitus.
Celebrity Quotes About Diabetes Mellitus
Theresa May, a renowned UK politician, was initially misdiagnosed with diabetes type 2 in 2013. Later on, she was diagnosed with diabetes type 1.
Here is a quote about diabetes type 1 struggles by Theresa.
"The crucial thing to me is being a diabetic doesn't stop you from doing anything." Theresa May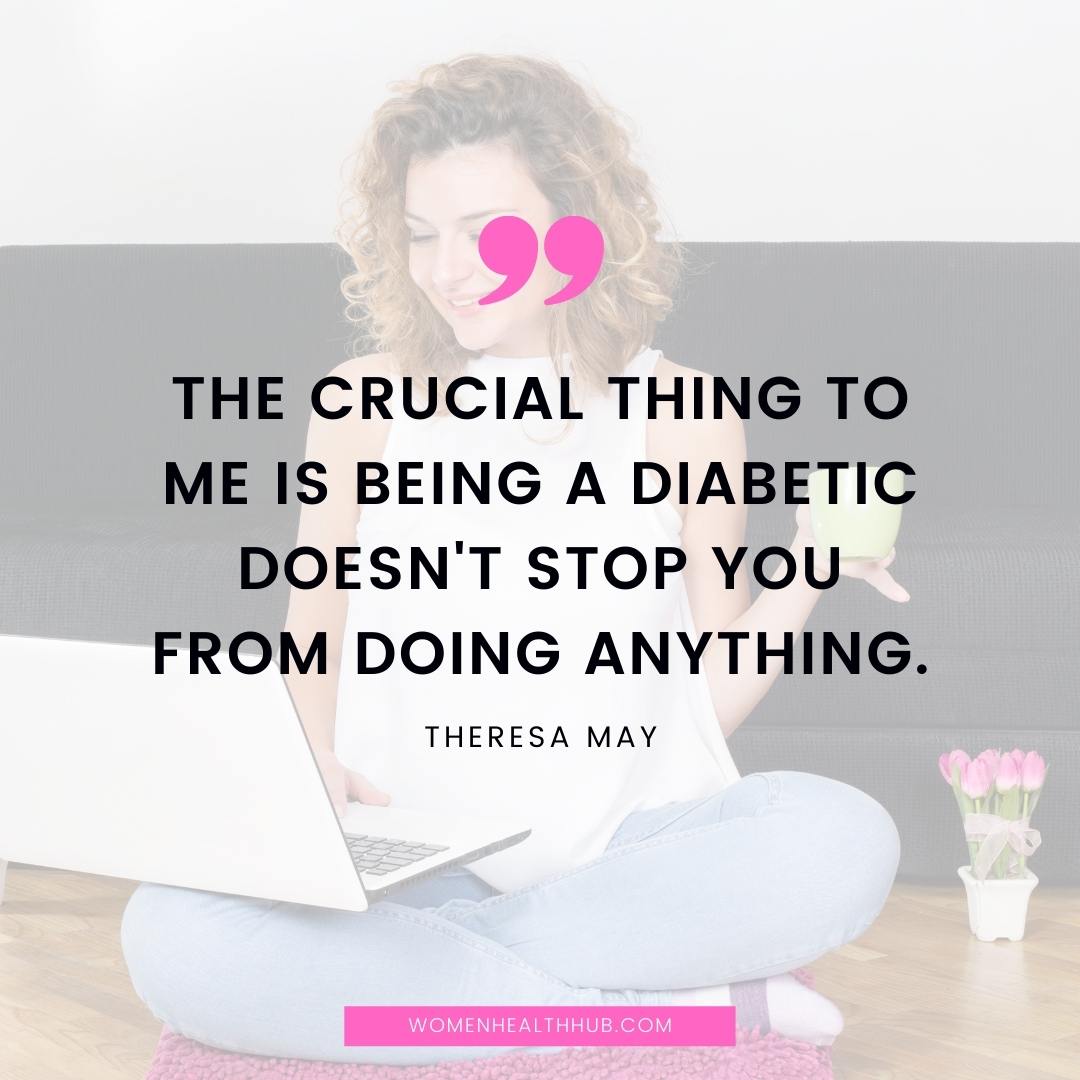 So inspiring, right?
What you need is a strong will. You can still get everything you want and accomplish all your goals, even if you're someone with diabetes.
Halle Berry has also been quite vocal about her diabetes fight. Her inspirational diabetes quotes about type 1 diabetes mellitus will motivate you to quit sugar once and for all!
"People think it's hard to cut out sugar, but it can be done. You just have to put some effort in." Halle Berry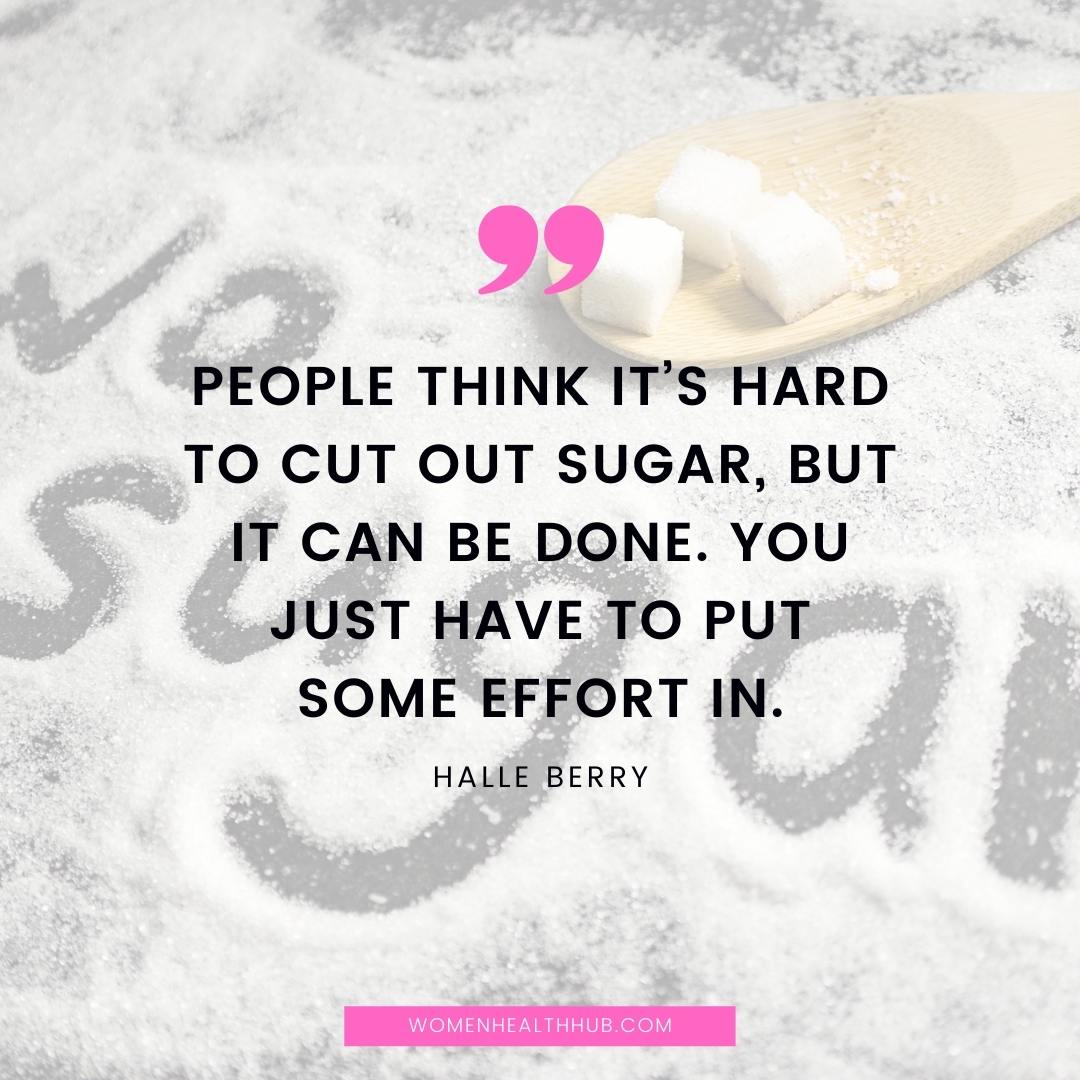 Back in 2012, Paula Deen dropped a bomb on her colleagues and fans while going public with her diabetes type 2 battle.
Despite the problems, she kept her disease private and didn't let it affect her career or personal life.
"I was determined to share my positive approach and not let diabetes stand in the way of enjoying my life." Paula Deen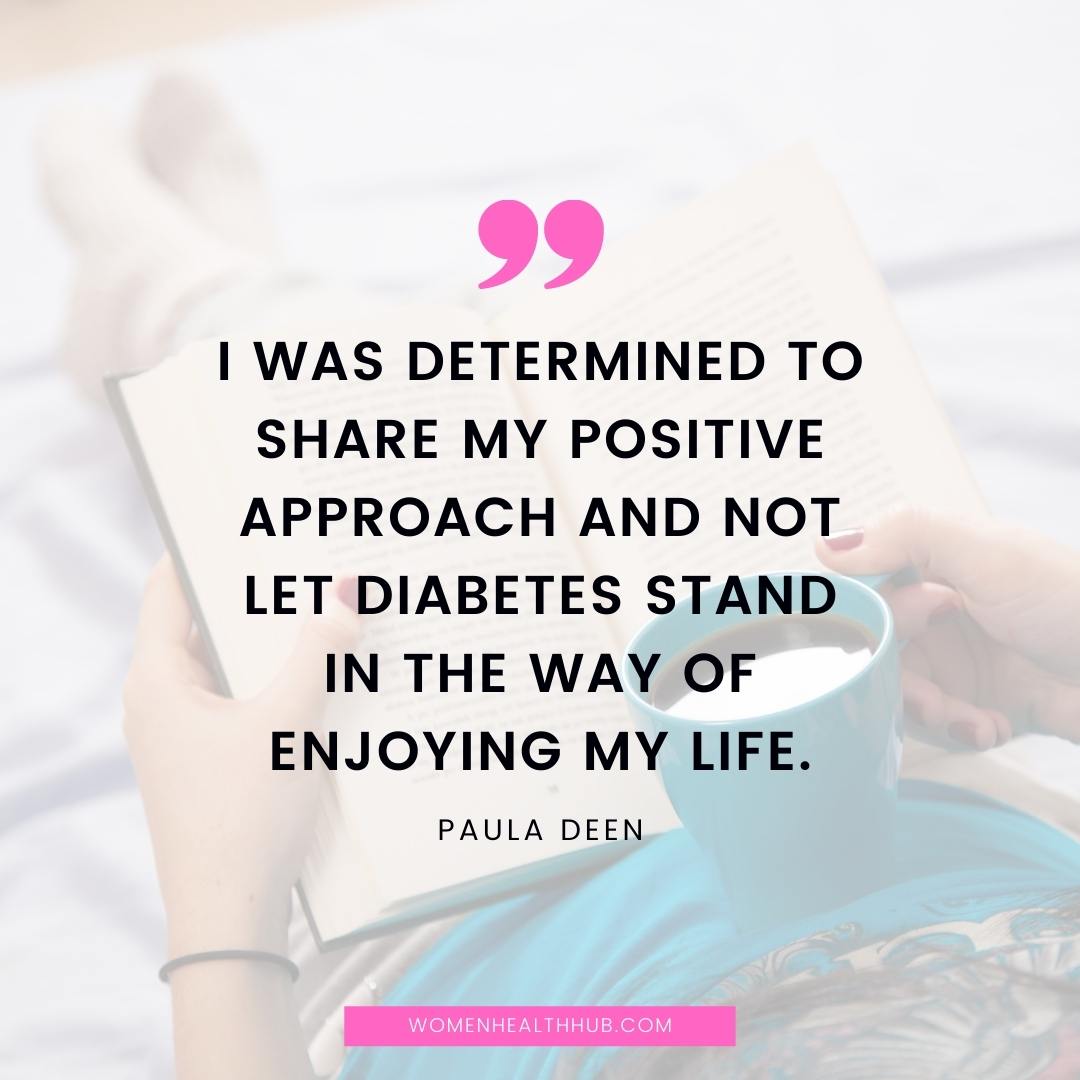 Gestational diabetes is one of the most traumatizing experiences during pregnancy. If your blood sugar levels shoot up while you're carrying, you could get gestational diabetes — if not treated, it could get ugly!
Salma Hayek and Mariah Carey have both acknowledged how gestational diabetes affected their pregnancy journey.
With a family history of this disease, Salma first experienced symptoms of diabetes type 2 when she got pregnant at the age of 41. According to her, every preggo woman should get their glucose levels checked after entering the third trimester.
"I got gestational diabetes, which I didn't realize at first. If I had it to do over again, I wouldn't eat so much fruit at the beginning." Salma Hayek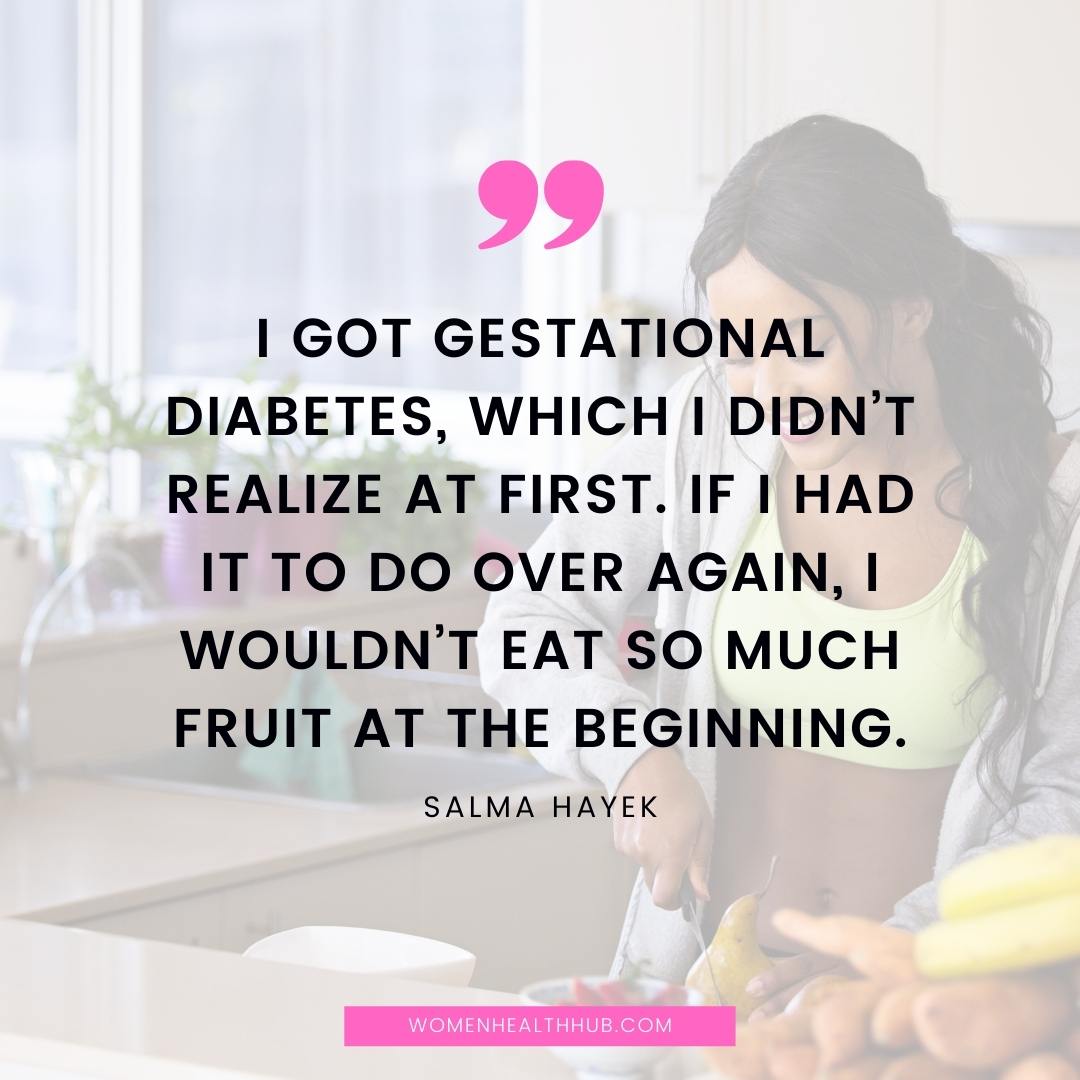 Mariah Carey, the 52-year old Songbird Supreme, also experienced gestational diabetes while she was pregnant with Moroccan and Monroe.
"I did develop gestational diabetes. I'm good with it now, I'm OK. But you just have to be careful, nutritionally." Mariah Carey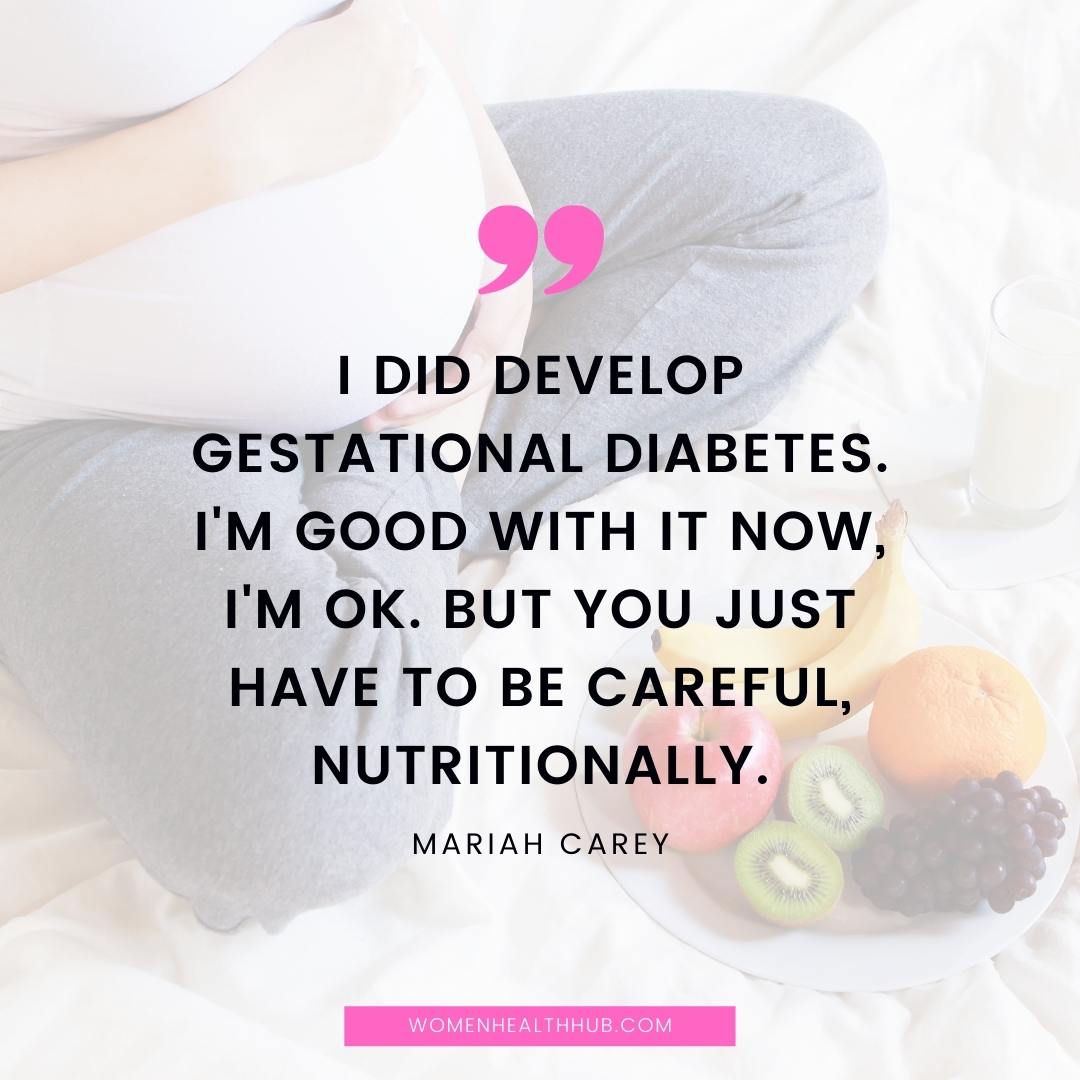 Read More: 7 Scary Symptoms of Gestational Diabetes
Delta Burke, one of America's favorite empowering female actresses, has also struggled with diabetes. After her diabetes type 2 diagnosis, she went into shock and envisioned herself giving up on her career and everything she enjoyed!
See, you're NOT alone!
Delta is also a spokesperson for Byetta — an injectable drug that lowers blood sugar levels without causing weight gain. Here's one of the most inspirational diabetes quotes by her.
"There are so many things you have to watch. It's a lot of searching and it can be tedious, but you just have to stick with it." Delta Burke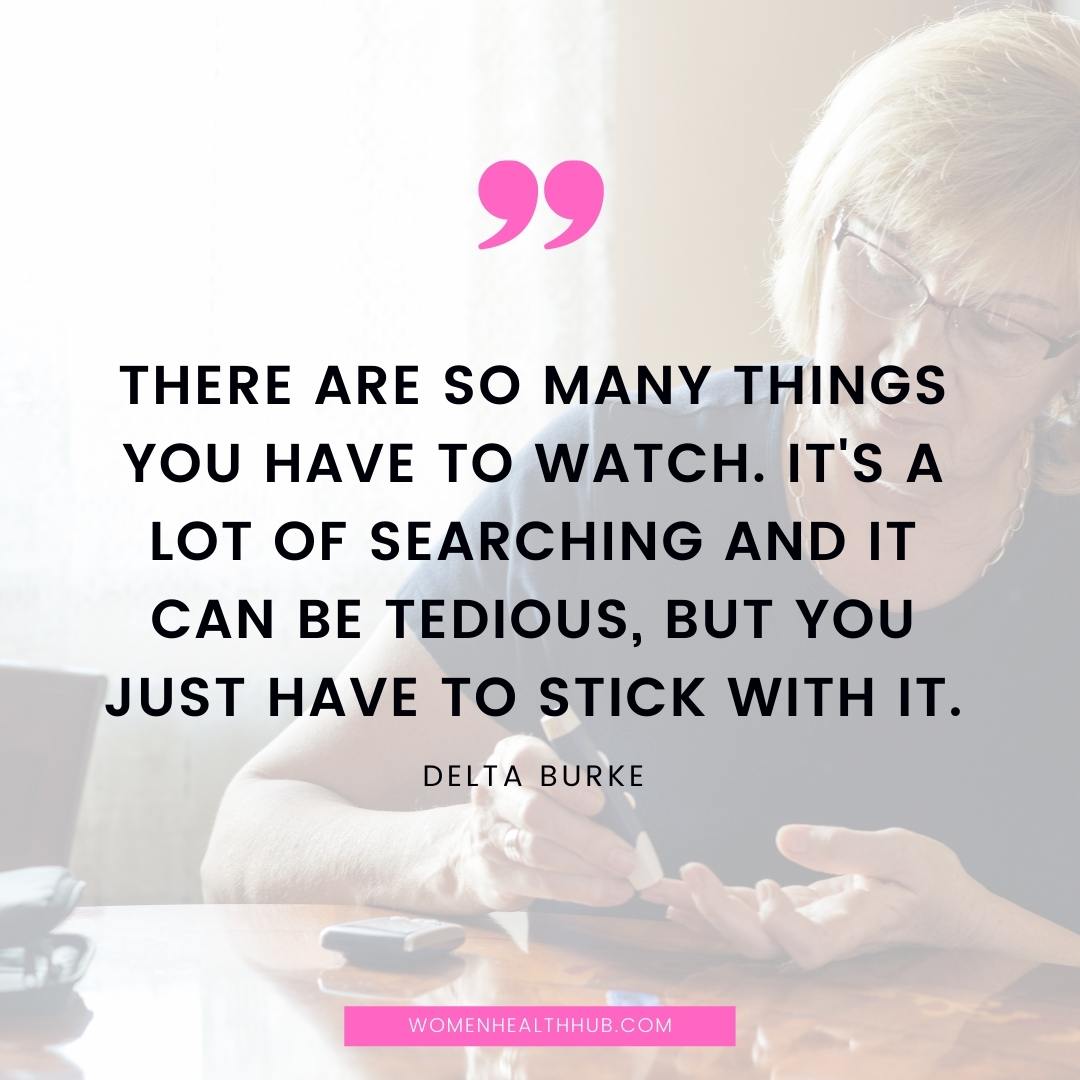 I also love this amazing diabetes awareness quote by Sherri Shepherd. Her life hasn't always been easy. Before being diagnosed with diabetes type 2, Sherri was previously battling prediabetes and weight gain.
"I am a type-2 diabetic, and they took me off medication simply because I ate right and exercised. Diabetes is not like a cancer, where you go in for chemo and radiation. You can change a lot through a basic changing of habits." Sherri Shepherd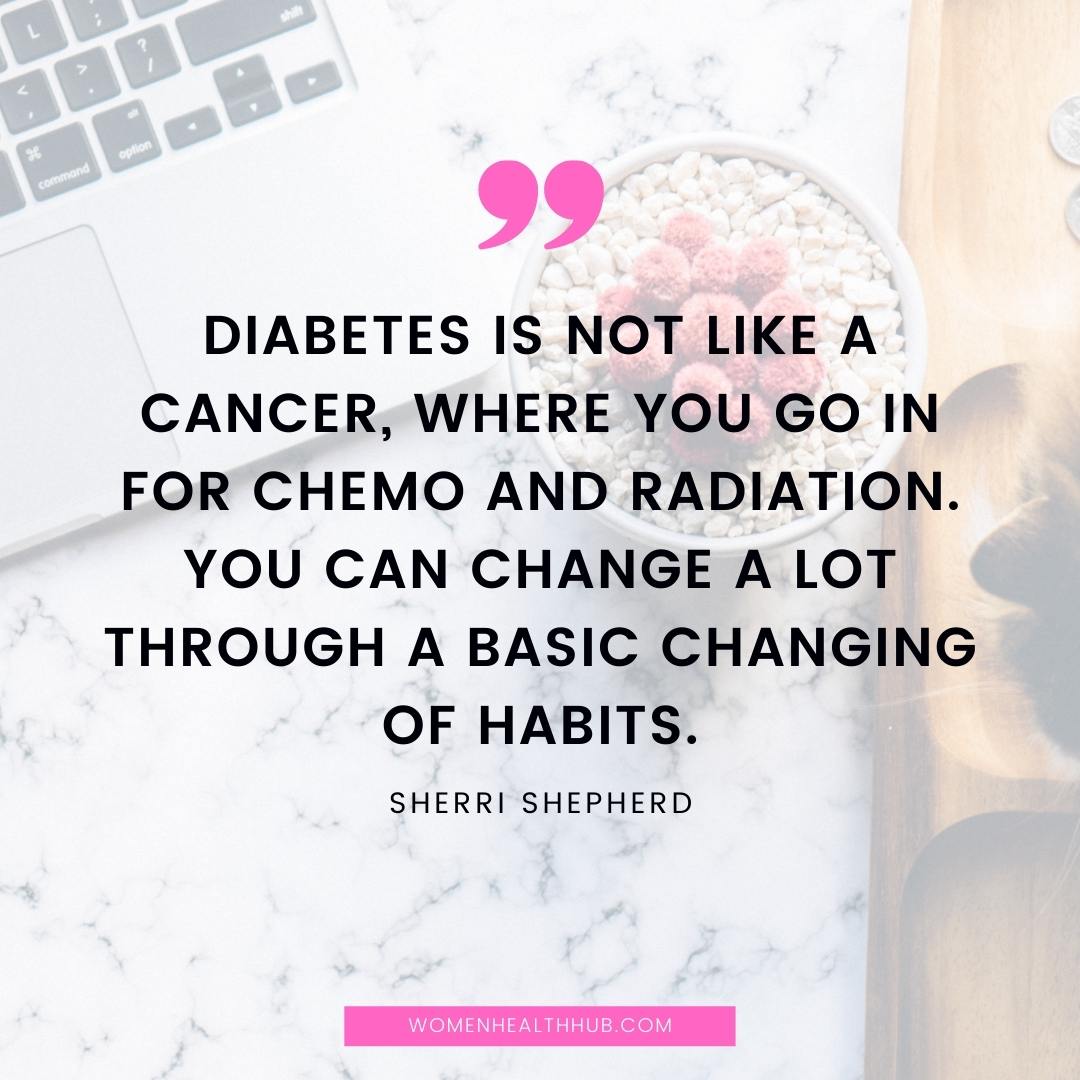 Here is one of the best inspirational diabetes quotes by Patti LaBelle, a sensational American singer. In 1995, she suddenly passed out during a performance and was later diagnosed with type 2 diabetes.
According to Patti, talking to a doctor helps her manage the disease and find the strength to keep fighting.
"You can take hold of the situation. I feel great now. I live the right way. I wear fierce clothes. Everything I do now, I do it proud. I am a divabetic!" Patti LaBelle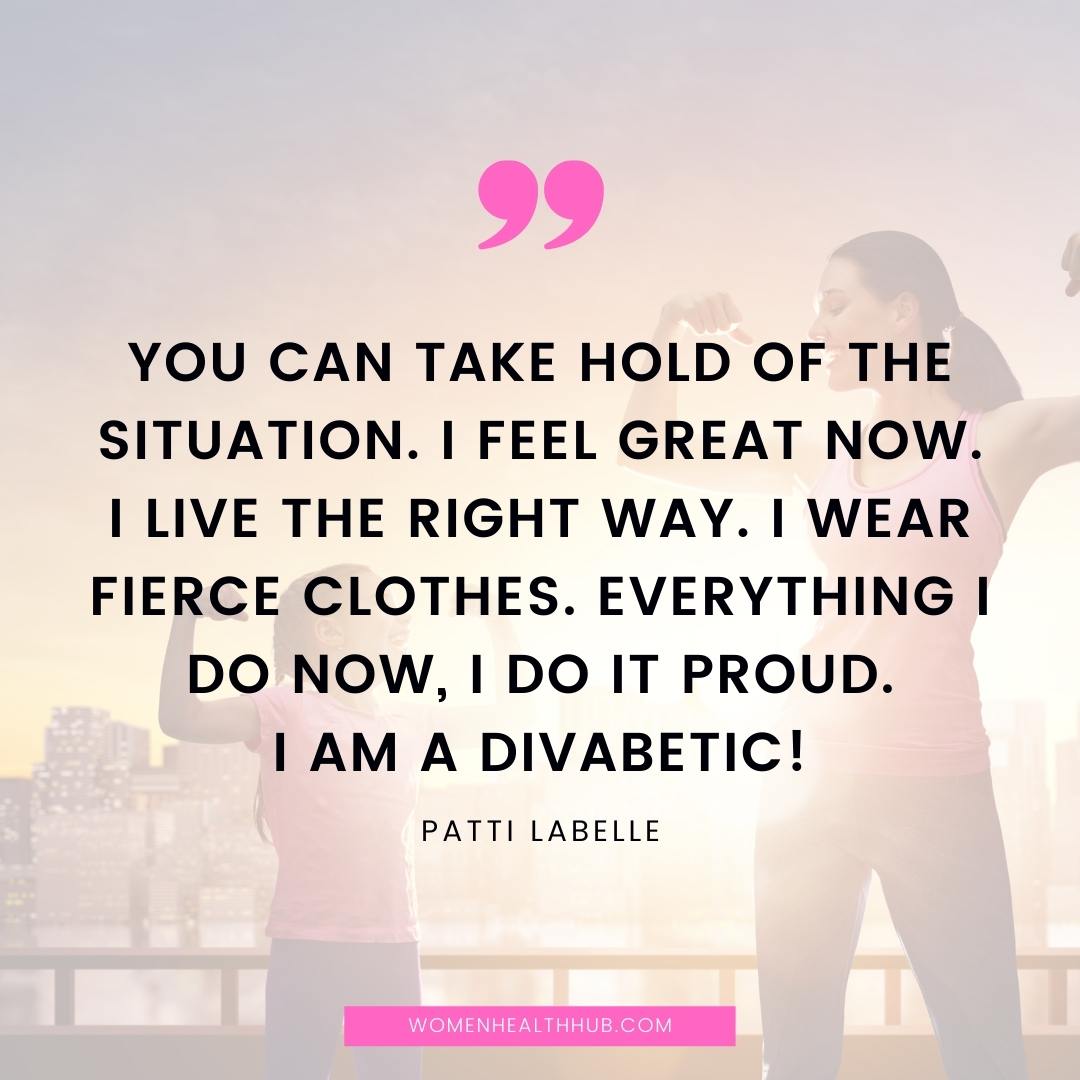 Motivating Quotes About Type 1 & Type 2 Diabetes
Here are some other incredibly eye-opening type 1 and type 2 diabetes quotes for you.
"Laughter is the best medicine. Well, unless you're a diabetic, then insulin is probably better."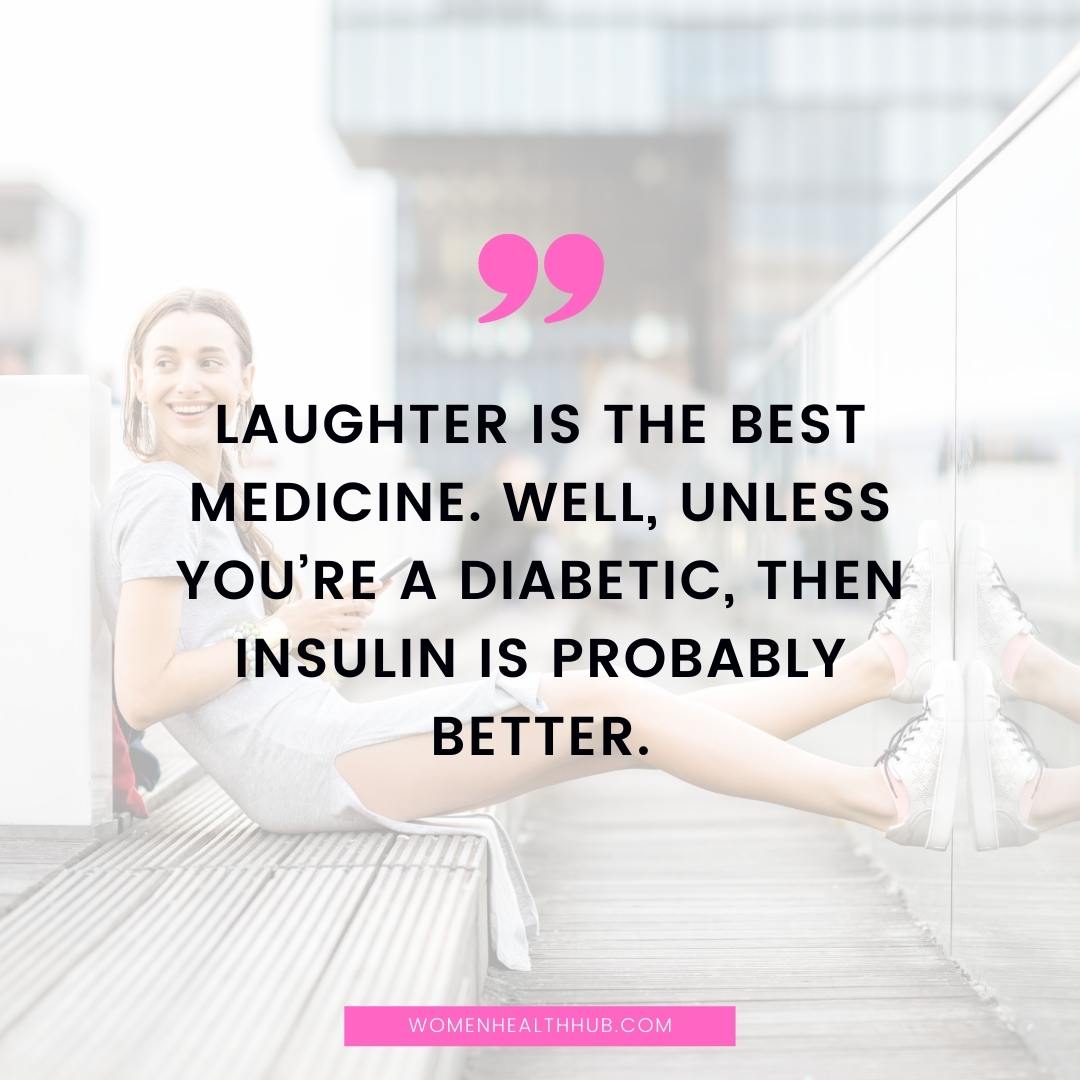 "My secret is no secret, I just do all the things you're supposed to do. I eat right, I sleep, I work out, I'm happy. I choose the good things." Sharon Stone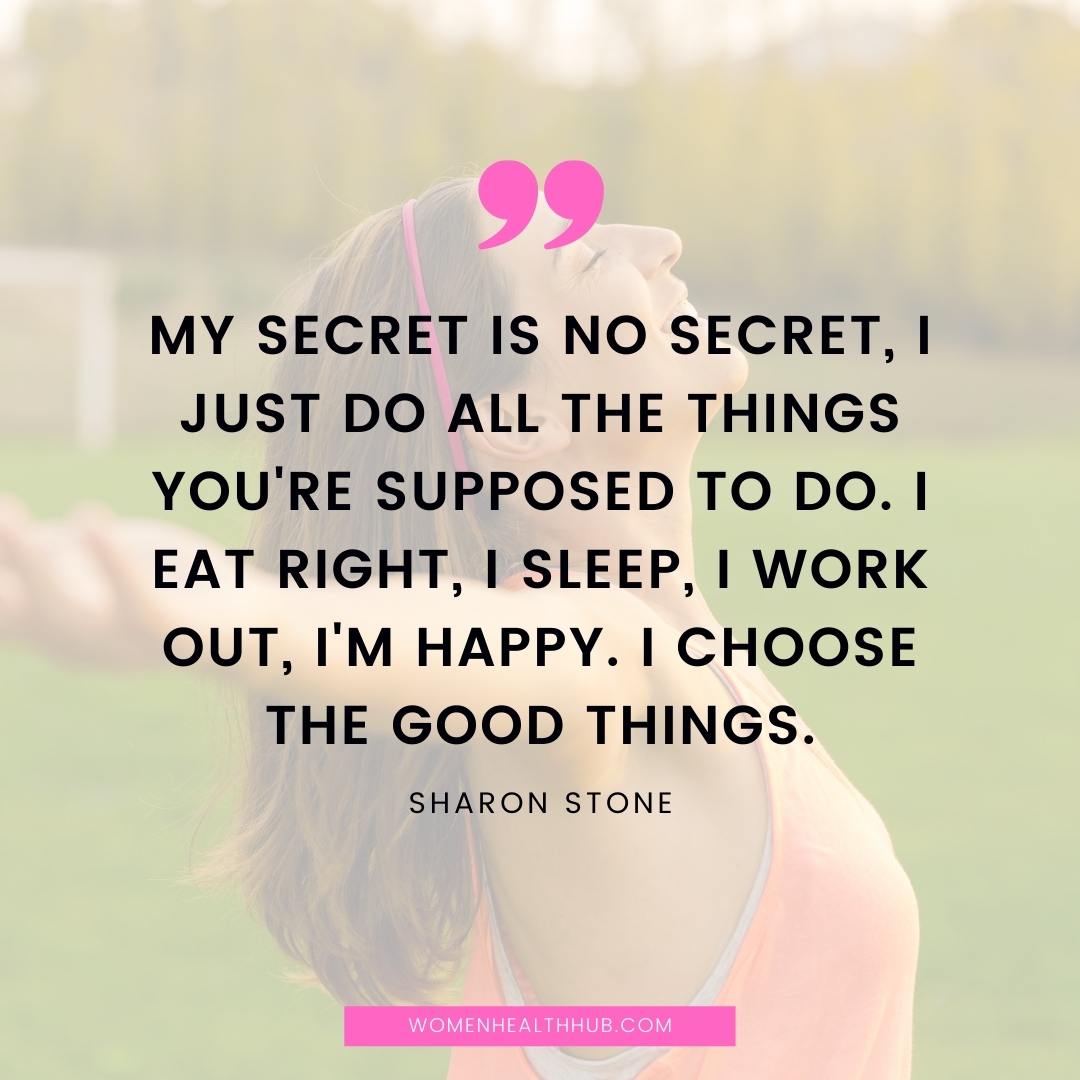 Read More: 6 Best Budget Blood Glucose Monitors for Women
"Chasing perfection with type-1 diabetes is impossible. There's so much that's out of your hands and finding a way to remain calm and patient in moments where diabetes interrupts your life is the key." Nick Jonas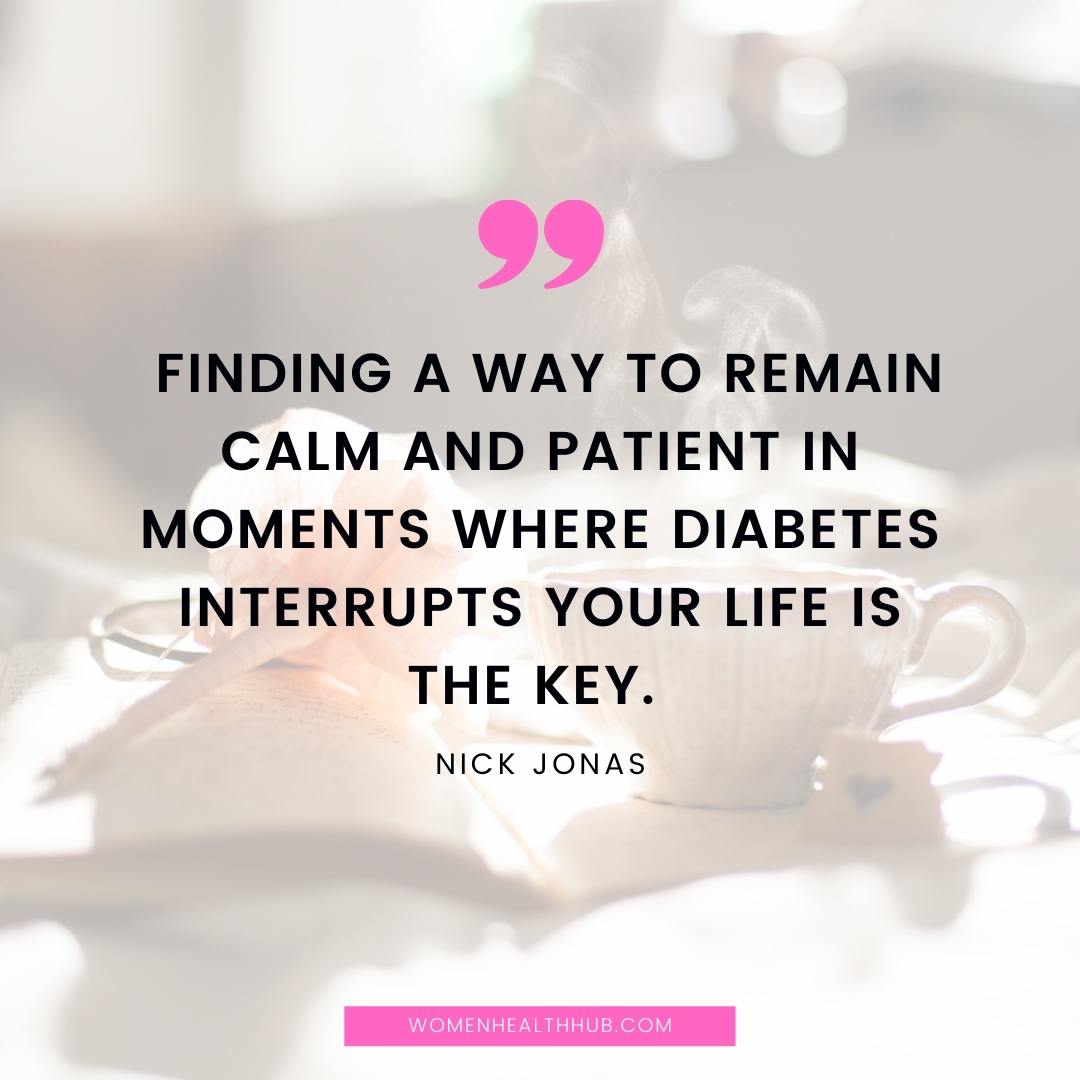 "One thing that you really have to do is move forward. You've gotta really tackle this. You can't be a passive patient." Dr. Phil McGraw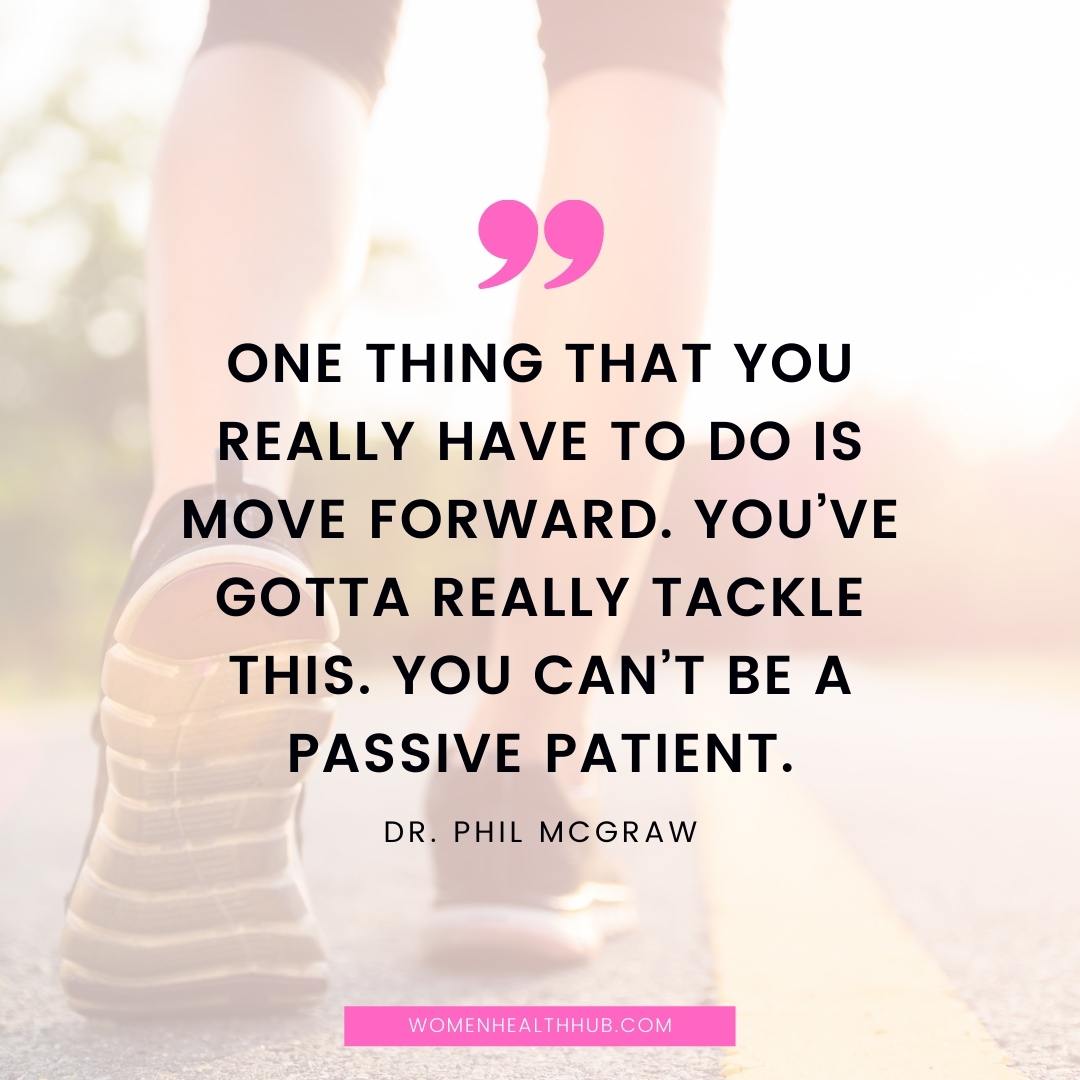 "People with high blood pressure, diabetes – those are conditions brought about by lifestyle. If you change the lifestyle, those conditions will leave." Dick Gregory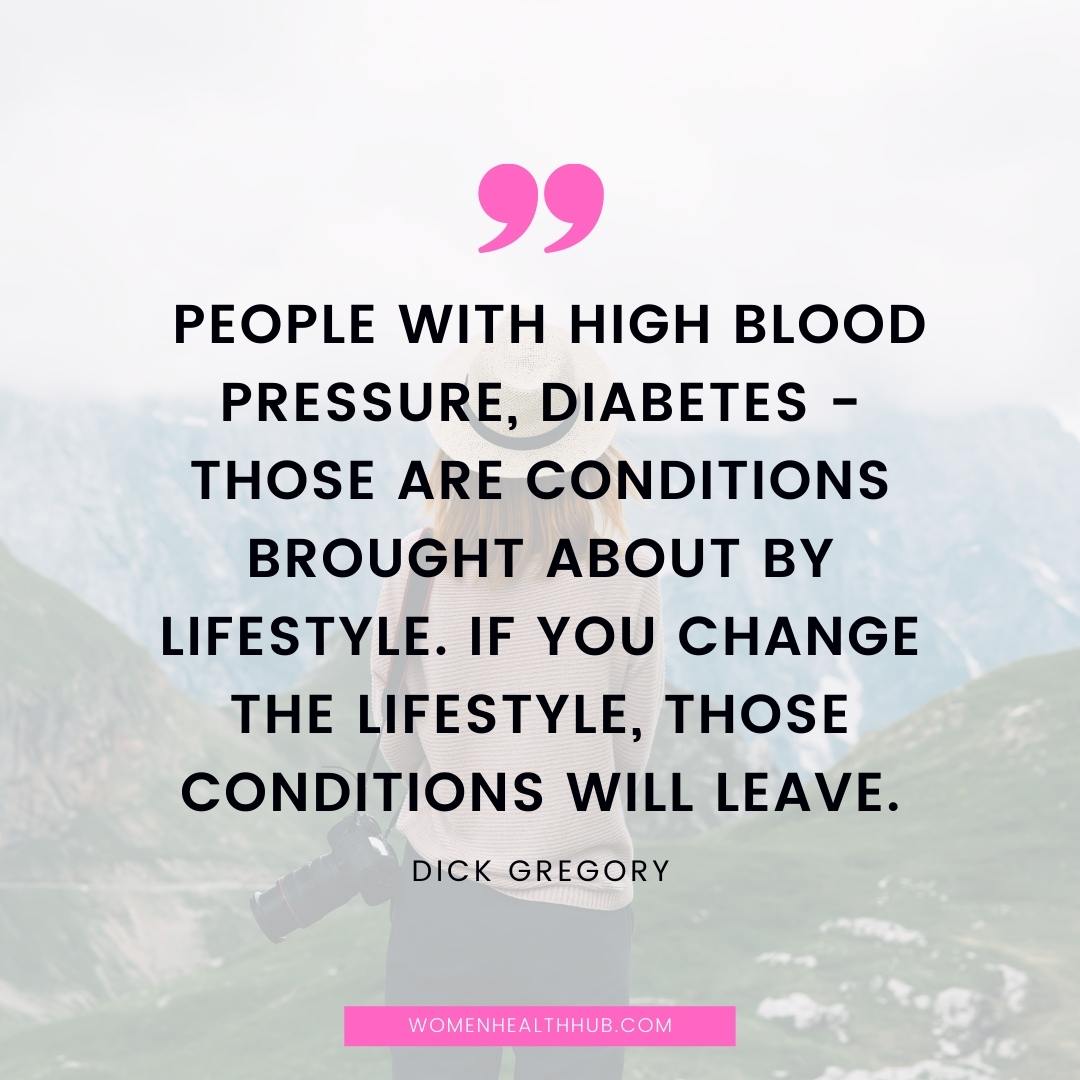 "My diabetes is such a central part of my life… It did teach me discipline… it also taught me about moderation… I've trained myself to be super-vigilant… because I feel better when I am in control." Sonia Sotomayor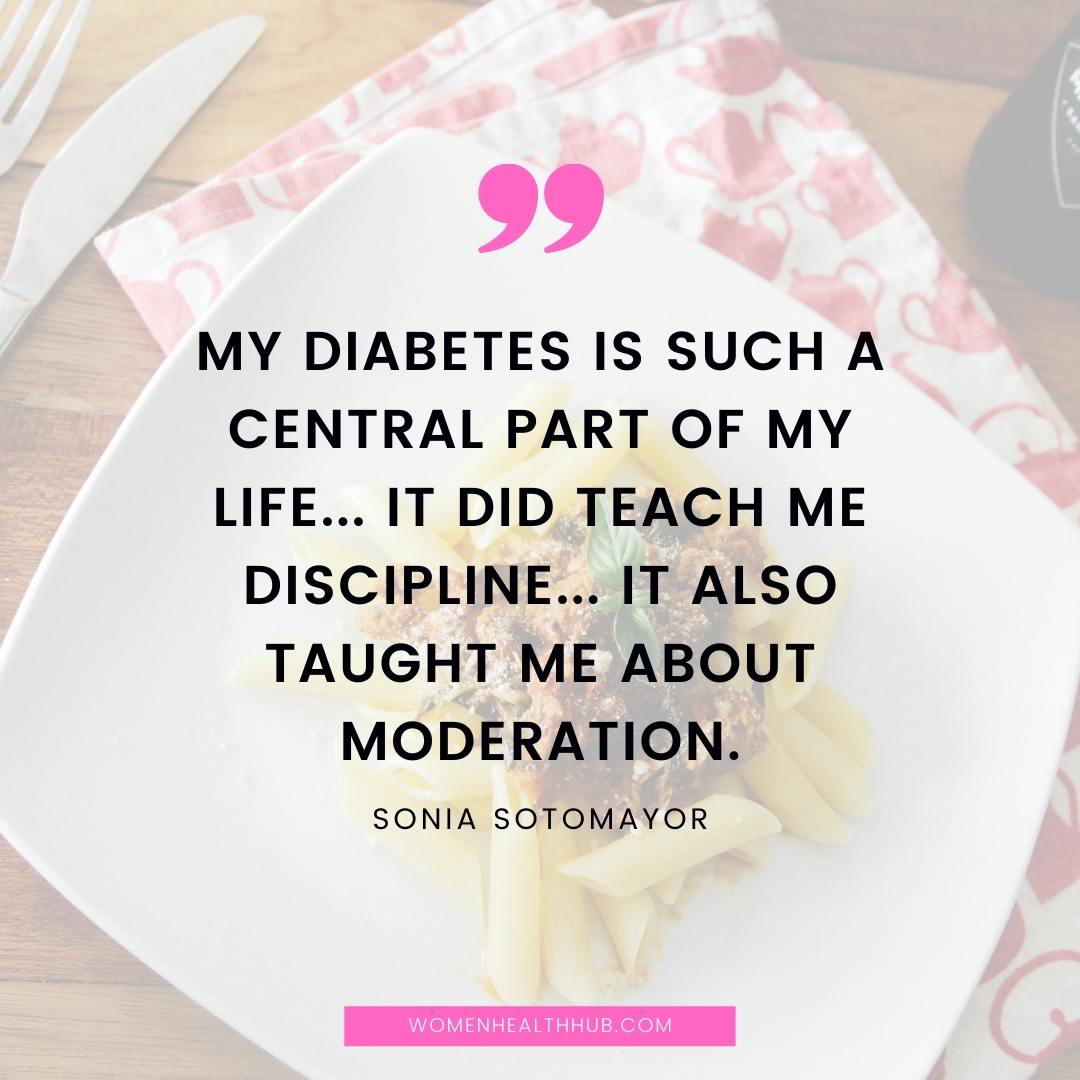 "I have high blood sugars, and Type 2 diabetes is not going to kill me. But I just have to eat right, and exercise, and lose weight, and watch what I eat, and I will be fine for the rest of my life." Tom Hanks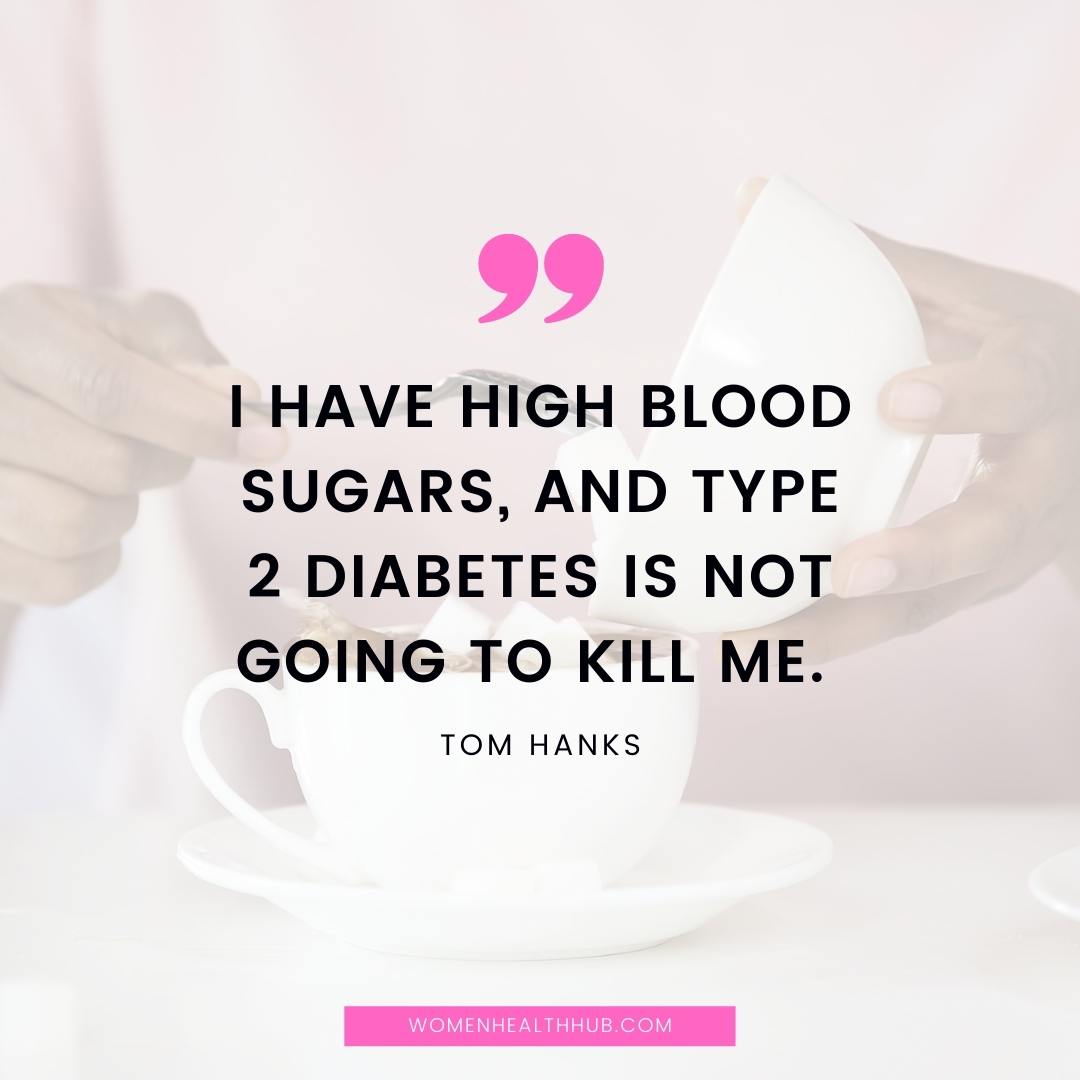 "The way to deal with the devil of obesity and diabetes is literally one day at a time." Stephen Furst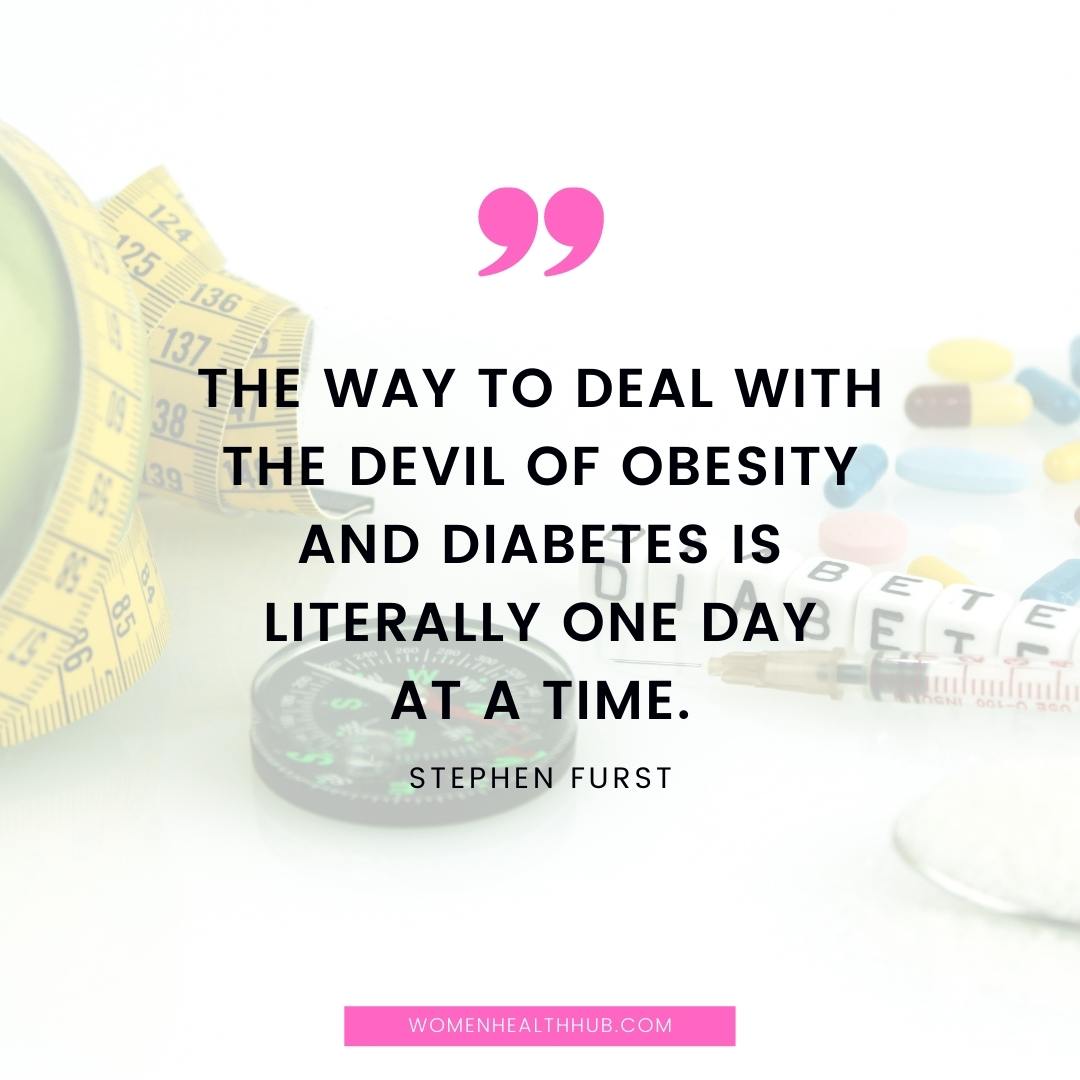 I hope you enjoyed going through these inspirational diabetes quotes.
Remember, being diabetic doesn't mean your life is over. That's the core message of this post. It's a long challenging journey, no doubt. But at the same time, all power to combat or manage this disease comes from within.
Now go ahead and share some of your favorite quotes about diabetes type 1 and type 2!
References:
https://www.diabetes.co.uk/blog/2015/10/17-inspiring-messages-help/
https://www.diabetes.co.uk/news/2011/nov/mariah-carey-had-gestational-diabetes-when-pregnant-96468069.html
https://www.brainyquote.com/topics/diabetes-quotes
https://quotesgram.com/famous-quotes-on-diabetes/
https://www.goodhousekeeping.com/health/g4845/celebrities-with-diabetes/