Hey there! This post may contain affiliate links. As an Amazon Associate, I earn a teensy commission from qualifying purchases when you buy through these links (at no additional cost to you). For more info, please check the full disclaimer.
Over the last few decades, olive oil has officially received the stamp of approval from health experts around the globe. Which naturally makes you wonder about the health benefits of olive oil for women.

I'll be honest with you – if I can help it, I avoid medicines as much as possible. This is why my sole focus for the last couple of years has been using foods and natural remedies to improve my overall wellbeing.

During this transition, olive oil has been a big part of my lifestyle modification.

About a decade ago, we discovered that my parents had cholesterol and our family has a rich history of cardiovascular problems.

That was scary AF.

We immediately shifted to olive oil as our primary cooking and dressing oil (besides starting cholesterol meds course, right away). And already, it has significantly improved our health in many ways.

In this article, I'll be sharing 15 surprising olive oil health benefits for women that will amaze you.
We know olive oil is great for heart ❤️️ health. But did you know that olive oil can also…

➡️ Reduce pregnancy health risks
➡️ Boost immunity
➡️ Work as a natural skin moisturizer
➡️ Make breasts firmer

Discover 15 olive oil health benefits for women (that nobody talks about) 

#womenhh #womenhealth


Olive Oil Nutritional Values
Why do experts favor this plant-based oil so much? That's because olive oil combines a variety of nutrients essential for your body.

Olive oil may be a high-calorie product but is full of soluble fats needed to regulate cholesterol levels.

Here's a breakdown of the nutritional components of olive oil.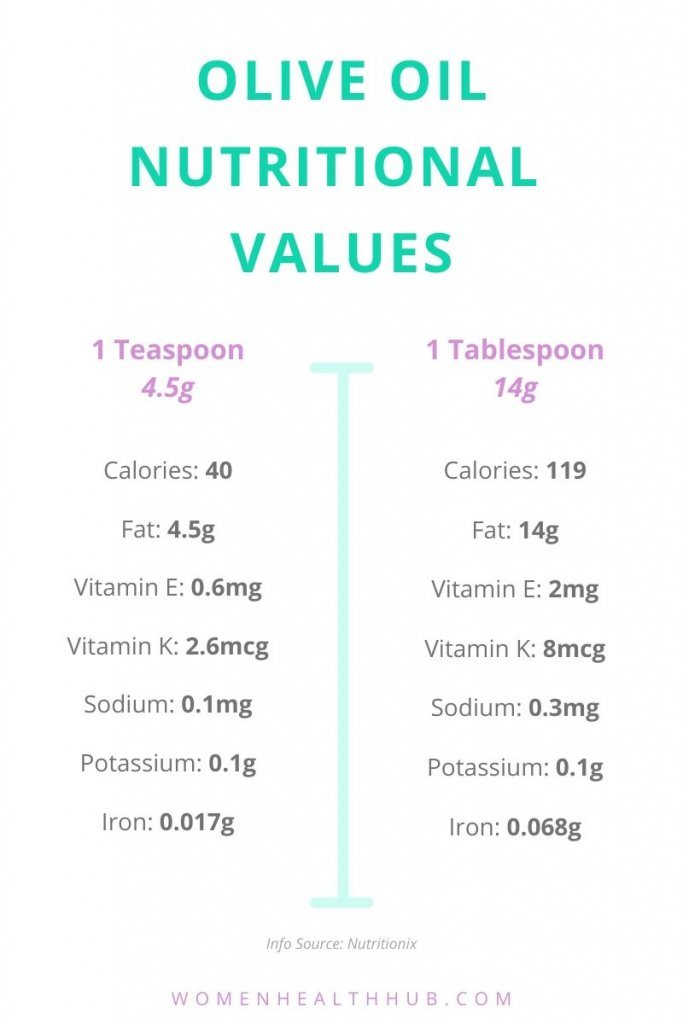 15 Health Benefits of Olive Oil for Women's Health
Most of us have heard about the many benefits of olive oil for heart health. But in reality, olive oil has a lot more to offer to improve your wellbeing.

After a lot of research, I have compiled a list of 15 olive oil health benefits that you probably didn't know about.

Note: I may update this list in the future to add more olive oil benefits for your health and wellbeing.
1. Reduces risk of osteoporosis
Osteoporosis is a debilitating disease that damages the bone density as you age.

However, scientists agree that drinking olive oil or even eating the fruit has shown a remarkable improvement in bone density and can prevent the occurrence of osteoporosis in elderly women.

In 2018, Nutrients published a study conducted on 523 Spanish women aged 50 years or more. These women took multiple supplements for bone health including olive oil.

The research concluded that women with high olive oil intake had comparatively better bone mineral density than those who were taking calcium and vitamin D supplements.

Thus, if you're close to menopause or have a history of bone problems, olive oil is a must-have food for you.

2. Regulates cholesterol
I'm sure all of us are familiar with this health benefit of olive oil.

You may have heard of LDL and HDL, the two types of cholesterol. HDL is the good cholesterol, needed to eliminate LDL (the bad one) from your body.

But here's the deal.

Montserrat Fitó of the Hospital del Mar Medical Research Institute in Barcelona says, "Studies have shown that HDL doesn't work as well in people at high risk for heart attacks, strokes, and other cardiovascular diseases."

However, studies show that small doses of anti-oxidant rich foods such as olive oil, facilitate HDL functioning to keep the blood vessels open to reduce cardiovascular diseases.

A 2009 study connected the low incidence of heart-related deaths in Mediterranean countries to their olive-rich diets with tomatoes and nuts.

This is primarily why most health experts advise people with high cholesterol to switch to olive oil, as it guarantees a healthier heart.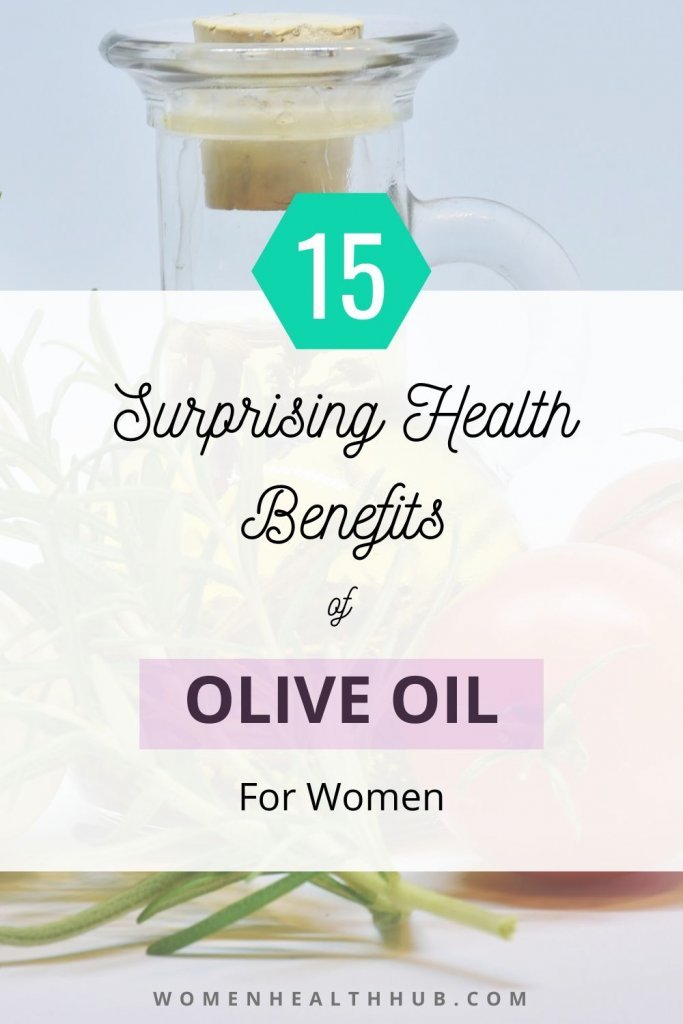 3. Prolongs life expectancy
Who doesn't want to live a long healthy life!?

Being the most important and only fat source of the Mediterranean diet, olive oil helps the elderly by keeping life-threatening diseases away.

This fruit oil contains a variety of bioactive compounds needed to prevent tissue damage, protect against infections, and promote energy production.

A 2014 trial published in Biomed Central Journal, experimented on 7000 people with 57% women aged 60+ years.

The results showed that regular intake of olive oil-based diet decreased the risk of heart-related mortalities and increased life expectancy in Mediterranean elderly folks.

Hence, I would recommend women to make the most of this olive oil benefit as it can ensure successful aging.

4. Refreshes skin
Tired of applying cream after cream to nourish your skin? Ditch those chemical-filled products and try the natural health benefits of olive oil instead.

The antioxidative qualities of olive oil work as a superb natural moisturizer for your skin. It can even be used as a sunscreen to protect your skin from cancer-causing cells.

You can also use olive oil to treat irritation and wounds on the skin, such as eczema.

The vitamin E component, plus its anti-inflammatory and soothing effects, is one of the main reasons why cosmetic companies choose this plant oil to create natural moisturizers.

Rubbing warm olive oil on your stretch marks before bedtime also gets rid of the lines and improves blood circulation.

5. Strengthens hair
In South Asian households, olive oil hair massage is a popular home remedy to treat damaged hair follicles, facilitate hair endings repairment, and prevent hair loss.

One of the most common remedies is to mix eggs, honey, and olive oil and apply it to the root of your hair vigorously. After the wash, your hair will have incredible shininess, bounce, and decreased frizz.


6. Prevents menstrual cramps
This one was quite surprising for me. I never knew an important olive oil benefit for women's health is the alleviation of painful menstrual cycles.

In 2015, some scientists experimented to determine the effectiveness of ibuprofen vs olive oil for treating menstrual pain in female students aged 17 to 30 years.

They discovered that extra virgin olive oil supplements were immensely beneficial in reducing menstrual tummy aches and significantly improved the level of pain severity.

7. Manages diabetes type 2 symptoms
Yet another distinguishing health benefit of olive oil for women who are at risk of diabetes type 2.

Did you know that sticking to a regular olive oil diet can actually save you from developing diabetes type 2?

Diabetes Care published a study in 2011, on more than 400 nondiabetic individuals. The participants were asked to follow a strict Mediterranean diet plan combining either olive oil or nuts.

After 4 years, the scientists discovered the diabetes risk had decreased by 50% in both groups.

You can also use 2 tablespoons of olive oil per day (alongside a fiber-rich diet) to normalize your blood sugar levels, per a 2014 study.

However, as olive oil has high calorie and full-fat content, it's wise to first discuss it with a health professional to avoid associated health risks.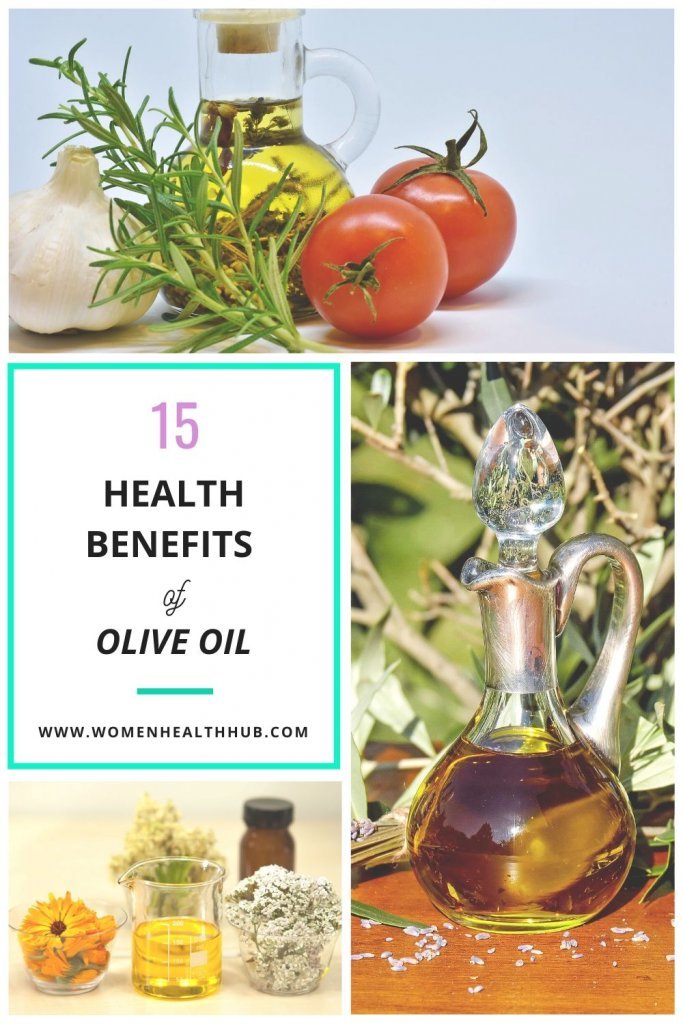 8. Lowers anxiety
You'll also be interested in learning that olive oil contains compounds with anti-depressant and anti-anxiety qualities.

Taking olive oil for 4 weeks shows a remarkable change in anxiety levels and promotes the production of serotonin and dopamine – the happiness and emotional response hormones.

Coupled with an active lifestyle, regular intake of olive oil can improve your mental wellbeing.


9. Combats breast cancer risk
If you have a family history of breast cancer or simply want to avoid this horrifying disease, make olive oil a part of your diet.

Mammographic density is a factor that helps experts determine the density of the breast tissue. High mammographic density is an important factor that helps determine breast cancer risk.

According to a study conducted in 2013, more than 3000 perimenopausal and menopausal women with breast cancer risk showed a reduction in high mammographic density after taking 22gm of olive oil every day.

Another research confirmed that women who supplemented the Mediterranean diet with olive oil had 68% less risk of breast cancer than those who used nuts.


10. Makes breasts firm
Speaking of breasts, if you want to make yours firmer, make olive oil massage a part of your routine.

Massaging with this plant-based oil is a great natural remedy for aging women to heal saggy boobs. Additionally, olive oil helps tone the skin and moisturizes your chest.


11. Encourages weight loss
Even more good news for people who are seeking natural health benefits of olive oil.

Olive oil is also known to encourage weight shed. The high monounsaturated fat content in this fruit oil is healthier than many other fat sources, such as dairy products.

In Spain, research was conducted on 600 young individuals who consumed various types of oils. Those with a higher olive oil intake were found to have decreased obesity incidence than those who used sunflower oil.

As olive oil fat content is healthier, it helps keep obesity-triggering diseases away — such as high sugar, cholesterol irregularity, cardiovascular problems, and improper digestion.


Did you know ❓

Olive oil works wonders in managing your blood sugar levels, encourage weight loss and helps with osteoporosis. 🦴️

👉 Learn more olive oil health benefits for women.

#womenhh #womenhealth #nutrition #homeremedies


12. Alleviates pregnancy problems
If you're a soon-to-be-mommy, this is for you.

Among other health benefits of olive oil, is its hidden effect on decreasing the risk of potential pregnancy problems.

Pregnant women who eat foods mixed with olive oil can avoid the following health risks:
Urinary tract infections
Premature birth
Emergency c-sections
Gestational diabetes
Additionally, you can drink water with olive oil to reduce morning sickness and pregnancy constipation.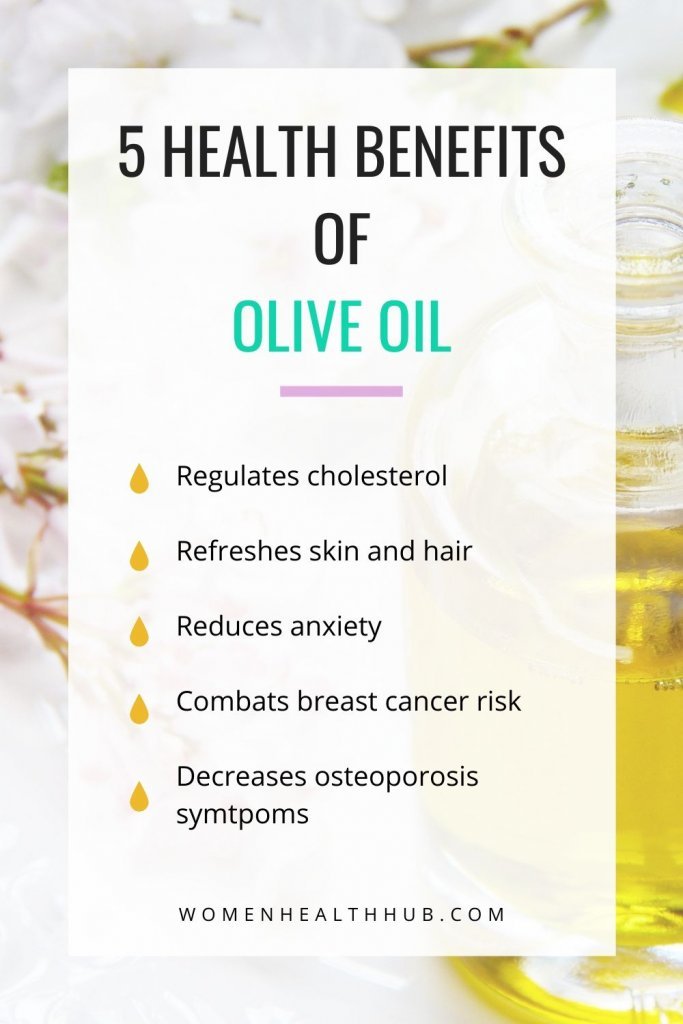 13. Better bowel movements
Olive oil works as a natural softener for the bowel content and eases their movement, according to a 2012 study published in the World Journal of Gastroenterology.

Experiments have shown that taking a tablespoonful of olive oil can help relieve constipation. But take care as to not overdose because it can lead to diarrhea.


14. Enhances memory
Want to boost your brainpower and not forget important dates and daily to-do tasks? Make the most of this health benefit of olive oil!

Oleic acid makes up a major part of the human brain. Incidentally, it is also a major component of olive oil. Consuming olive oil can actually reduce forgetfulness, decrease the age-related risk of memory diseases such as Alzheimer's and meet brain deficits.

A 2019 study discovered that people who used this oil had better verbal vocabulary retention and also aced visual perceptive abilities.
15. Boosts immunity
Finally, let's talk about olive oil health benefits for your body's immune system.

If you are particularly prone to infections and get sick often, the best natural remedy to boost your immune levels is olive oil.

The fatty lipids in olive oil help improve the immunity of immunocompromised people. Also, thanks to the anti-inflammatory response of this fruit oil, autoimmune diseases that trigger painful stings such as arthritis, can be countered.


We are all fighting to become our healthiest self in one way or another. Our ultimate goal is to avoid as many health risks as we can. What's better than using the blessings nature has to offer us to achieve this health goal!?

Now that you're aware of the many health benefits of olive oil for women's health and wellbeing, it's time to buy this product and make it a staple at your home.

Did you know how many incredible ways olive oil can impact your health? What's something new you learned from this article? Let me know in the comments below.

Also, do share these benefits with the people around you – you never know how or when you might make a difference for someone's health. 🙂

References:
https://bmcmedicine.biomedcentral.com/articles/10.1186/1741-7015-12-78#Sec9
https://www.researchgate.net/publication/275044663_
https://www.ncbi.nlm.nih.gov/pmc/articles/PMC5499037/
https://www.parents.com/pregnancy/my-body/best-natural-stretch-mark-treatments/?slide=slide_6ec3436b-da58-432a-84d9-6c6b6758eaab#slide_6ec3436b-da58-432a-84d9-6c6b6758eaab
https://www.ncbi.nlm.nih.gov/pubmed/20929998
http://nutraceuticals.imedpub.com/nootropic-and-antianxiety-effects-of-olive-oil-relationship-with-dopamine-and-serotonin-metabolism.php?aid=22520
https://www.ncbi.nlm.nih.gov/pmc/articles/PMC4166692/
https://www.ncbi.nlm.nih.gov/pmc/articles/PMC3460325/
https://www.karger.com/Article/Fulltext/495793
https://www.ncbi.nlm.nih.gov/pubmed/20204249