Hey there! This post may contain affiliate links. As an Amazon Associate, I earn a teensy commission from qualifying purchases when you buy through these links (at no additional cost to you). For more info, please check the full disclaimer.
In the past few years, many women have switched to work from home lifestyle because of its flexibility. If you're new to this routine, try some of these best women's work from home tips to make the transition easier.
Luckily, we're living in a time when the "WFH lifestyle" isn't an alien concept. You can use a variety of tools and technology to stay healthy and sane while being productive.
Most of you are accustomed to working in traditional offices. But now, you're forced to quickly adapt to a different work structure.
Ought to be strange and frustrating!
Seeing as this is a big change, you may need time to adjust to a new work environment and can't expect to be productive right away.
Plus, if you live with a large family or in a loud region, it's even trickier to find the time and peace to focus on your work.
But don't worry.
I'm here to virtually show you the ropes on how to work from home successfully!
In this blog, you're going to find 25 incredibly useful women's work from home tips (even for WFH mommies).
What Are The Most Common Women's WFH Problems?
Work from home lifestyle varies for every country.
So before diving into the WFH lifestyle tips, I wanted to understand what exactly are the challenges that women face while working from home.
And that's when I decided to conduct a small survey. I asked women from around the globe about the major work from home lifestyle issues.
The results were surprising!
I learned that no matter where you live, working from home isn't easy.
It requires plenty of patience, excellent communication skills, and strong willpower to not pull out your hair by the end of the day!
90 women from across the world participated in this short survey. Here's an overview of women's work from home problems:
| Problems faced by women | % of women facing the issue |
| --- | --- |
| Frequent distractions (family) | 39.2 |
| Frequent distractions (internet browsing, notifications) | 19.3 |
| Time management | 11.93 |
| Health issues (back pain, stiffness etc) | 9.65 |
| Detaching from work after hours | 7.95 |
| Unable to plan or follow-through on goals | 4.54 |
| Setting up workspace | 2.72 |
| Difficulty using apps and tools for remote work | 1.7 |
| Communication problems | 1.16 |
| Difficulty adjusting to WFH style | 0.56 |
| Having no backup (power, internet etc) | 0.56 |
| Organizing workspace | 0.56 |
| Unannounced guests | 0.56 |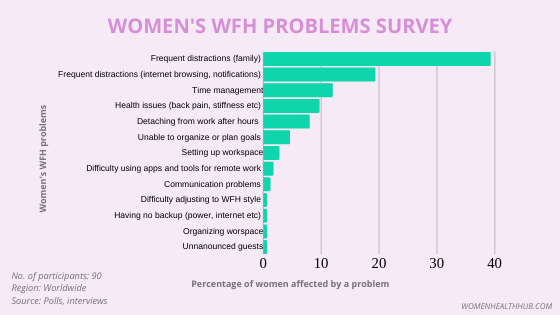 These Are The Biggest WFH Challenges for Women
Frequent distractions by family members such as kids remain one of the biggest challenges for women.
The second biggest issue is mindless scrolling on social media, lack of concentration, and frequently getting distracted by online notifications.
Organizing and following through the daily tasks is yet another challenge for women working from home.
For others, setting up a designated workspace in their homes is also tricky, especially for those living in small apartments, with family, or in a joint-family system.
A lot of women also have trouble detaching after-hours tasks. It's difficult for them to draw a line between personal and work life while at home.
My Work-From-Home Experience
You must be wondering: So what does she know about how to work from home!
For the past 6 years, I've been working from home.
In 2016, I briefly joined an office. But their rigid routine and unnecessary restrictions made me quit after just 6 months.
In short, a work from home lifestyle has always suited me. I'm more productive in a flexible environment — something essential in jobs that demand creativity.
During these years, I've learned how to strike a balance between my home and professional life.
So try these special work from home wellness tips to stay healthy without compromising your job or personal life.
Want to learn the hacks to create the perfect #worklife balance? Try these 25 useful WFH wellness tips for women 👩‍💻
25 Work from Home Wellness Tips for Women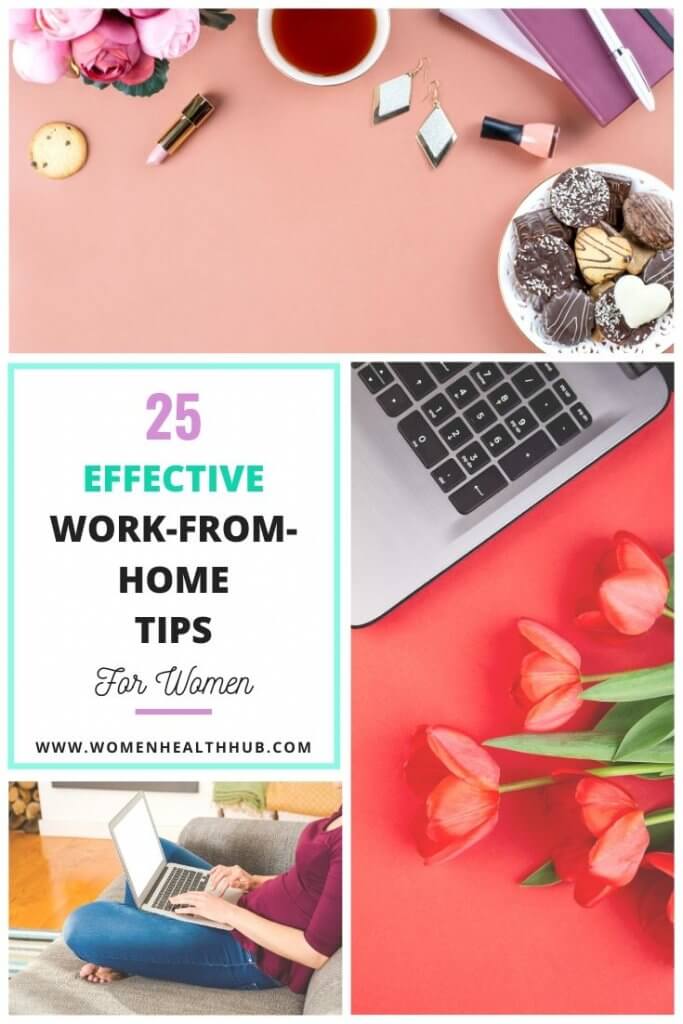 1. Establish a Designated Area as Your Workspace
The first women's work from home hack is creating a proper workspace.
Here's how you can set up a home office that promotes a work from home lifestyle:
Lighting: Ensure your workspace has good lighting. Natural sunlight works best. Setting up your stuff near a balcony or window is also a good idea. Get a table lamp, wall lights, or fairy lights to give your room an illuminating yet feminine glow, especially if you work during the night.
Ventilation: Your room or work-area should also be airy. A room that's too hot or too cool may break your concentration often. Airy rooms are essential to keep the atmosphere fresh.
Colors: Workspace colors affect moods and productivity levels, according to this article in Forbes. So the room or region you choose should have appropriate colors to improve your efficiency. Some sound colors for offices are:

Various shades of blue
Green
White
Purple
Grey
Brown
Pastel colors
Pink
If you're living in an apartment with your family, I'd recommend choosing a part of your room as your work territory.
Make it your private office region. Your family, especially kids should know that it's an off-limits area, simply to protect your notes and files from accidental damage.
2. Decorate and Organize Everything
Next work-from-home tip for women is to focus on workspace decoration. Now, this is where you tap into your creative side and find stuff that inspires and motivates you.
Include stuff that could make your work from home lifestyle more interesting and motivational.
You can add inspirational quotes by authors, leaders of your industry or famous celebs. Some even like to add paintings or funny one-liners to lift their spirits.
Or you can go all DIY and put your artwork on display.
I'm not that big on wall decor; however, I did buy this DIY Quote Frame, where I add my mantra of the month or weekly positive affirmations.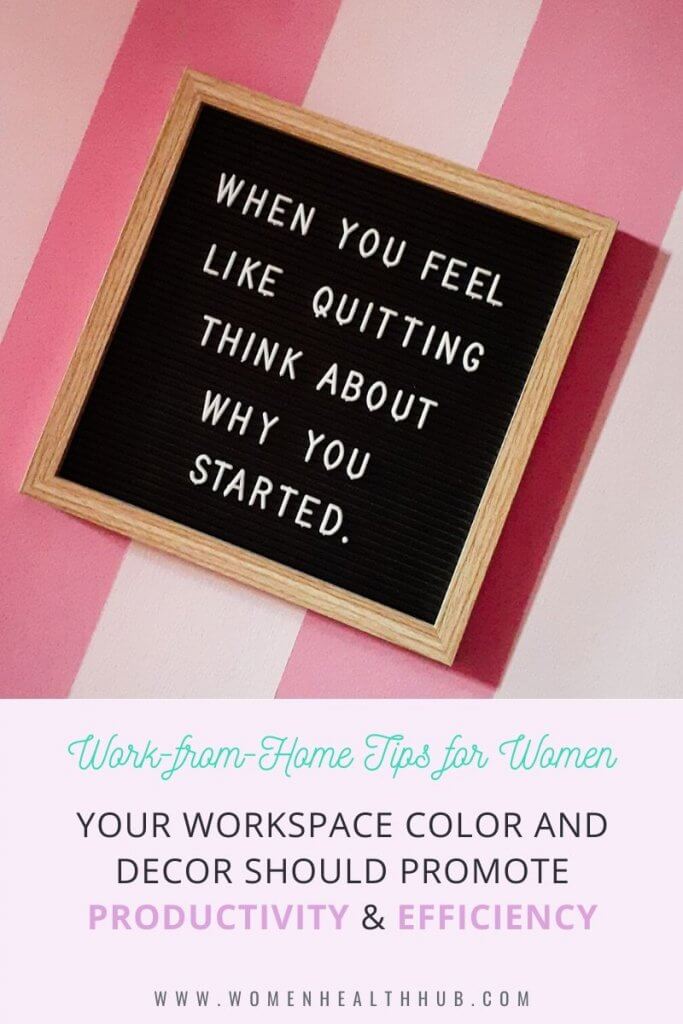 Secondly, organize everything. This is a work from home wellness tip that women often overlook.
Look, I'm not averse to being a bit messy.
But a cluttered workplace could be distracting and unhygienic.
You won't easily find important corporate papers and pens at the time of need.
Make sure you have enough cabinets, drawers, folders, pen holders, and shelves. You can also take a look at this article explaining practical ways to organize your home office.
3. Place a Hand Sanitizer on Your Desk
I'm sure you already know by now that infections spread primarily through contact — from person to person or person to object.
Often during work, you may touch a contaminated accessory or person. For eg, someone went out for grocery shopping, probably touched a surface affected with a virus, and brought the germs home.
WHO (World Health Organization) recommends washing your hands often to clean off the residue. But it's a hassle taking trips to the bathroom mid-work.
So my WFH tip for you is to place hand sanitizer on your desk at all times. Clean your hands once every hour or as needed.
Try some of my favorite hand sanitizers to ensure a healthy WFH routine.
4. Clean and Declutter Your Desk Daily
Another work from home wellness tip for you is to disinfect your desk every morning before work.
This is a necessary practice because humans unintentionally touch their faces while working. And your hands could be dirty!
But before cleaning, you'd have to declutter your workspace. That's when your organizing skills come into action.
Make sure you put everything at the designated place. Get color-coded folders for your important papers. Use printed labels to name the boxes and files to reduce confusion.
My desk is often cluttered in the morning. I am pretty tired after work to clean up. So the first thing I do before sitting down is to clear the mess and put everything in place.
Next, I spend at least 15 minutes on disinfecting everything. I have a spare spray bottle filled up with a branded disinfecting solution and separate dusting/cleaning cloths for wiping off the electronic gadgets and desk.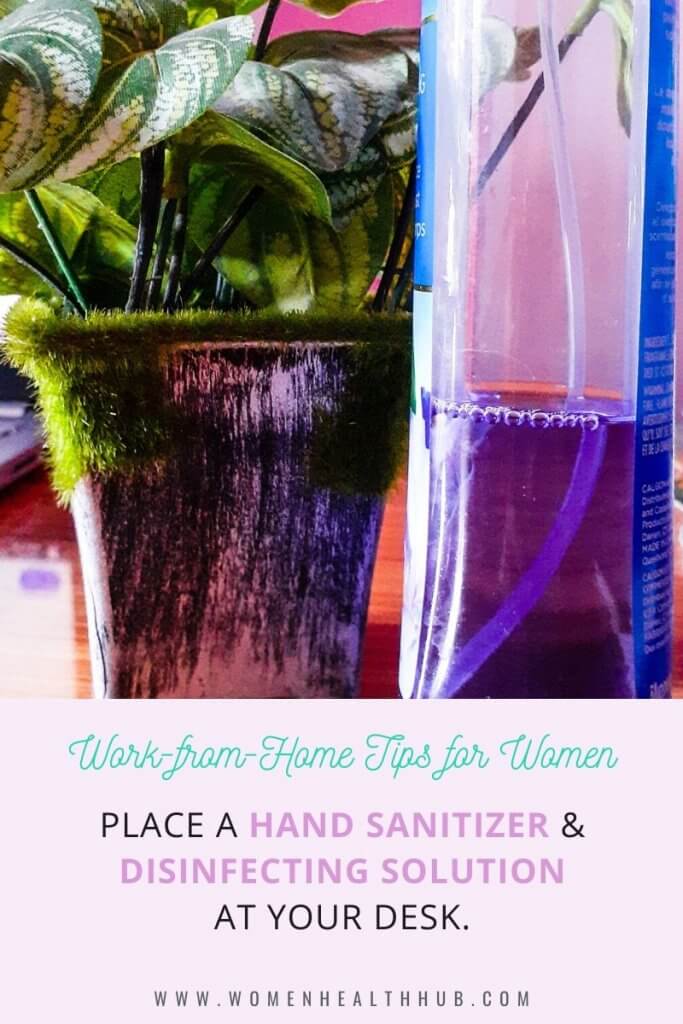 You can also use disinfecting wipes or DIY an alcohol-based solution to clean your items.
Here is a detailed article explaining how to clean and disinfect your workspace.
5. Buy Appropriate Furniture & Accessories
Investing in a good work desk and chair are also key elements of healthy work from home lifestyle.
For about 4 years, my workspace consisted of a small study table fashioned to a desk and an old squeaky chair with no armrests. It sucked!
I was always frustrated because of lack of space and my back hurt like hell on that bloody chair.
So, after working for a while, I used my savings to buy proper furniture. Here's what I invested in:
Desk: I opted for a local custom-designed desk with enough storage and space, which cost me about $65.
Footstool: Sitting on a chair for an hour is bound to hurt your legs and make the muscles stiff. You need something to change the position of legs to facilitate blood circulation. Besides ordering the desk, they also designed a matching footstool for me for the same price.
Chair: Whichever chair you select, make sure it has excellent lumbar support and cushions the lower back perfectly. I chose a local branded chair that cost me about $96, with brilliant lumbar support and everything that you'd want in a seat.
Yes, I invested more in the chair than the desk! Can't put a price tag on your health, y'all.
If you're looking for recommendations, here are some affordable workspace furniture pieces for working women (affiliate links):
6. Stock Up on Useful Stationery
Another important work from home tip for you is to always keep useful stationery on your desk.
I understand that in offices, it's mostly taken care of. However, while working from home, you cannot afford to lose pens or dig around for spare paper during a meeting with a client.
So if you're new to WFH lifestyle, I suggest stocking up on the following supplies during the last week of every month to avoid any problems.
Here's what you should have with you at all times:
Table or wall calendar
Notebooks, diaries, planners, notepads
Ballpoint pens, gel pens, pointers (black, blue, colored)
Highlighters
Markers
Pencils, erasers, sharpeners
Post-its
I know we're living in a digital era, but there's something really soothing about noting down stuff manually. Here's a peek of my table calendar.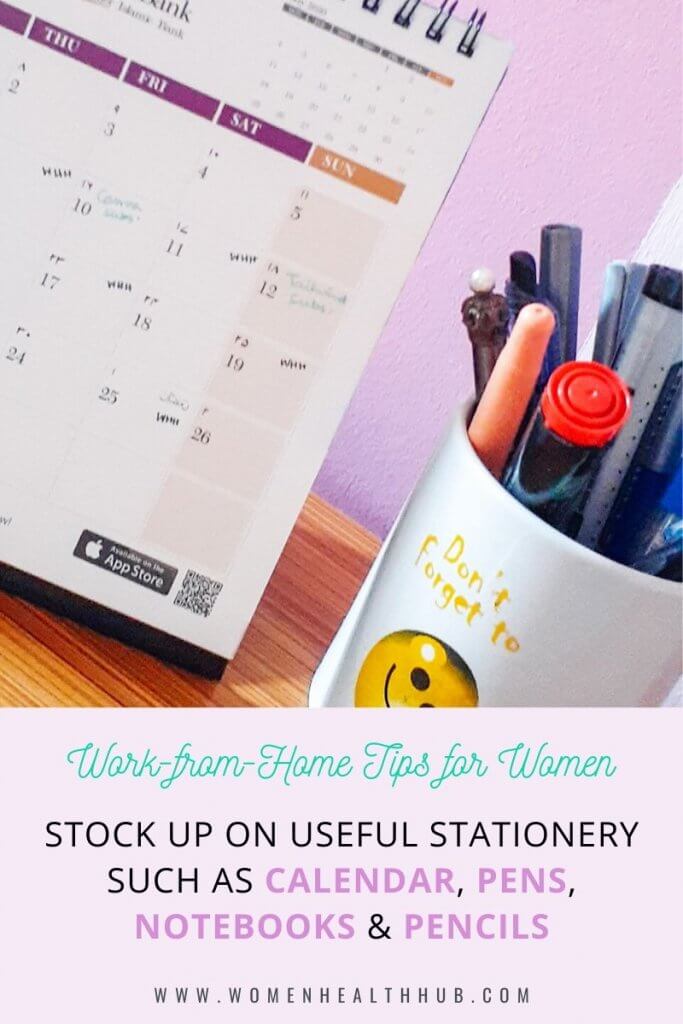 7. Buy Necessary Devices
Another super important women's work from home tip for staying sane is to buy the best WFH devices to avoid headaches.
I was initially using a 10-year old laptop with a sucky battery for freelancing. Lost many files and even clients because of it. Plus, I couldn't get essential software or apps on that old model.
As soon as I had saved up some money, I got a proper laptop with enough storage, good resolution, and long battery time at an affordable price.
Before buying a laptop, first, make a list of the features you'd need based on your job requirements.
For example, programmers and online tutors have varying focuses when purchasing a laptop. Similarly, virtual assistants need different devices than designers.
Go through the pros and cons of your final choices with experts before the decision.
Also, want to know how to work from home without getting distracted too often? Try noise-canceling headphones!
This game-changing purchase will help you if:
You live near a busy road or construction site
You have noisy kids or neighbors
You like to work in a super quiet and peaceful environment
Noise-canceling headphones eliminate unnecessary background sounds and noises that might be distracting.
You can then put on some of your favorite songs or ambiance tracks to improve your concentration.
Here are a few recommendations (affiliate links):
8. Have Back-up Electronics Ready
This is one of the biggest rookie mistakes women make when they are new to WFH lifestyle.
When you're working from home, you've got to be prepared for the worst.
It's possible to face a sudden power failure or an uncooperative laptop. You could lose your headphones before an important meeting. Your internet could die.
I learned this the hard way: You can't always have everything under control and 100% functional.
So, the best thing you can do is to get a spare for everything important.
Now, what do I mean by that?
Well, let's say you have WiFi broadband installed at your home. Due to some reason, it stops working. Do you simply give up and call it a day? Nah! Use your backup internet to keep continuing your task.
My backup internet is 4G LTE provided by my cellular network service. I strictly use it in case of emergencies.
Similarly, I bought a tablet to replace the laptop in case things go wrong again. Also invested in a spare pair of earphones.
To cut short, you need a back-up for every electronic device you rely on. From cellphones to batteries and from power supply to the internet, you must have an extra for anything that may affect your work.
Here are a few general things that I'd recommend getting a reserve for:
Internet
Laptop
Headphones
Batteries for your devices
Chargers
If you use device storage, use a cloud service (such as Google Drive or Dropbox) for essential documents
Camera (in case you rely on photography)
Cellphone
Seriously, if you're new to WFH lifestyle, focus on getting backups ASAP!
9. Create a Work Playlist
Another super effective work-from-home tip for women is to choose particular music tracks for office hours.
Some people love working in a quiet and soundless environment.
However, studies show that people with creative jobs experience increased productivity and performance if they use an ambiance track, a work playlist or noise.
Additionally, experts say that listening to music while working also promotes better problem-solving skills.
Talk about cool psychological hacks!
Here's what you need to know about popular music tips to work from home efficiently:
Pink Noise:
Using it seems counterintuitive, but pink noise is basically a static background sound with high frequency and pitch. An example is the sound of a waterfall.
Pink noise is useful in drowning surrounding noises and enhances your focus. It keeps you alert and helps you relax as well.
There are other types too such as brown noise and white noise but I've found pink noise to be more effective.
Here are some recommendations:
Work Playlist:
Now before you go on adding your favorite Lady Gaga, Rihanna, Eminem and other tracks to your playlist, hear me out.
Tip #1:
Experts agree that you should never listen to your favorite fun songs, especially those with vocals. The reason is that you'd easily get distracted, start singing or tapping your feet within no time. Next thing you know, you're browsing their latest songs and texting your friend about it.
Tip #2:
What you should do instead is go for a new 'chill mix' every time you're in the mood for a background track.
Chill-out is a music genre with ambiance tracks that are easy to listen to and ideal for relaxation. Initially, this was the kind of music you'd listen to in a resort or hotel lounge.
However, it has now evolved to include more upbeat and inspiring music for workouts, students, and office workers.
Here are my favorite chill mixes:
Tip #3:
Another trick is to choose ONE or TWO really good songs that make your creative juices flowing and stick to them. Form a bond and a promise to these songs: you won't pick up your phone or do anything remotely "fun" while listening to these tracks. Only then, you can expect these tracks to work their magic.
Here are some of my special work-only tracks:
Ambiance Tracks:
Contrary to background noise, ambiance is not a masking sound but rather a recreation of a specific surrounding that helps you concentrate.
For example, I love all kinds of water-related sounds — waterfalls, rivers, rainfall, etc. I aim to recreate nature or the countryside.
For you, it could be something else. People who are new to work from home lifestyle and miss their office can choose office ambiance or a busy coffee shop to use as a background track.
Many apps out there allow mixing different types of sounds and create a whole new ambiance — such as a combination of birds singing, police sirens, rainfall, and heavy traffic!
Atmosphere is my go-to FREE ambiance app. It's versatile and includes 70 unique ambient sounds to choose from.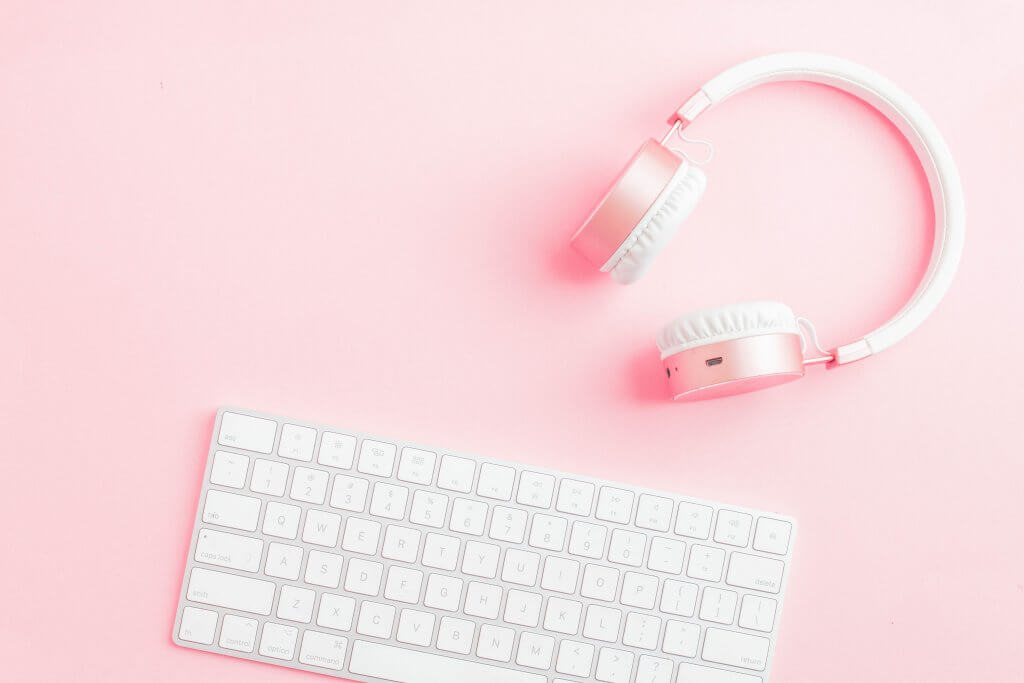 10. Download Organizing Apps
How can you work from home successfully without losing your important digital files?
Well, the trick lies in finding digital organizing apps that suit your needs.
When you're working on a company device, they usually have the necessary tools ready for use. However, in a work from home lifestyle, you may need to find apps on your own to organize your office stuff.
Following are some of the essential organizing apps that you'd find useful:
Goal #1: Planning and organizing
While many of you must be old school like me and prefer manually writing down what you wish to accomplish daily, the rest would want to use an app. Here are a few recommended apps that I've tried myself:
Clickup: Free tool, available for various operating systems, best choice for anyone who needs such app for individual use
Monday.com: Paid tool, excellent organizing features, better suited for enterprises
Google Calendar: Free tool, best for noting down your day to day tasks and events
Goal #2: Creating documents
I know a lot of you might prefer MS Word, Presentation, and Excel for writing, making presentations, or developing spreadsheets. But I'd highly recommend switching to Google Docs, Slides, and Sheets instead, for the following benefits:
If you're online, the data syncs automatically
Better features, less buggy
Complete online storage
Saves history to revisit or restore previous versions
Option to download files in multiple formats
Better suited for real-time collaboration
Goal #3: Social media
Here are some apps if you're responsible for designing social media graphics, videos, and scheduling. All of them have paid versions with more features.
Goal #4: Files storage
Development and creation is just half of the important work. What about saving those files?
Usually, you may want to save everything on your device. But laptops and computer storage is limited and not reliable. In case of a virus or sudden power outage, you may lose your documents at the time of submission.
The following cloud storage services are free for individual uses but also offer paid versions for companies/enterprises:
Tips on how to familiarize yourself with apps and tools:
Here are a few key work from home tips for women using remote apps and tools for the first time:
If you are a team member and unable to understand how to use any app, communicate it with your supervisor or employer.
You can also check out each tool's training video. It's often available on youtube or their website.
Still don't understand? Talk to the tool's customer service rep. They are mostly available to answer FAQs or guide you on features.
If you're a team leader or manager, I'd suggest setting up a short demo, training, or meeting with your colleagues to explain how a certain tool works. This will honestly save up so much of your time in the future!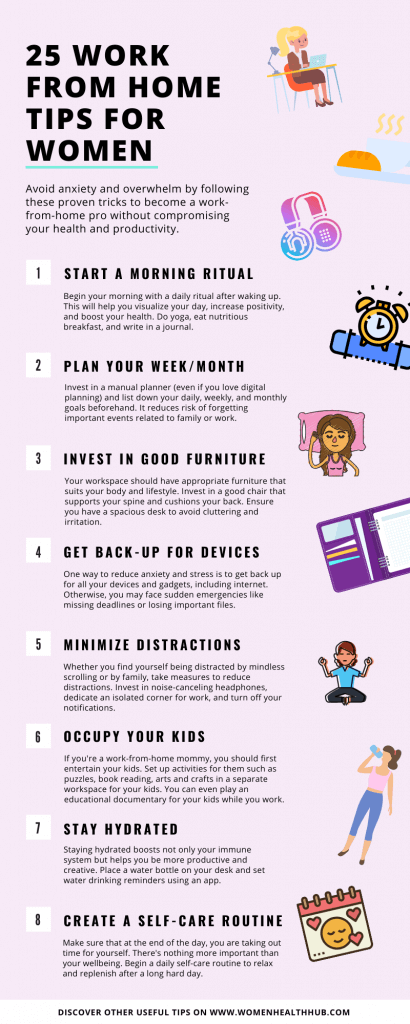 11. Download a Time-tracking App
Some of you may be asked to develop a timeline of how much time you spent on a specific task. Others may request you to simply note down work hours and explain how much you accomplished throughout the day.
I would straightaway name Toggl as the best time tracking app. It works in the background offline so you wouldn't have to manually switch it on or off unless when you start a project.
My most favorite feature is that it also notes down the inactive time, which is perfect if you wish to get a better idea of how productive you've been.
Toggl is free to use but does come with a paid version for teams.
12. Install Collaboration and Communication Apps
Another important women's work from home tip is to focus on ways to promote flawless communication during remote work.
If you have many colleagues, you must have the best communication and collaboration tools on all your devices for seamless contact. Otherwise, it leads to several complications and causes more stress.
Whatsapp is better suited for informal talks between colleagues and doesn't have enough features. Skype is more of a backup tool nowadays — no one really uses it because it's too buggy.
Here are some other tools to enhance your communication with colleagues in a WFH lifestyle setting:
If you need momentary access to a remote desktop for training or such, I'd recommend installing Teamviewer — a free + paid remote working tool used for desktop and screen sharing, meetings, as well as transferring files.
Tips to ensure uninterrupted remote communication:
As this is another issue I came across while talking to women new to WFH lifestyle, here are some ways you can improve remote conversations:
Always have an agenda ready before a meeting.
Always keep a notepad and pen ready beside you for taking down notes.
If you have family around, make sure you're on mute before joining a call.
If it's an audio call, ensure your webcam is turned off or change call settings.
Test your sound quality beforehand.
Keep small talk to a minimum because it's easy to get side-tracked. Clarify the purpose of the call straight away. Remember, some have kids and other obligations to attend to.
13. Install Digital Notepads
Previously I did mention Google documents as the primary writing app. But it's better suited for long documents such as articles, essays, memos or other office docs.
If you wish to use other apps instead of notepads, here are two of my personal favorites:
Any.do: Simple and elegant design, syncs across all devices
Evernote: More sophisticated and better features, can be used for long notes, syncs across all devices
14. Grab a Manual Planner
Another women's work from home tip is to invest in a manual planner or diary, even if you rely mostly on digital organizing apps.
If you're old school like me, you'd want to plan out your daily, weekly, and monthly goals early on. Buying a new planner would get you in the work spirit and make you more committed to your goals.
You may think it's a waste of money. But trust me, a few indulgences like these actually send out positive vibes and make you more motivated.
At this point when times are tough, we are all seeking sources of positivity and inspiration. Such investments will help you find your way through the chaotic life and boost your energy and confidence.
Plus, sketching out your monthly activities benefit you in the long run. If you're dealing with multiple responsibilities such as family, home, outdoors, health and job, it's best to write down the basic stuff in a planner.
For example, you could start with noting down the following activities:
Family birthdays and events such as movie night, board game night etc.
Important holidays & festivals such as Christmas, Easter etc.
Doctor appointments such as a yearly visit to the dentist.
Home organizing and cleaning activities, such as spring cleaning day.
Grocery lists for every week.
Personal time for webinars, online course class etc.
Your kids' activities such as puzzle time, documentary time etc.
Writing down everything beforehand is crucial for enjoying a healthy work fro home lifestyle without losing your sanity!
So go ahead, buy yourself a nice planner and start writing what you wish to accomplish throughout the month.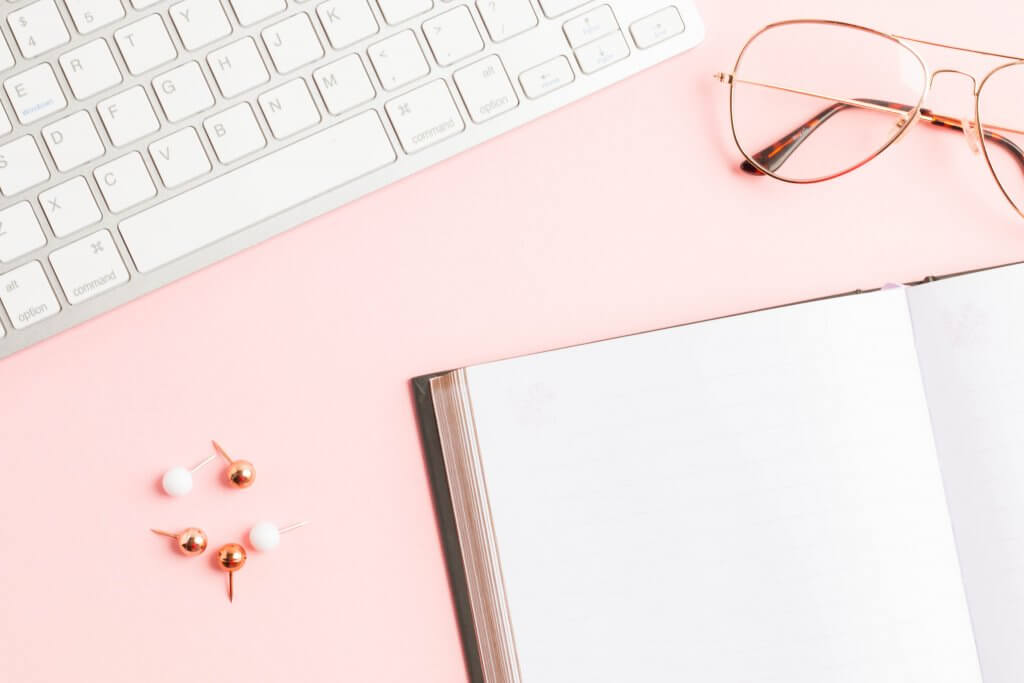 15. Begin Your Day With a Morning Ritual
One of my favorite women's work fro home wellness tips is to have a daily morning ritual.
Getting used to a new WFH lifestyle or routine needs time. You can start with specific daily activities after you wake up.
For example, many women find it useful to wake-up, eat, and sit to work at a particular time daily. Others say that getting dressed also helps them take their remote job as seriously as they were physically present in an office.
However, I'd recommend trying a morning ritual to ensure your mind, body, and soul are in sync before you sit down to work. Let me explain how having a regular morning ritual is a much better choice.
Routine:

A routine refers to any activity that you perform regularly, as a chore. It has no significant emotional value or benefit. For example, waking up at the same time every day, eating something, going to work. This is a routine.
Ritual:

Rituals have a significant emotional value as they are performed meaningfully. They are related to a bigger purpose such as good health or better performance.
Now you can see why having a regular ritual could be more beneficial to you than a routine.
I'm not saying routines aren't helpful; they are. Having a schedule is necessary so your life is more organized. Spontaneity leads to chaos in the long run.
However, rituals are more purpose- and goal-oriented. For example, here is my morning ritual:
Braindump activity:
After waking up, I write down around one page on what's going on in my mind. Every bad stuff, negativity, anxious thoughts, along with the good and positive thoughts such as gratitude or what I aim to accomplish goes down in this braindump exercise.
Focus is more on quantity than quality. Hence, the purpose is to achieve relaxation and mental clarity before starting work for enhanced productivity.
Have you ever tried this? It's incredibly therapeutic!
Yoga:
Next thing I do is perform a 3-minute yoga sequence. It includes 6 different poses that promote better circulation, reduce anxiety, improve body mechanism, release muscle tension and help visualize my day ahead.
The purpose of this ritual is to enhance my physical and mental wellbeing at the start of the day. Do try it out!
Read More: 3-Minute Simple Morning Yoga Routine for Busy Women
Healthy breakfast:
How can you work from home properly and stay focused on an empty tummy? This is an important work from home wellness tip, specially for mommies. Like me, take out some time each morning to eat a healthy breakfast. The purpose is to give your body an energy boost and get a dose of essential nutrients before work.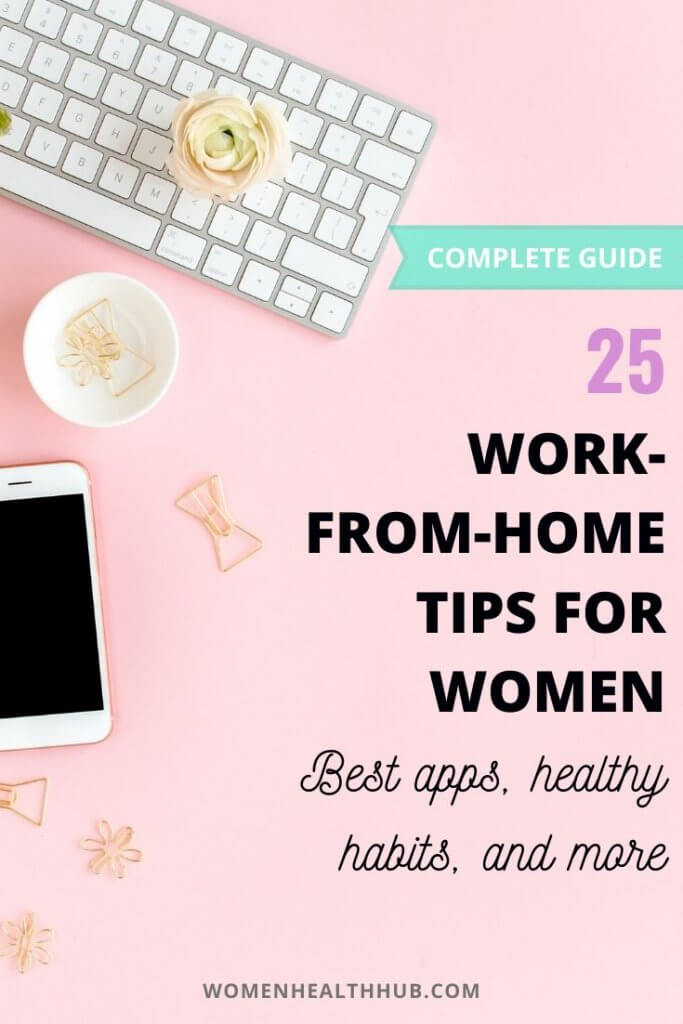 As you can see, the main reason behind rituals is to follow a practice that eventually benefits your health, wellbeing, and purpose in the long run. They offer you peace of mind, decrease stress, and give you more control over your actions and emotions.
Develop a morning ritual with healthy activities to elevate and synchronize your mind and body before you sit down to work. This will also improve your focus and make you more productive.
Read More: 11 Healthy Morning Routine Ideas for Busy Women + Free Printable Weekly Routine Tracker
16. List Down All Your Goals Before Work
According to my research, another big issue for women new to work from home lifestyle is the lack of motivation and the inability to stick to goals.
That's mainly because we don't know the tricks to establish proper goals and follow-through on them.
Here are few tips on how to set work goals that you'll actually stick to:
Tip #1: Make SMART goals:
For starters, each of your goals must be SMART. These types of goals are not only easier to follow but give you a clear idea of the process rather than just the outcome.
Let's say you have to send out 10 emails to 10 different clients. Here's how your SMART goal would look like:
Send 3 emails in the morning (9am to 11am), 3 in the afternoon (12pm to 2pm), and 4 in the evening (4pm to 6pm).
As you can see, this goal contains every aspect of a SMART goal — Specific, Measurable, Achievable, Realistic, and Time-based.
Breaking your goal into short milestones is a great way to remain motivated and productive throughout the day, especially while working from home. Also, this way better than a vague line like "Send 10 emails today."
Read More How to Make the Perfect Health Goals
Tip #2: Stick to only a few goals per day:
Another important thing you should do is to select only a few important tasks daily. Overworking only causes more stress and that's not helpful.
Be as realistic as you can about what you can accomplish in a day. I know our instinct (and deep desire) is to finish 10 goals like a pro every day.
But hey, your mind can only take so much. Plus, in a work from home lfiestyle, you have to tend to other stuff as well, such as chores and family. And how can I forget "taking care of yourself!"
Ideally, stick to a maximum of 5 goals in a day.
Believe me, it may seem small but at the end of the day, you'd feel you've accomplished a lot. And, you'll be able to give your 100% to each task without compromising your health or sanity.
Tip #3: Include one big and several small goals:
This is a trick I've used for quite a while and it works wonders.
Make sure your day is balanced with both big and small tasks. It's humanly impossible to accomplish several important goals successfully in one day.
Most times, it not only results in a lack of quality but also causes anxiety, lack of hunger, or maybe even binge eating.
My suggestion is to include ONE important goal per day. Then, select up to 3 or 4 less important tasks/milestones that don't require much effort on your part.
This way, if you ever get tired of accomplishing that ONE goal, you can switch to the other tasks to ease your mind.
A good way to always remain busy and avoid unproductivity, right?
17. Keep a Water Bottle Near You
If I had to give you just one work from home wellness tip, it'll be this:
Stay hydrated! Cannot emphasize enough!
According to a study, even a 1% drop in hydration can lead to a 12% decrease in productivity. Of course, if you're 4% dehydrated, the lack of productivity triples.
Check out the infographic here if you wish to learn more about how dehydration and productivity are related.
I learned the significance of drinking water often the hard way. My family has a history of kidney diseases which is why I always have a water bottle on my desk. Can't put my kidneys at risk for work!
Besides, dehydration weakens your mind and affects concentration. You'd easily feel too lethargic to perform well.
Also, peeing frequently will get rid of toxins and prevent stones build-up.
Download Water Reminder app to remind you to drink water often throughout the day.
I also suggest you buy one of these new pretty bottles (affiliate links) to trick your mind into drinking more water. 😉
18. Learn to Deal With Your Hunger Pangs
Another challenge in a work from home lifestyle for women is sudden binge eating bouts.
When I was new to WFH routine, I experienced the same issue.
It's easy to grab a snack and eat up in PJs when you're at home with a laptop plopped in front of you. A few minutes later, you'll even find yourself Netflixing your fav movie.
Sigh.
But I soon figured the perfect hacks to satiate my hunger AND eat healthy at the same time.
Here are a few women's work from home wellness tips to control appetite & manage weight:
Tip #1: Stop buying tons of junk food
First thing, I stopped buying lots of junk food. Out of sight, out of mind, amirite?
Buying only a limited number of junk food for the week helped me deal with the unnecessary hunger pangs. The initial weeks were tough, no doubt. But by the end of the month, I had no cravings during work!
Tip #2:Eat a proper breakfast
Second important advice is to eat a full healthy breakfast every morning.
The last meal you eat is at night — about 12 hours before breakfast. So it's natural for your body to demand nutrition as soon as you wake up.
I understand many of you may be following intermittent fasting or other dietary styles. No matter when you eat breakfast, make sure you're eating something before sitting down to work.
I would also suggest eating a full breakfast including various food groups such as fruits, dairy, protein, and good carbs to give your body a superb energy boost for the day ahead.
Tip #3:Place a healthy snack jar on your desk
My final work from home tip for dealing with hunger bouts is to place a healthy snack jar on your desk.
You can either make your own trail mix with nuts and seeds or buy some pre-made packets. Seeds and nuts are a great source of healthy fats and give your body immense nutritious compounds. Eating a few of these snacks doesn't lead to obesity.
Also, seeing as these are somewhat heavier foods, they tend to curb your appetite for a while rather than make you hungry after a few minutes again.
In other words, if you eat healthy snacks, you're good for a few hours or until your next meal.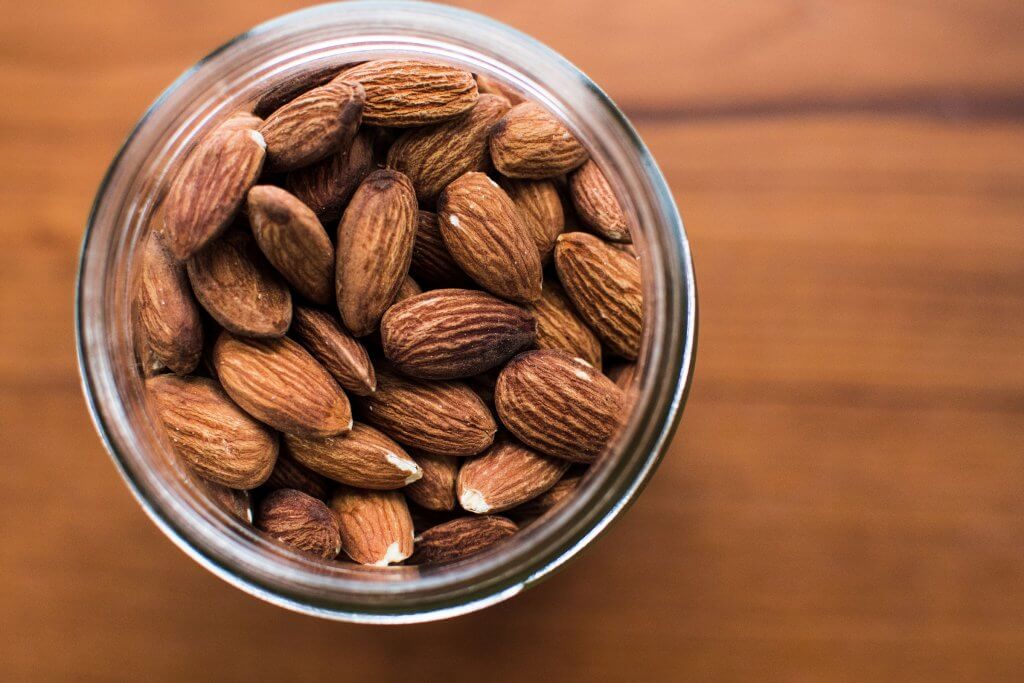 19. Turn Off Notifications While Working
Another challenge in the WFH lifestyle is getting distracted by digital notifications or browsing unnecessarily on social media.
Being a big fan of web browsing, I cannot tell you how much I've suffered because of my net surfing habit. Used to waste hours of precious time scrolling and jumping from site to site.
But then, I set out to fix this habit. Some useful women's work from home tips to reduce digital distractions are:
Put your phone on airplane or Do Not Disturb mode
Turn your phone silent or on vibrate
Turn off your phone's internet connection
Put your phone in another room
Delay charging your phone until you sit down to work
Turn off all social media push notifications on laptop
I would also recommend installing a desktop app called Station. It's a simple workspace integrating various apps on one platform. You can find business, legal, design, social media, storage, admin, developer and coding, sourcing, HR, sales, and blogging tools here, among others.
The best part is that Station is completely FREE to download and even has a turn off notifications option. So you can work on your tasks in peace without any distractions.
20. Find Ways to Handle Your Kids
As you can see from the survey statistics I shared above, the majority of women consider family and kids as the biggest source of distraction that keeps them from maintaining focus while working from home.
While it's certainly tricky to manage infants and toddlers, preteens are easier to deal with.
Here are a few practical work from home tips for mommies to adjust to WFH lifestyle with kids:
Infants:
If you have a newborn or a baby just a few months old, I honestly applaud you for finding the time and energy to focus on your job. Bravo!
Truth is, with a baby at home, there's no way you can't get around the distractions. You'd often have to get up to change the diaper or for feeding.
However, I would suggest using your little angel's naptime to your benefit. Get as much work done as you can during these hours (or minutes).
Another thing you can do is to wake up way early in the morning, while everyone's asleep and get some office work done during the wee hours of the day.
But of course, this tip is practical only if you have flexible timings and can schedule your sleep some other time.
Toddlers:
Dealing with toddlers is particularly difficult. The only way you can make a toddler sit is by offering them an interesting and entertaining activity.
Watching tv or playing video games is okay for an hour, at most. So what else can you do to entertain your toddlers for hours?
Buy puzzles (check out some options here)
Put on educational movies during your work hours
Set up a different "workspace" for them
Buy playdough and give them related "assignments" to keep 'em busy
Set up an art zone; buy paints and coloring books for them
Teens & adults:
If you work in a separate room and have a particularly difficult task or meeting to attend to, hang a Do Not Disturb sign on your door handle.
If you work in let's say the living room or family room, then you need another conspicuous sign to let your preteens know that you're busy with something important.
For instance, you could wear a special jacket or scarf at such times to signal that you can't be disturbed.
Read this interesting article by a work-from-home mommy sharing tips on how to tackle your work with kids.
21. List Down Family FAQs
This is another work from home wellness tip for mommies who frequently have to answer somewhat irritating questions every few minutes, like:
What's for dinner?
Where's the cookie jar?
Where are my socks?
Can I skip bath today?
Who has to wash the dishes today?
Or something else, you get the picture.
I would suggest making a list of questions and answers for your family before sitting down to work.
List down all FAQs that your kids or spouse may ask you to reduce distractions. Paste it either outside your home-office door or where everyone can see, such as the refrigerator door.
This will help you concentrate better and not get annoyed every few minutes.
22. Learn to Manage Your Time
Another integral way to be successful at WFH lifestyle is to learn how to manage your time.
I know a lot of women struggle with balancing their personal and professional life.
So now I'll share some wellness tips to work from home successfully by managing your time.
Usually, there are 2 different types of schedules depending on the nature of your job.
Flexible work hours

: This applies to individuals with their own business, freelancers, or if you're working for a company that allows flexible timings.
Fixed work hours

: Most companies offering remote opportunities require you to be active within a specific time slot. Especially in case you attend meetings with clients. Similarly, if you're a trainer or teacher, you'd have to stick to a certain time.
Dividing your shifts throughout the day is a practical way to deal with timing issues. You can break down your hours into different slots during morning, afternoon, evening, or late night, depending on your routine.
Let's say your job requires you to be active from 9am to 5pm. For women with kids or other responsibilities, especially during these days, this is not an ideal time to sit and focus on your office tasks.
So what if you could break your shift to any of the following slots:
9am to 11am; 2pm to 5pm; 10pm to 1am
9am to 10am; 1pm to 3pm; 5pm to 7pm; 9pm to 12am
9am to 12pm; 3pm to 6pm; 9pm to 12am
This way, you're always available for a brief period during the necessary hours and can accomplish other tasks at times of your choice. Of course, these are just examples. You can adjust the hours per your availability.
I believe this is a better option than being unable to concentrate properly or being entirely unavailable.
So make sure you communicate this possibility to your employer. Most companies will be okay with this proposition considering you have a family or kids to look after.
23. Get Up and Active for a While
My research showed women don't like sitting in one place for a long time. As a result of sitting for hours, most people develop…
Upper and lower back pain
Neck sprain
Wrist injury, numbness, and tingling
Obesity
Diabetes
High blood pressure and high cholesterol
Heart attack and other cardiovascular diseases
Digestive problems such as constipation because of lack of movement
Muscle stiffness
Sore hips
Knee pain
Read More: Everything Women Need to Know About Diabetes
Besides these physical health problems, work from home lifestyle can also pose a severe risk of mental wellness issues such as increased depression, stress, and anxiety.
In short, taking breaks for physical activity is extremely necessary. Especially if you have a desk job that requires you to sit in the same spot for a long time.
Here are some work from home tips to help you achieve the health balance you seek:
Get up often, other than the bathroom breaks.
Go for a walk in your compound or street for a few minutes.
If nothing else, skip a rope, hop for a few minutes, or do some stretches to get your blood flowing through the muscles.
Practice this 10-minute yoga break sequence by Maria between your shifts.
Schedule your day in a way that you get to do active chores between your shifts.
Ditch the chair and try standing up while working sometimes.
Place a cushion behind the region above hips to support your lower back.
24. Establish a Rigid After-work Communication Policy
This is one of the most important issues I wanted to discuss with you.
During my survey, many women working from home told me how difficult it was for them to detach from work after hours.
Let me tell you something, ladies. You may disagree, but I can say this with certainty that 95% of the time the task you've been asked to finish ASAP is not really an "emergency."
Sadly, most employers are in the habit of saying this because well, there's a lack of empathy and compassion.
At my last job, I was the department head, and everyone at my company had flexible work hours. Yeah, it was fun for many but for department heads, that means being available other than the work hours to deal with the top management and the team members.
So, I had to set some ground rules for communication. I was flexible but not too much, just for the sake of my health and sanity.
I quickly learned to analyze which tasks were urgent and which weren't. If I didn't want to be disturbed after work, how could I let my team sacrifice their family time?
Here are some work-from-home tips to help you detach after hours and not get swallowed in that never-ending work-work-work loop:
Tip #1: Discuss after-work policies before joining
Before joining a company or working for a client in case you're freelancing, ask about the after-hours work policy.
Are they the sort of person who'd ask you to edit a project at any time they want?
Are they open to paying over-time for the extra hours?
Are they willing to delay projects in case of emergencies at your end?
Asking the right questions can prevent you from being forced to work at ungodly hours and sacrifice your health and wellbeing.
Tip #2:Set strict rules for after-work communication
Whether you are a team member, a department head, or belong to the top-most management, you should be clear about your own after-hours policy.

Let your colleagues or clients know which times you're available for communication and when you aren't. In case of emergencies, ask them to send you a text first instead of a call without a heads up. That's just unprofessional!
Tip #3: No extra tasks on weekends
At another previous job, most of my colleagues were in the habit of working from home during weekends. On the other hand, after all the hard work during weekdays at the office, I wasn't going to sacrifice my weekends too.
So, I informed my employers in the first few weeks that working from home on weekends was not a possibility for me. I needed a break and weekends were meant for relaxation. They acknowledged and never asked me to do any urgent tasks from home.
Just like me, let your bosses know beforehand if you're unable to do tasks on weekends. This would prevent any future complications and drama.
Tip #4: Always ask if it can wait
If someone's asking you to complete a task ASAP after work hours, the first thing to do is figure out how urgent it is.
In case it's a previous project, you'd already know if it's too urgent or not. If it's a new task, you should always ask if it's a possibility to wait till morning. Most of the time, it can wait.
Also, note whether this happens frequently with you or not. Does your employer often label tasks as "urgent?" Do they continue working on it for weeks later? If yes, high chance that they're habitually crying wolf.
Tip #5: If you're tired, let them know
No-brainer!
Sometimes, the best thing you can do is be honest. If you don't think you can give your 100% to an urgent yet necessary task, let your employers know. Messing up an important task is worse than delaying it for a few hours.
If it's too urgent, you can ask them to give you some time to rest. After giving your mind a break, you'd feel energized and can accomplish the project without making any mistakes.
25. Follow a Daily Self-care Routine After Work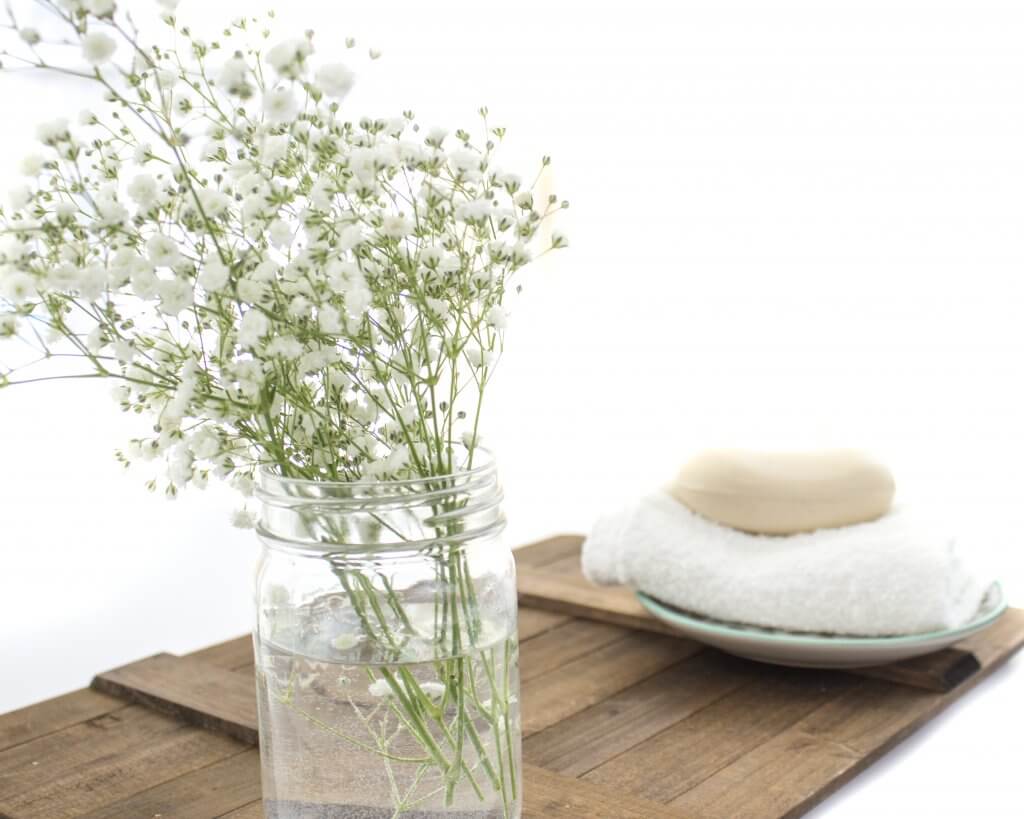 I cannot emphasize enough on this one work-from-home tip for women — SELF-CARE.
If you don't have a self-care routine yet, you're putting yourself under severe health and wellness risk. You're not giving your mind and body a chance to relax and take a break from literally everything that's going on around you.
What do you do solely for yourself after a long winding day? Do you have any hobbies or activities that help you relax?
Here are some ideas for you to begin a self-care ritual or routine for post-work-hours:
Write in a journal about your daily experiences.
Begin an art journal. Doodle or paint in it every night before going to bed.
Start a daily skin-care routine for bedtime.
Take a bath before going to sleep.
Drink chamomile or lavender tea after dinner.
Put on your favorite PJs and meditate.
Give yourself a massage using essential oils.
Go to bed early on weekdays.
List down a few things that you're grateful for
Begin a hobby like knitting, quilting, or embroidery to destress.
Practice a few minutes of yoga to beat insomnia and get rid of stress.
Read a novel or self-improvement book before bedtime.
I hope you find this extensive list of 25 effective work-from-home tips.
Even though I covered many issues, I might've still missed a few. Feel free to reach out to me on Instagram or Twitter and let me know what's troubling you in this new WFH routine.
I'll help you out as much as I can. 💕
Till then, take care and stay safe!