Hey there! This post may contain affiliate links. As an Amazon Associate, I earn a teensy commission from qualifying purchases when you buy through these links (at no additional cost to you). For more info, please check the full disclaimer.
A few weeks ago, I shared my daily 3-minute yoga ritual with you. Now let's discuss various yoga benefits for women's physical and mental health.
There was a time when I didn't believe in the power of exercise. It seemed too boring and impossible for me to breathe without groaning loudly.
In my defense, that was my judgemental side making assumptions before giving it a proper try. (Haven't we all done this at some point?)
Then about 5 months ago, life got too overwhelming and my emotions felt completely out of balance. At that time, self-care activities requiring movements weren't exactly my priority.
But then I discovered the various yoga benefits for women and their wellbeing. So I decided to give it a try.
After a while, my mind and body experienced an odd "transcendental" change. I regained control over my emotions and even sensed a major change in my cognitive abilities.
This is why I encourage women to take it easy and go for a beginner morning yoga routine. Starting with the simplest yoga poses helps you ease into the habit and notice how your body transforms.
Eventually, you'll fall in love with the positive effects of yoga and make it a permanent part of your lifestyle.
Let's discuss the benefits of yoga routine every morning and why you should begin one.
Some Interesting Facts About Yoga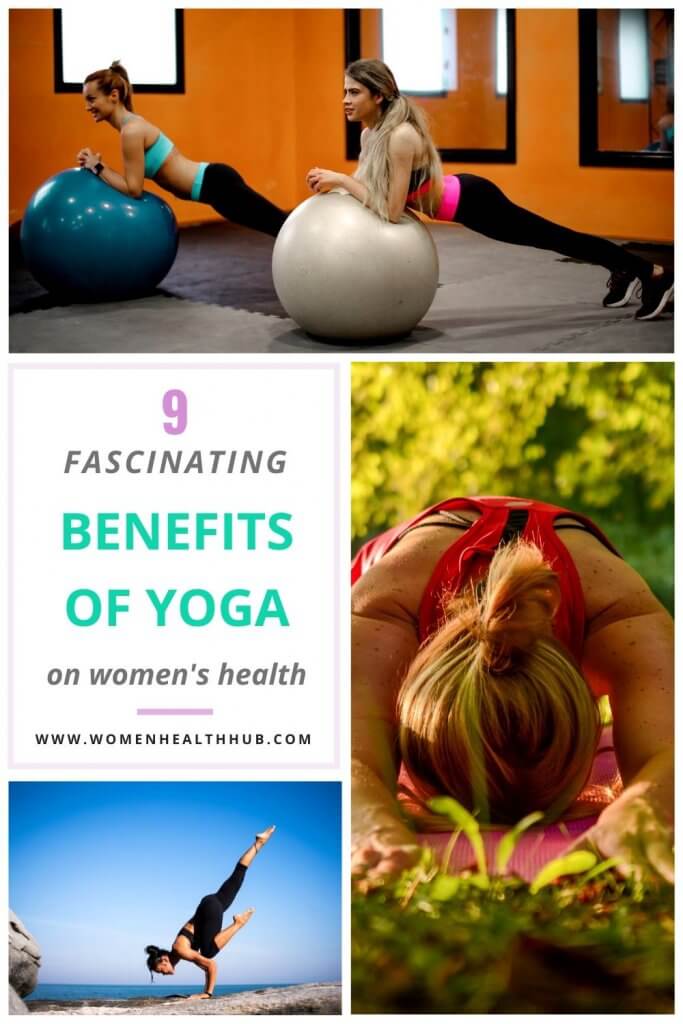 Around 36 million Americans and 300 million people globally practice yoga.
85% of people say that yoga benefits mental health by reducing stress and morning anxiety.
Every year, $16 billion is spent on yoga classes and accessories by Americans.
Yoga is more popular in women with 72% of the yoga practitioners being females.
59% yogis sleep better because of yoga while 54% say it diminishes tension.
Transformational Benefits of Yoga on Health
Without further wait, let's get right to the many pros of yoga routine in the morning on your wellbeing.
1. Promotes mindfulness and mental clarity
One of the main yoga benefits is mental clarity and the ability to "live in the moment."
A mindful approach is free of unnecessary self-judgment and evokes self-awareness and positivity.
Mindfulness is a key part of yoga. You sense every stretch and move, focus on your breathing and become present in the moment.
A 2011 study in the International Journal of Yoga says that yoga helps you accept the negative stuff in your life.
If you have an illness affecting your day-to-day quality of life, yoga can help you deal with it. Once you stop resisting or forcing yourself to go beyond the body's comfort level, you can cope with the health problems with more lucidity.
2. Better heart health and breathability
Yoga also reduces cardiovascular problems, including respiratory issues, heart failure, and high cholesterol.
In 2014, an interesting study was conducted on 130 patients with a risk of heart failure. 12 weeks of yoga therapy normalized the heart rate and blood pressure of 65 participants.
These are the yoga poses that participants followed 3 days a week for about one hour.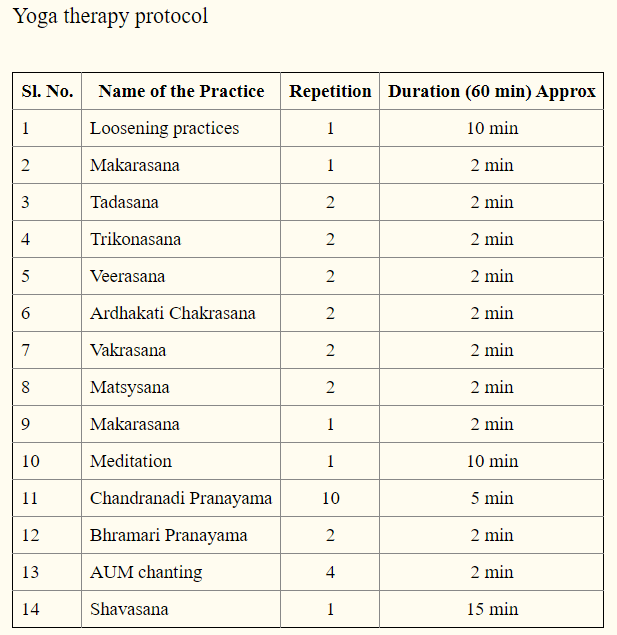 Pranayama focuses on breathing exercises to help you get aware of your breathing process.
As you pay attention to inhaling and exhaling, your lung capacity strengthens and manages diseases like asthma.
So how does yoga benefit your heart?
Research shows an incredible change in lipid profile due to regular yoga exercises. Plus, it can reduce systolic blood pressure by 3mmHg.
In less fancy terms, this mitigates heart failure and stroke deaths by 8%.
In short, a simple 3-minute routine of morning yoga benefits your heart health in many ways.
3. Combats anxiety and depression
Having a yoga ritual has guided me to find happiness in small things and helped me be more grateful.
Like me, Nataly Kogan, author of Happier Now, had her skepticism about yoga at first.
But now she finds that yoga has forced her into pursuing things that make her happy and improves her mood.
"Yoga of all types strengthens that brain-body connection where the body sends messages to the brain that make it feel strong and positive," says Nataly.
Research shows that yoga instills a feeling of happiness, hopefulness, and self-worth in women. 🧘💞
In 2013, experts studied various yoga benefits on the mental health of women aged 45+ years.
They found that practicing yoga for posture boosts wellness and even lowers the need for anxiety medications.
Yoga also awakens positive feelings in women, such as hopefulness, confidence, and contentment.
Morning yoga changes your neural activity and releases happy hormones such as serotonin. This freshens up your mood and tackles anxiety.
Thus, begin a daily yoga ritual to set a positive tone for the rest of your day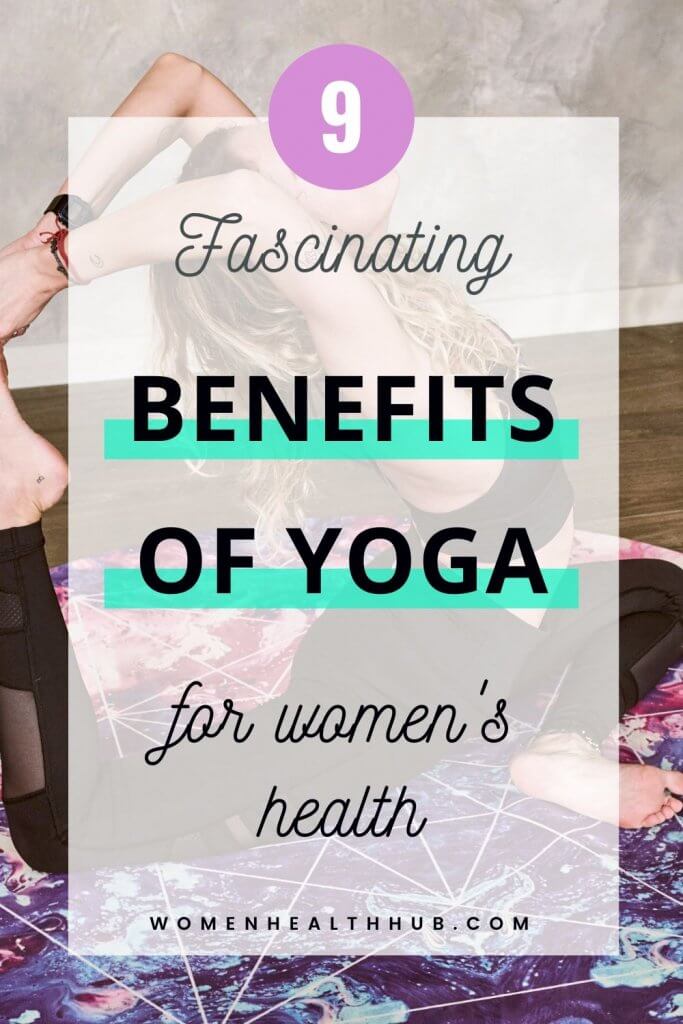 4. Eases muscle tension
An important benefit of yoga for women is tense muscle relief after a long night's sleep.
A couple of yoga stretches would remove stiffness that might've developed in the joints or muscles during the night.
Additionally, if you suffer from chronic pain, daily yoga can help you.
The Indian Journal of Palliative Care covered the many benefits of yoga poses in dealing with chronic pain.
Yoga plays a vital part in reducing fatigue and inducing relaxation. Further, it increases the emotional balance in patients suffering from chronic pain.
Also, if you dislike hardcore athletic stuff because of agonizing pain, yoga is an excellent way to finish up your routine.
Study shows that yoga trained women experience less muscle soreness compared to the rest after bench-stepping exercises.
In order to prevent or deal with any type of muscle tension, begin a short morning yoga ritual.
Read More: Free 100+ Health Goals Ideas Checklists
5. Enhances productivity and memory
Experts say that women working in offices and desk jobs can enjoy many yoga benefits for their body in the following ways:
To remove back pain and posture problems
To manage outbursts, stress, and aggression
To promote better blood circulation and alleviates fatigue
To declutter the mind and improves focus
Yoga relaxes your mind and body, leading to more diligence and creativity.
Improved memory helps you retain information and get better at problem-solving. After some stretches, you can pay undivided attention to your work.
Organizations valuing physical activities such as yoga and meditation, get 86% more work done than those who don't. 
That's why popular companies such as Apple and Forbes made yoga a part of their wellness programs. This boosts employee productivity and motivation.
Therefore, make the most of the many yoga benefits for mental and physical wellness in the workplace.
Read More: Top 10 affordable bootcut yoga pants for women
6. Increases body flexibility
By the time we become adults, most of our tissues lose 15% of the moisture content. As a result, they become stiff and cause painful movements.
This is no surprise, considering the rise in sedentary lifestyles in the past few decades.
If you wish to prevent your tissues from quick aging, morning yoga is the perfect fix for this problem. 🧬🦵️🙆
A 2015 research on 173 men and women assessed the effect of 12-week yoga therapy on flexibility.
A professional guided them through 57 different yoga poses and breathing techniques.
They found an incredible flexibility improvement in the lower back, ankles, abdomen, and hamstrings. The stretching poses flex each muscle and connective tissues, making them stronger.
There's a variety of beginner-level yoga poses for flexibility. The downward dog, I discovered, was a game-changer.
7. Removes back pain problems
Do you often wake up with a stinging backache? Spend your night tossing and turning but can't find the sweet spot to ease the pain?
Been there. To no avail, I even flipped my mattress and changed the pillow to get rid of the backache.
But experienced restful sleep only after a proper exercise routine.
Another powerful benefit of yoga for health is relieving chronic back pain problems.
Chronic back pain may last for 3 months or more. It's relentless and seriously affects the quality of life and sleep. Long term back pain can even lead to disabilities.
Many studies show the pros of yoga on chronic back pain relief. A 2016 research found that for chronic pain in the lower back, yoga can be an effective coping strategy.
8. Diminishes knee pain
In 2016, experts found pain-relieving effects of one-hour yoga in women with knee osteoarthritis.
A while back, one of my friend's mother suffered from severe knee pain. The condition came to a point where her only option was to surgical treatment, and she wasn't ready for it.
She was advised to begin some exercise routines with her mother. They even mixed in a couple of yoga routines.
After a few months, her mother felt a great deal of lesser pain than before. To date, they follow a strict exercise + yoga routine together.
9. Prevents pregnancy complications
Last but not the least, let's talk about how yoga benefits during pregnancy.
Some common pregnancy issues include pain in the pelvic region and back, constipation, and depression.
A surefire way to deal with these complications is breathing yoga exercises.
Yoga also removes the risk of premature birth, delivery problems, and prenatal disorders.
Women also perform prenatal yoga to induce labor or prevent related issues. Yoga promotes easier delivery and prepares you for the pain while giving birth.
In short, the yoga benefits for pregnant women go beyond physical comfort and help cope with the emotional aspects as well.
I hope you're now familiar with the many pros of yoga on your health. Do you have a yoga routine? If you do, when did you begin yoga and why? Share with me in the comments below – I'd love to hear your yoga story. 🙂
References:
https://disturbmenot.co/yoga-statistics/
https://www.ncbi.nlm.nih.gov/pmc/articles/PMC5934956/
https://www.thelocomotiveco.com/blog/the-benefits-of-yoga-in-the-workplace
https://www.ncbi.nlm.nih.gov/pmc/articles/PMC5061981/