Hey there! This post may contain affiliate links. As an Amazon Associate, I earn a teensy commission from qualifying purchases when you buy through these links (at no additional cost to you). For more info, please check the full disclaimer.
The 2nd trimester of pregnancy is full of surprises for moms-to-be. You might have to deal with weird pregnancy symptoms in the second trimester such as anxiety and cravings as your body tries to adjust and accommodate the little one within you.
In short, it's a challenging, overwhelming, and confusing journey throughout the nine months – from the first trimester of pregnancy to the third.
Stepping into motherhood means being more responsible about your physical and mental wellbeing. Ensuring that you do everything to welcome a healthy baby into this world.
Thankfully, you're not alone in this journey!
Knowing what to expect during the pregnancy's second trimester can be a huge help, especially if you're a first-time mom. And this handy guide will be perfect for you!
Get ready for intense cravings, backaches, and baby kicks during the second trimester. FUN! 😅

#pregnancy #guide
I've shared details about the bad signs of the second trimester, the best diet for the 2nd trimester, things you might need, exercises for this period, and more.
Let's go through these helpful suggestions on how to prepare yourself for the 2nd trimester of pregnancy.
What is the 2nd trimester of pregnancy?
The entire pregnancy journey is divided into three trimesters. The second trimester of pregnancy takes about three months and two weeks, lasting from week 13 to week 26.
At this time, the uterus starts expanding and reaches 2 feet (61 cm) in length. It continues to grow until birth.
In a nutshell, pregnancy's second trimester brings along a series of internal changes as the body prepares for childbirth. It's a critical time for your little angel's development so you need to be extra careful.
What are the symptoms of the 2nd trimester of pregnancy?
The symptoms of the second trimester of pregnancy vary from mother to mother. It all depends on your lifestyle.
In the months of pregnancy's 2nd trimester, your main goal should be to eat a healthy diet. Vomiting and nausea in the second trimester are quite common, especially if you have acid reflux.
Moreover, many women experience diarrhea, constipation, or upset stomach during this time.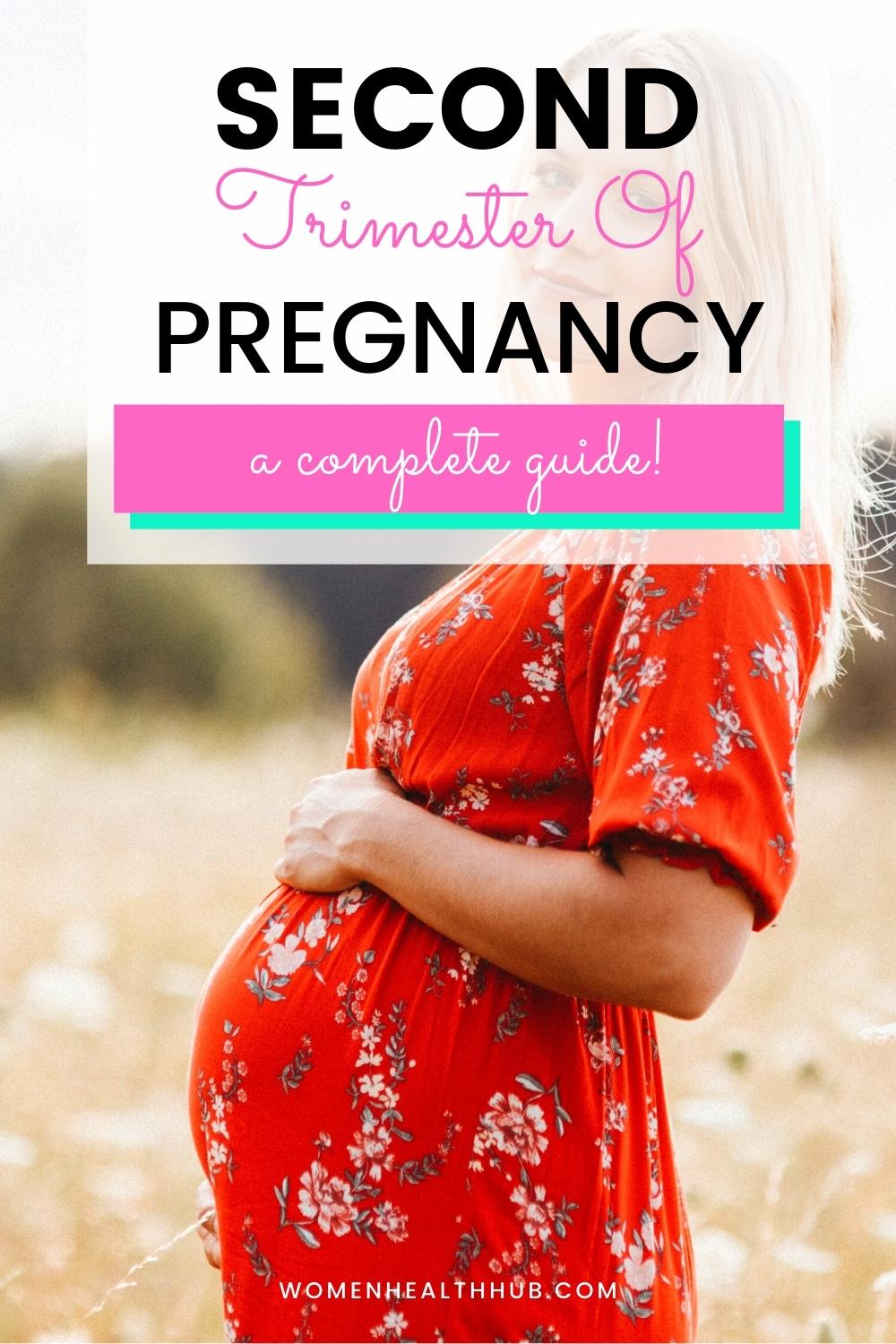 Light bleeding or white, sticky discharge in the 2nd trimester of pregnancy isn't something to worry about. If it gets heavy, visit a doctor as soon as possible.
Following are some other 2nd trimester of pregnancy symptoms you need to know about:
Significant growth in belly and uterus
Leg, joint, and knee pain
Nose swelling or increased mucus production
It's not all bad news though!
The 2nd trimester of pregnancy is also known as the 'golden period.' Many initial uncomfortable signs of the first trimester of pregnancy, like nausea, gradually disappear.
As weeks 17 to 20 come nearer, an important process called 'quickening' also occurs. This is the moment when you begin to feel your baby's movements such as kicking or punching inside the belly.
Additionally, you might even enjoy a more restful sleep than in the previous months! Good news, eh?
What to expect before the 2nd trimester ultrasound?
Various tests are conducted during the 2nd trimester of pregnancy to check up on the health of soon-to-be-mama and baby. It includes a physical examination, lab tests, and of course, ultrasound.
The 2nd trimester ultrasound is critical as it provides updates about your little one's development and signs of birth defects.
You will need to drink up sufficient water to make the bladder full before the ultrasound. Ideally, you should wear protective undergarments or sanitary pads to avoid peeing in clothes. It's okay to eat before the test.
Here are some other things you need to know before the ultrasound appointment in the 2nd trimester:
Professional sonologists carry out a detailed ultrasound.
This ultrasound usually happens between weeks 18 and 22.
The in-depth imaging covers 20-week anatomy and monitors the growth of the brain, spine, heart, lungs, and stomach.
The ultrasound in the 2nd trimester of pregnancy also helps determine the baby's sex.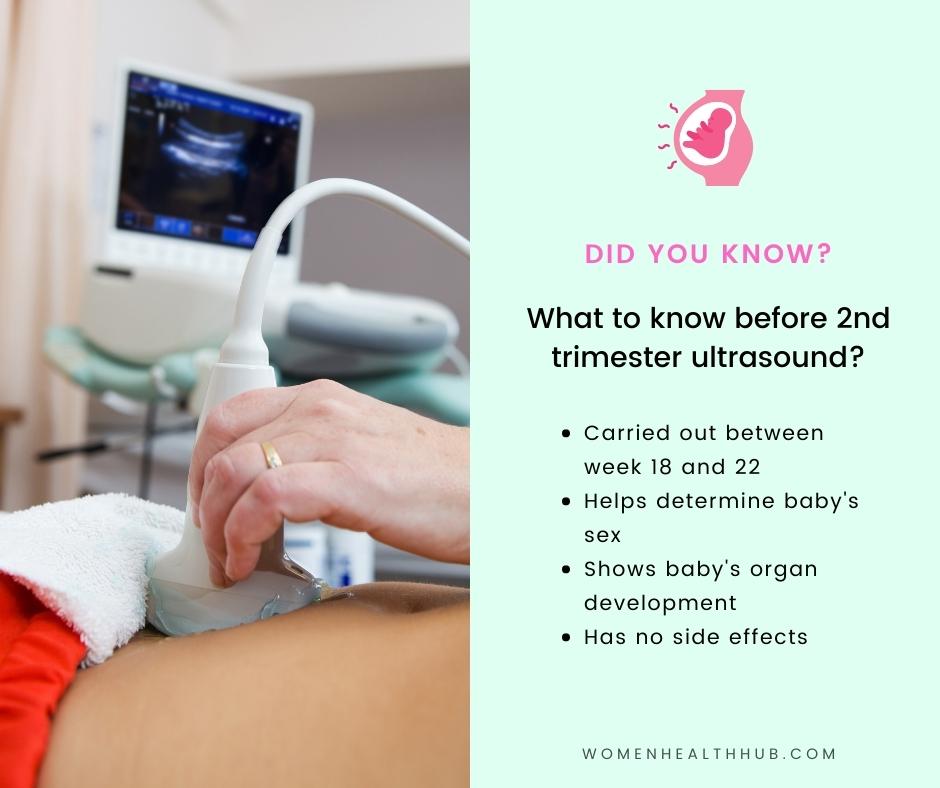 You may also learn about menstrual dates.
It's a harmless imaging exam with almost no side effects. In some cases, there may be a slight risk of miscarriage. Talk to your doctor about it before you decide.
What Happens in the Second Trimester of Pregnancy?
Pregnancy's 2nd trimester is the time for new physical and mental changes. Your body starts growing and you can now feel life inside you.
The 2nd trimester of pregnancy would be a combination of happy and hard days. While you're pretty much free to do whatever you want in the previous months, in this trimester you'll need to be extra careful.
You may need to take out time for self-care. It's important to wear comfy clothes and slippers. There may be occasional days when you'd want to scream – and that's okay too!
Here's a week by week overview of the changes occurring in your body:
Week 13: This is a turning point in your pregnancy journey. You'll feel different internally. Most unpleasantness would disappear apart from indigestion and acidity. The baby will now have tiny bones forming the limbs. It's also the time when the baby starts sucking the thumb inside the womb.
Week 14: You'll feel more energetic and will be throwing up less often. You may have sudden hunger pangs. At this point, your baby starts growing hair and is taking up nourishment from amniotic fluid. Their digestive and kidney systems have developed and functioning properly. 
Week 15: You may have occasional abdominal pain as your internal tissues start stretching and make space for the baby. During the week 15 ultrasound in the 2nd trimester, the baby's genitalia appears, helpful in determining the gender. And you might even get to hear the heartbeat of your little one!
Week 16: By now, nausea will have disappeared completely. On the other hand, the belly will be growing. Plus, you might experience breast soreness and darker nipples. At this time in the 2nd trimester of pregnancy, your baby also starts moving. You may feel occasional kicks and punches. They also have facial expressions now – something cute to look forward to!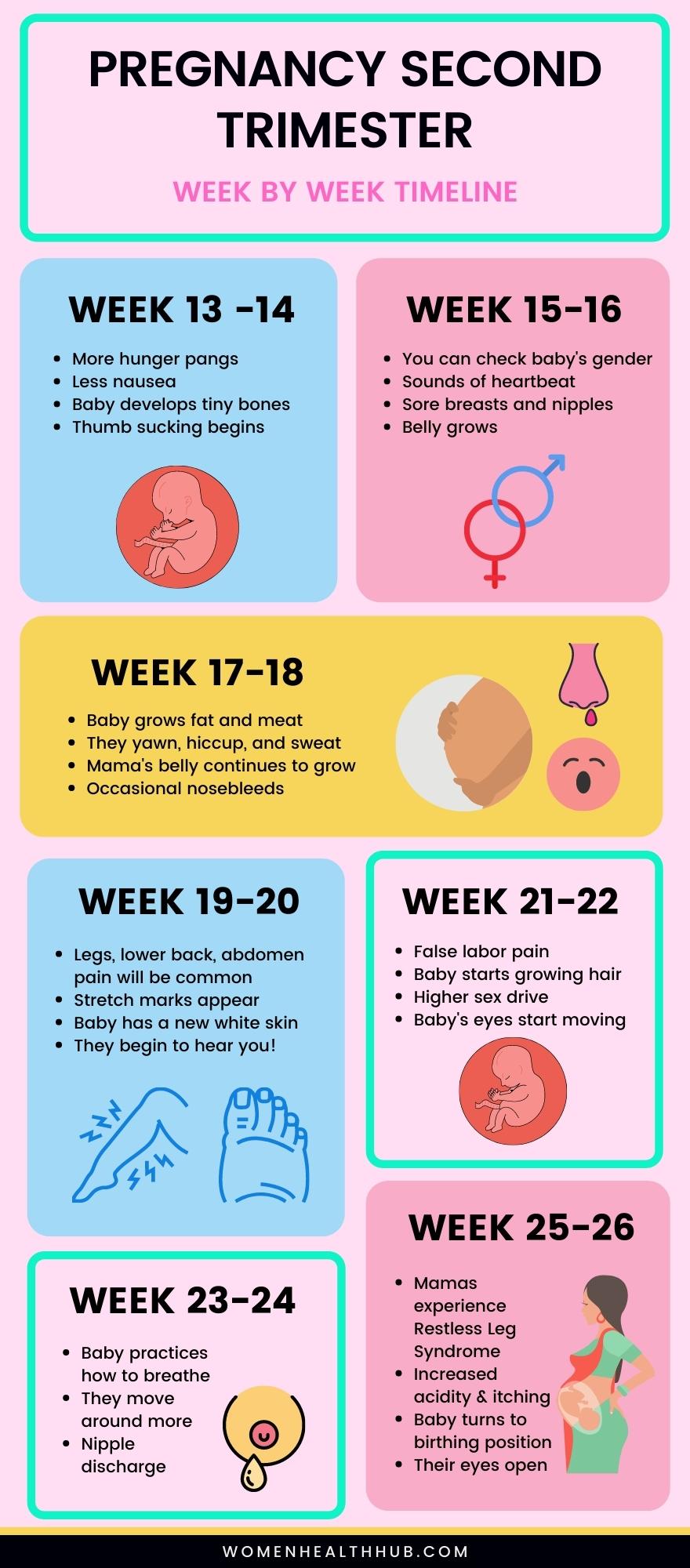 Week 17: Either you will experience some symptoms of the 2nd trimester of pregnancy or enjoy a quiet journey toward the end. Pay attention to what you eat as the placenta would be getting stronger. Now the cartilage in the baby's body will begin turning to bones. Fat and meat would appear on the bones. Plus, the sweat glands will begin to develop. 
Week 18: The baby begins to yawn and hiccup – how adorable is that! At this point, you might notice swollen feet, joint aches, and leg pain. Mama's waist will get narrower while the belly will continue to expand. This is somewhat an uncomfortable time and you might experience sleepless nights. There may even be occasional nosebleeds!
Week 19: You're now well into 5 months of your pregnancy journey! Your belly would continue to grow and you might feel lower backaches. It can be nasty and mess with your sleep cycle. Some women also experience congestion. At this stage of the 2nd trimester of pregnancy, your baby would develop a white skin called vernix caseosa.
Week 20: You will now notice more pain in the legs, back, and abdomen. There may be more nausea, weakness, and general discomfort. Stretch marks would appear around the belly, indicating constant belly expansion. Some women also feel hungrier than ever! The best part is that now your little angel can hear voices. Time to sing your favorite songs!
Week 21: At this point in the pregnancy's 2nd trimester, you'll experience the Braxton Hicks contractions (aka false labor pain) for the very first time. It's nothing to worry about — this pain comes and goes. Your baby's body continues to form as hair appears on the head and body. Moreover, the fetus can move around more freely. Your stomach would swell up more, making room for your little one.
Week 22: By now, you'll be feeling moody and stressed out. The constant leg pain, backaches, vaginal discharge, hair fall, and even high sex drive would certainly make you irritated. On the plus side, your baby's eyes would start moving (although they'll remain shut) and eyebrows would grow out.
2nd trimester – what to expect?

Week 20: Your baby can hear you 👶👂
Week 21: You might feel false labor pain 🤰
Week 22: You might have a high sex drive 💞
Week 23: Little one starts to breathe 😍
Week 23: Congratulations, now your little angel is fully formed and is as big as a grapefruit! They can sense your voice and heartbeat and can enjoy outside sounds as well. At this stage of the 2nd trimester of pregnancy, the baby would be practicing how to breathe. You might also notice more movements, especially when you're still. Also, you will have an increased appetite!
Week 24: Get ready to feel more kicks and punches! Can you blame them – they're getting stronger with every passing week. Additionally, there may be some nipple secretion called colostrum, which is completely normal. The baby's skin will be quite wrinkly and translucent and they'd be putting on some cute weight now.
Week 25: Things will get a bit rough as the final months approach. At this time in the 2nd trimester of pregnancy, you might develop Restless Leg Syndrome (RLS) which causes sleeplessness. There may be increased acidity and body aches. Some areas might feel itchy. The belly would be quite large. While others would be beaming, you might be getting tired of the pregnancy journey. Your baby might open their eyes this week too!
Week 26: Yay, it's the final week of the pregnancy's 2nd trimester! You would have visible stretch marks on the stomach skin. Finally, the baby would reach the birthing position with their head towards the end and curl up horizontally across the belly. Additionally, there will be more jumps and bounces instead of kicks and punches.
You may also find yourself being more emotional as hormones like progesterone and estrogen continue to rise. Depression or anxiety is normal during these months.
If you haven't done so already, it's now time to start thinking about childbirth classes and what kind of delivery you would like. Additionally, while it may not be safe to do hardcore exercises in the 2nd trimester of pregnancy, you might want to consider a light walk or yoga to stay active.
All in all, enjoy this time as much as you can!
Weird Signs in Second Trimester of Pregnancy
You might notice alarming stuff in the 2nd trimester of pregnancy that could freak you out.
Although some of it's normal, you might want to watch out for the bad symptoms of the 2nd trimester. Let's go through the warning signs of pregnancy's 2nd trimester that indicate something is wrong:
Headaches 
A persistent headache during pregnancy can indicate dehydration, high blood pressure, or preeclampsia. If you often have severe headaches in the 2nd trimester of pregnancy, be sure to discuss them with your doctor.
Vision problems 
Vision changes are common when you're having a baby. However, if you have serious blurry eyesight, eye pain, or general discomfort, it could be a sign of gestational diabetes, high blood pressure, or preeclampsia. Let your doctor know so they can figure out the source.
Read more: 7 Alarming Signs of Gestational Diabetes You Shouldn't Ignore
Swelling 
If the swelling in your body appears at a slow pace, it's harmless and a common symptom of the 2nd trimester of pregnancy. However, if you suddenly notice swelling in the face, hands, and feet, it might indicate preeclampsia.
On the other hand, a swollen stomach means fluid retention. Leg pain accompanied by swelling and redness is an alarming sign of blood clot formation.
Vaginal discharge 
Vaginal discharge is nothing to be scared of as long as it's white, sticky, or clear. But if you notice blood or it turns to a weird color, carries a foul smell or the vagina feels itchy, you might have a pregnancy infection, preterm labor, or even miscarriage.
Vaginal bleeding
Heavy vaginal bleeding in the 2nd trimester of pregnancy is also something you can't ignore. It often means there's a risk of preeclampsia or miscarriage.
Alarming signs you shouldn't ignore in 2nd trimester of pregnancy:
⚠️ Too much bleeding
⚠️ Heavy peeing
⚠️ Blurry vision
⚠️ Stubborn headaches
Increased need to Pee 
Pregnant women often have to pee more than usual. But if you suddenly have to urinate all the time and also notice pain, it could be a symptom of a UTI or urinary tract infection.
What things should you avoid in the 2nd trimester of pregnancy?
If you want to ensure your baby undergoes healthy development, has the least risk of birth defects, and there are no pregnancy complications, you'll need to take extra precautions.
Here are a few things you must avoid in the 2nd trimester of your pregnancy:
Drinking alcohol: Alcohol can cause fetal alcohol syndrome, leading to developmental problems for your child. A study discovered a 68% higher risk of moms giving birth to small size babies even if they consume an ordinary amount of alcohol. 
Taking certain medications: Some medications like Ibuprofen, Thalidomide, etc can be harmful to your baby. So it's important to discuss drugs in the 2nd trimester of pregnancy.
Unclean water: Drinking unhygienic water can cause serious bacterial infections that are life-threatening for both you and your baby.
Unhealthy diet: Eating lots of unhealthy junk food such as raw meat, eggs, unpasteurized milk, soft cheese, etc, can contribute to bacterial infections as well.
Exercising excessively: Fitness routines in the 2nd trimester of pregnancy are mostly not harmful and in fact, hold many benefits. However, some vigorous poses can cause hormonal imbalances, moodiness, and drop your immune levels.
Lying on your back: Doctors don't recommend lying on your back for long periods, particularly after 20 weeks of pregnancy as it decreases the blood flow to your baby.
Common complications in the second trimester of pregnancy
The 2nd trimester of pregnancy is typically a risky time for those soon-to-be-moms who either have some previous diseases or aren't mindful of their lifestyle. In such cases, they become prone to a few complications.
Following are the most common complications in pregnancy's 2nd trimester:
Gestational diabetes:
It's an alarming condition that increases blood sugar levels in women. Gestational diabetes should be treated immediately otherwise it could harm both mom and baby. Plus, pregnancy diabetes causes hair fall which often takes time to regrow.
Preeclampsia:
This condition causes seriously high blood pressure and often destroys the internal organs of the mother. It usually attacks in week 20 of the 2nd trimester of pregnancy.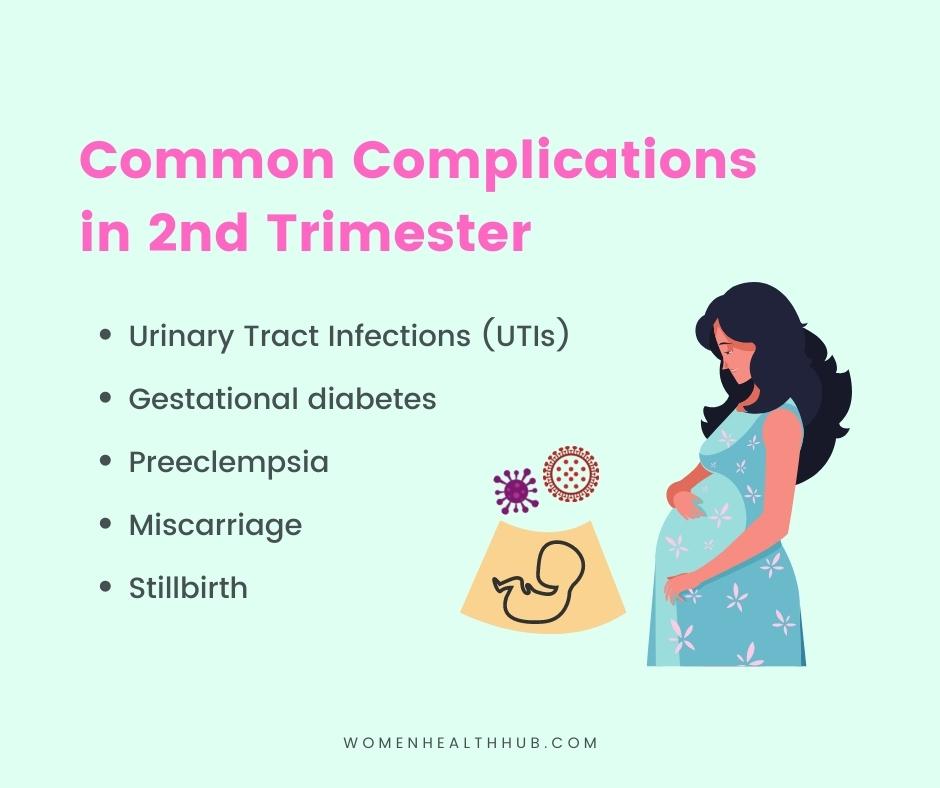 Urinary tract infections:
Although UTIs are common in the second trimester, they may cause unbearable pain and frequent need to pee. You might even notice weird smelling and cloudy urine. 
Miscarriage:
About 2 to 3% of the babies are lost to miscarriage during the 2nd trimester of pregnancy. This number is significantly lower than in the first trimester. Preterm labor and cervical incompetence are the leading causes of miscarriages.
Premature birth:
An early birth of a baby right after week 20 and before week 37 is called premature birth. It can be dangerous and even life-threatening if the baby isn't fully developed. Hormonal imbalances and pregnancy infections can trigger preterm birth. 
Stillbirth:
This is the death of a baby after 20 weeks of gestation. Thankfully, it's rare and only affects one out of every 160 pregnancies. If there are issues with the umbilical cord or the soon-to-be-mama has an unhealthy lifestyle, it could result in the baby's stillbirth.
Can birth defects occur in the 2nd trimester of pregnancy?
Yes, birth defects often occur in the second trimester of pregnancy. They cause mild to severe structural changes that manifest in any part of the body. Some birth defects are quite serious and might cause death or lifelong disability.
Several factors put your baby at risk of getting birth defects such as:
Age at which you get pregnant (more common in moms who are 40+ years)
Smoking or drinking alcohol
Taking certain medications or drugs
Infections during pregnancy
Exposure to toxic chemicals
Certain chronic health conditions in the mother
Ultrasounds in the 2nd trimester usually pick up the signs of birth defects. Doctors can help with early diagnosis and treatment to improve the outcomes for your little one.
If you have had a baby with birth defects previously, there's a high risk of the same happening in future pregnancies. So you need to be careful what could affect the changes in your baby's development.
Things you might need in the 2nd trimester of pregnancy
During the 2nd trimester of pregnancy, you will need a few things to make you feel comfortable in this tiresome time.
Here's a short buying guide for the second pregnancy trimester:
1. Super comfortable bra:
Of course, your breasts will get huge and you will need to buy a bigger, more comfortable bra at some point. A lightweight cotton bra feels super soft and would help you sleep better. The fabric should be absorbent and shouldn't show leaks from nipples. A good quality pregnancy/maternity bra will come in handy when you have to breastfeed frequently.
My suggestion is to get the Ameda Intimates Microfiber Nursing Bra (aff link). It's designed thoughtfully to offer full coverage while ensuring maximum comfort & ease of use. The bra has no seams or wires that dig into the skin. The material is breathable and adjusts to any size easily.
2. Maternity belt:
By the end of the second trimester, your belly will grow bigger and the lower back pain would get worse. Additionally, there will be visible stretch marks on the belly. While it's not a bad thing, some women look for ways to reduce those marks and seek a good supportive belt to tackle the constant pain.
For this purpose, I would recommend the Gabrialla Cotton Maternity Belt (aff link). Made from soft cotton, this stretchy pregnancy belt offers complete coverage of the back and belly, helping you sleep better and move around without strain. Moreover, it comes in various sizes to reduce cramps in the second trimester. I particularly like the hot-cold pocket where you can place gel packs for heat/cool therapy.
3. Cozy body pillow:
Tired of spending your nights sleepless? Finding that sweet spot along with constant backache can be tricky. Get yourself a full-body pillow in the pregnancy's 2nd trimester and enjoy a restful night's sleep without interruptions!
One of the softest and coziest sleep aids is the Boppy Total Body Pillow (aff link). The machine-washable cover is made of cotton and rayon and comes off easily by unzipping. It has 100% polyester filling that properly supports your growing belly and aching back and offers relief during 2nd trimester pregnancy cramps.
4. Cushioning slippers:
Pregnant women often experience swollen feet and as a result, have to bear extreme foot pain. That's when shoes with good arch support can help you find relief.
If you're looking for soft, comfortable, and stylish slippers, try Dearfoams Mama Bear Slippers (aff link). Made from polyester and containing rubber soles, these cozy slippers are perfect to slide into when your feet deserve to rest. The best part is the memory foam insole which feels amazing against the aching feet during the second trimester of pregnancy.
What foods should you take in the 2nd trimester?
You have to be extra careful about your diet in the 2nd trimester of pregnancy. Since nausea, vomiting, and acid reflux are common symptoms of the second trimester, it's necessary to avoid junk foods with lots of spice and grease. Instead, add plenty of fruits, vegetables, and whole grains into your meals.
Some nutritional foods that you may want to add to your diet in the pregnancy's 2nd trimester are:
Green leafy vegetables (broccoli, kale, spinach, etc)
I hope you found this detailed guide about the 2nd trimester of pregnancy helpful. You're nearing the end and the baby is almost developed. This is the time to create a bond with your little one. Talk to them, play music, and sing to your baby. As for the pain, fortunately, you can do yoga, exercises, and wear comfy clothes to ease the discomfort.
Although you will hit the occasional bumps (pardon the pun) along the way, the second trimester of pregnancy is overall a joyous period. I've made sure to include tips to make this journey more bearable and fun. Happy pregnancy!
References: 
https://reproductive-health-journal.biomedcentral.com/articles/10.1186/s12978-017-0419-x
https://www.ncbi.nlm.nih.gov/pmc/articles/PMC5901203/
https://bmcpregnancychildbirth.biomedcentral.com/articles/10.1186/s12884-017-1248-1
https://www.ncbi.nlm.nih.gov/pmc/articles/PMC6362879/
https://bmcpregnancychildbirth.biomedcentral.com/articles/10.1186/s12884-015-0580-6